The photograph of Grace Kelly, Hollywood superstar turned princes of Monaco, always makes me sad. Grace Kelly wouldn't have dared receive Communion in the hand. So what happened? We became too sophisticated? Too enlightened? Too holy?

But Padre Pio didn't deem himself too holy and sophisticated to receive Communion on the tongue.























Neither did Mother Teresa
























Even Pope John Paul himself, the pope that eventually capitulated to progressives on the question, nevertheless personally received on the tongue.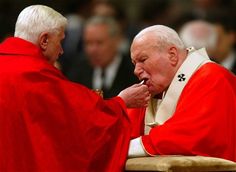 As did Catholics over thousands of years of Church history.
























Consider what protestantized liturgy and Communion in the hand have done to the faith of the Catholic people. Clearly, it has destroyed it:



A return to Catholic Tradition is the only way to get it back.

I shot this video this year during the 3-day, 2-night pilgrimage to Chartres, France. You'll forgive me as I forgot to orient my phone properly, but you get the idea--10,000 young Catholics kneeling on the hard and rocky ground, receiving on the tongue and from priests only.



Dear God, help us to recover what we've lost -- faith in you that could change the world, hope in you that would banish all fear, and love for you that meant more to us than anything else in this world.

Please, God, teach us to be Catholic again.