Headline News Around the World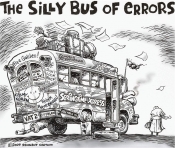 In the interest of fairness, let's not lose sight of the conciliar context of the present debacle in Rome. This Remnant cartoon is from 2004. It requires no explanatory notations.

It may be hard for some to believe –especially young recruits to the burgeoning, worldwide traditional Catholic movement—but the present crisis had plenty of life before Francis.

At this point in the Bergoglian Debacle, the recognition that Francis is a threat to the integrity of the Faith has become so well established in mainstream commentary that even an Anglican theologian, writing in First Things, has sounded the alarm.

"Is the pope Catholic? For at least a century, this was the way we Anglicans joked about anything that seemed too obvious to state," writes Gerald McDermott, holder of a theology chair at Beeson Divinity School. But, he continues: "Now we must ask in seriousness whether the pope is a liberal Protestant."