Headline News Around the World
30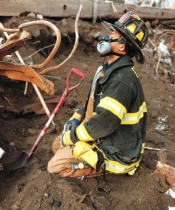 NEW YORK (November 12, 2001)—I write these words from the twelfth floor of the Hotel Pennsylvania in New York City. Emergency vehicle sirens wail in the streets of Manhattan below my window. It seems that the city is crying again.

The television in my hotel room is on. I'm trying to learn more about the latest crisis to strike this poor city: an airplane—yet another American Airliner—has crashed into Queens. Over 240 passengers and crew are dead; nobody knows how many are dead on the ground where Flight 587 apparently exploded and plummeted into a residential neighborhood.
Follow Up and Update (to E. Yore's The Money Trail: Why Catholic Bishops are Silent on Hillary):
To the chagrin of the USCCB, their favored candidate didn't win the election. Despite their scandalous neutrality in the presidential campaign, Donald Trump, carrying the pro life banner, toppled the Catholic establishment's choice, the abortion loving, Hillary Clinton. The article below details the stagering governmental beneficence bestowed on the Catholic Bishops for refugee and immigration programs by the Obama Democratic Administration. The hundreds of millions in government grants support the Church's social justice ministry bureaucracy. Is it any wonder that the Bishops promote massive Muslim refugee resettlement programs, open borders, and illegal immigration into the U.S.