Check out these fabulous vestments that were designed specifically for the Meeting of Families in Dublin, Ireland—that is, if all of its clerical coordinators don't end up behind bars first in the wake of the Pennsylvania Grand Jury Report.
Check out those pastels!
And the, um… oh, isn't that a Star Trek thing in the middle?
Fr. Z has had about enough:
In front of the entire world – including Ireland, if anyone there still pays attention to the Church – let's put our top shelf prelates in … what the hell color is that anyway?… breath mint green?"
And long-time Vatican reporter, Marco Tossati, thinks he smells a rat:
This is the symbol of the Japanese war god, Hachiman; and you can find it also in Okinawa's bare-handed martial arts.

Some readers have interpreted - and cannot be blamed - the three commas as three 6; the famous "666" of the Apocalypse.

At the presentation the Irish priest who explained said that "It is the whole notion of the journey in the divine, and also in eternal life".

I wonder why a Christian symbol was not good, since - it seems - it would be a Christian event. But maybe it's better not to ask too many questions."
Take a good look. Even if the caftans and muumuus aren't made of polyester, they certainly should be!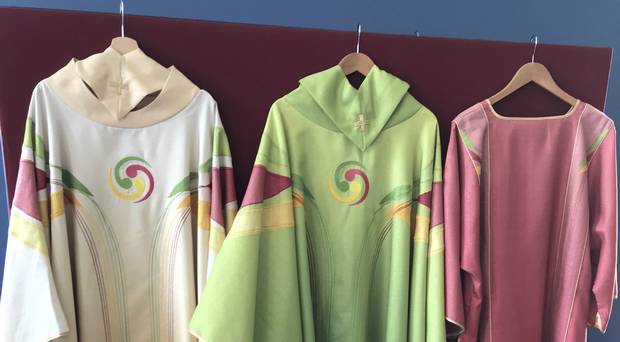 And let's not forget that Father Jimmy Martin will also be there with bells on (maybe literally), probably sporting one of these colorful bad boys himself. The editor at America magazine is reportedly scheduled to speak about how parishes can develope better programs to welcome LGBTQRS Catholics and their parents into the "Catholic Christian community". Sounds enthralling!
Listen, any parents claiming to be Catholic, that would send their kids to this ecclesial gay pride parade in Ireland really need to take some time off, maybe get a little therapy or something. I'd sooner send my kids on a camping trip with Van Halen.
Beam me up, Scotty!