Headline News Around the World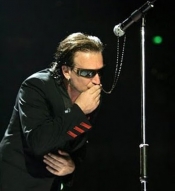 If even a worldly man like Bono is given the grace to live long enough to see the folly of his youth it seems he still has a fairly good chance of drifting back in the direction of truth before he grows old. After all, what else is there?! Trouble is, he must first overcome the cocaine-like addiction to being worshipped by the world. Would Bono have said anything like this when he was uber cool and U2 rocked the world? Probably not in a month of bloody Sundays.
But, hey, he's saying it now!
Remember that explosive "interview" Pope Francis gave to the radical Leftist and atheist Eugenio Scalfari? Not the third one, just published in La Repubblica, but the first one, published in that same newspaper on October 1 of last year, featured in L'Osservatore Romano, and lodged on the Vatican website as one of Francis's speeches, thus seemingly making it part of his rather liquid magisterium. You know, the one in which Francis is said to have declared that he does not believe in a Catholic God, that everyone should pursue his own vision of good and evil, and other "greatest hits" of what the press delights in calling a "headline-grabbing papacy."
Recall that after one of the by now routine semi-disclaimers by Father Lombardi—who called the interview "faithful to the thought" of Francis and "reliable in a general sense"­­­—the text was removed from vatican.va in embarrassment. Well, the same interview suddenly reappeared on the Vatican website this week, in both English and Italian, and was included once again among the Pope's speeches. But, after this stupefying development was noted by Antonio Socci and the Mundabor and Chiesa et Postconcilio blog sites, the "interview" was removed again, and the link provided by these bloggers now redirects searchers to the Vatican home page.