Headline News Around the World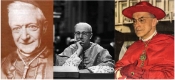 It is often voiced by conservatives disheartened by the changes in the Catholic Church that Vatican II was a good council, but that it was misinterpreted. If these good people were better informed as to what took place at the Council, they would never say any such thing. Though Vatican II started with the best resolves, it was hijacked in the opening session by rebel bishops because the pope had planned the Council without their advice and against their designs.
Reprinted from The Remnant (6/30/13)—Have you subscribed to The Remnant yet?

The psalms were the rosary of the Old Testament, or at least they foreshadowed the Marian rosary. One hundred fifty in number—excluding the Luminous Psalms—some of the faithful recited them in their entirety from memory. Others recited the first line of each psalm, intending the whole, much like the children of Fatima reciting abbreviated rosary prayers—until they were corrected by the Fatima Virgin.