Headline News Around the World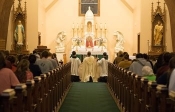 According to a report from Christendom College's Director of Admissions, Sam Phillips, in this week's Chronicler, the College is now offering the Traditional Latin Mass every Tuesday, Wednesday, Thursday and Friday. And, beginning yesterday—Laetare Sunday—Christendom College began making the Traditional Latin Mass the only Mass available on campus one Sunday of every month.

This in addition to the TLM being offered every Sunday at the parish Church of St. John the Baptist in Front Royal (just a 7-minute drive from campus) makes Christendom one of the most TLM-friendly colleges in the world.

Congratulations to my old Alma Mater on this historic decision. I'm unaware of any other mainstream Catholic college that does not offer the New Mass every Sunday of the year. Christendom is now the first, which means it will generously expose its entire student body to the TLM at least once a month. On that Sunday there will be no Novus Ordo option, which virtually guarantees that Christendom's student body will learn more about the Church's traditional liturgical patrimony than on any other college campus in America.
Our U.S. Bishops have been in the news lately. Lifesite News recently posted an article regarding the U.S. Bishops writing to the new U.S. Secretary of State Rex Tillerson on the subjection of Global Warming. The article reported that the bishops wrote a letter to the Secretary of State, letting him know how important this issue is to them. Now as someone who has written letters to U.S. Bishops on theological questions, I certainly hope their letter on the environment ends up like mine – summarily deposited in a trash can by someone utterly disinterested in what the writer had to say.