Headline News Around the World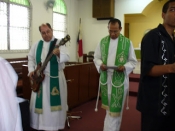 Due to circumstances beyond our control and too complicated to relate, my husband and I attended the Novus Ordo Mass this past Easter Sunday at a nearby diocesan church.
After two decades of assisting exclusively at the Traditional Latin Mass, we knew this would be an experience quite foreign to what we have become accustomed.
In many ways, we were neither surprised nor shocked. We knew the tone would be informal, mannerisms and dress (or more accurately "lack of dress") would be casual. We were not anticipating a serenely peaceful environment allowing the parishioners to prepare their hearts and minds for the Holy Sacrifice of the Mass.
Civil divorce and the canonical delict of bigamy: "The 1917 Code did not consider the remarriage of the divorced under the crime of adultery or public concubinage (cf. CIC' 17 c. 2357 Sec. 2) since there existed, in their case, the celebration of an exchange of consent which has satisfied the conditions of common law marriage. In this manner, the 1917 Code stressed that the mere fact that civil marriage was attempted, there existed a worse delict committed: civil marriage of the Baptized. For this reason, "adulterous concubinage does not suffice for the commission of the crime (of bigamy) since the delict (of bigamy) is consummated only when the principals have exchanged their marital vows.