Headline News Around the World
On May 20, 2017 New York Times writer, Sheryl Gay Stolberg, published a feature piece entitled, "Pregnant at 18. Hailed by Abortion Foes. Punished by Christian School." The Christian school's crime? Not allowing a visibly pregnant and unmarried eighteen year old student, Maddi Runkles, to "walk" in her high school graduation ceremony.
Miss Runkles admits to breaking the school code and knew she would face "punishment." However, it seems that to a lot of people, the school board's decision to not allow Miss Runkles to walk across the stage at graduation was somehow cruel and unusual.
Miss Runkles was pretty upset. As she stated to the New York Times reporter:
"Some pro-life people are against the killing of unborn babies, but they won't speak out in support of the girl who chooses to keep her baby," she said. "Honestly, that makes me feel like maybe the abortion would have been better. Then they would have just forgiven me, rather than deal with this visible consequence."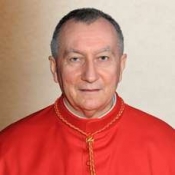 Is the Pope conversing here with his successor? (God help us if he is!)

Cardinal Pietro Parolin and the Knights of Malta

Has Bergoglio reached the end of his usefulness? And if so, what's next on the agenda?

While most eyes are still lingering on the repellant business in Fatima, and watching the skies for fire from above, the rumour mill is firing up again. There are people around about who want information to come out, and they like to send it to me and to others we know who are doing similar work. I've also been having conversations with various folks who have been sharing what they have heard. Then I suppose it is more or less my job to put the pieces of the puzzle together, with one bit from one person, and another bit from another, and see if it makes a picture.

(Nota Bene: all to be taken with the subjunctive and qualifiers... we're still talking about rumours and speculation, don't forget):