Welcome to The Remnant Newspaper
For nearly fifty years we have been fighting in defence of the traditions of the Catholic Church and the proclamation of the Kingship of Christ. In print or online, The Remnant calls a spade a spade no matter who is using it to bury God. Subscribe to the Remnant Newspaper print edition today!

Headline News Around the World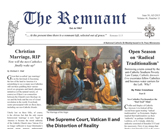 Preview the latest Remnant Newspaper Print Edition
Remnant TV offers a full range of cutting-edge commentary and events coverage. Having established itself with daily video updates from Rome, especially at the last conclave, we now produce weekly talks shows, such as The Remnant Underground and The Remnant Forum, with regular guests including Christopher Ferrara, Brian McCall, John Rao and other Catholic commentators. Please help us promote The Remnant and extend the Catholic influence on the Internet by sharing our videos with your friends.