Headline News Around the World
(This sermon was delivered at a monthly Traditional Latin Mass often attended by Latin Rite Catholics who fled to Eastern Rite Churches rather than attend the Novus Ordo Mass.)

In Nomine Patris, et Filii, et Spiritus Sancti. Amen.

In this 100th Anniversary Year of the apparitions of Our Lady of Fatima, tradition-minded Catholics, which should be ALL Catholics, rejoice in a special way in the Heaven-sent messages of Fatima for our troubled times. One of the messages, for our edification, was that when Our Lady of Fatima appeared in 1917, the three shepherd children who saw Her, Jacinta, Francisco and Lucia, ONLY attended the Traditional Latin Mass.

The Traditional Latin Mass being offered at Fatima may come as a shock to a significant number of Catholics born into the post-Vatican II Church, who only know of the Novus Ordo Mass. Most modern-day Catholics might only know that the Traditional Latin Mass was thought to be forbidden and later allowed only with permission and/or with numerous restrictions; that people who attended the Traditional Latin Mass were somehow bad or unfaithful to the Church. The Fatima children, who attended the Traditional Latin Mass, were traditional Catholics, as were the vast majority of Saints in the Church.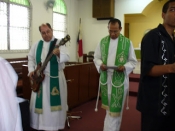 Due to circumstances beyond our control and too complicated to relate, my husband and I attended the Novus Ordo Mass this past Easter Sunday at a nearby diocesan church.
After two decades of assisting exclusively at the Traditional Latin Mass, we knew this would be an experience quite foreign to what we have become accustomed.
In many ways, we were neither surprised nor shocked. We knew the tone would be informal, mannerisms and dress (or more accurately "lack of dress") would be casual. We were not anticipating a serenely peaceful environment allowing the parishioners to prepare their hearts and minds for the Holy Sacrifice of the Mass.