So His Excellency Bishop Andrew Harmon Cozzens, auxiliary bishop of St. Paul and Minneapolis, was kind enough to offer the Traditional Rite of Baptism for Sean Christopher--12th child of David and Miriam Dvorak.

This was a proud moment for all of us here at The Remnant since Little Sean is actually the newest member of the family.
His mother is my sister Jane's eldest daughter, Miriam, and his father, David, hails from the famous Dvorak family--pioneers of the traditional Catholic movement here in Minnesota.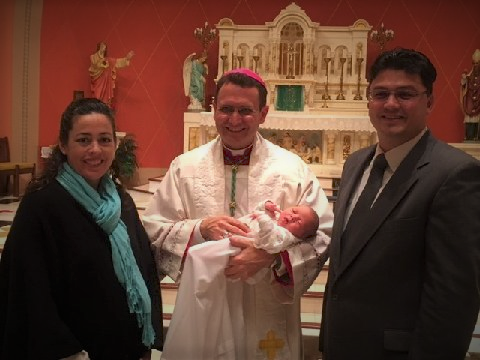 It should be noted that Bishop Cozzens is no stranger to the Traditional Rites of the Catholic Church. His Excellency has been generous and supportive of the traditional Catholic movement here in Minnesota. Here he is, in fact, offering the Traditional Latin Mass in the grand old Cathedral of St. Paul, assisted by a number of priests from the Fraternity of St. Peter.
Many thanks, Your Excellency. God bless you.

And a hearty word of welcome to Nephew Sean. I'd say "welcome to the Titanic" were it not for the fact that his arrival as Number 12 in this militantly Catholic home-school family offers so much hope. The old Faith will defeat the Revolution by simply outlasting it, and I'm convinced Sean will live to see the end of this nightmare. His birth and this Traditional Rite of Baptism offer promise that the ageing and impotent Modernists are doomed. Thanks be to God, it's only a matter of time.
Say hello to the Catholic counterrevolution's newest little recruit:
God bless you, Sean Christopher. Welcome aboard!