Why can't we figure out what is really going on? We have heard, since the last American general election, the term "fake news" being thrown around, that we can't trust what we're reading and hearing. It has been a huge success at creating fear and distrust, division and contention, as it was intended. We start to wonder if we can even trust our own eyes. We wonder what is going on in the Vatican and the world, and are at such a point of confusion and self-doubt that we feel we can no longer know up from down.

For many, it has the result of driving us away from public engagement altogether. If nothing you read or see on TV can be trusted – if we get conflicting and contradictory messages even from the pope – isn't it time to just retreat? To give up trying to figure it out, and build a private enclave where we don't have to think about it anymore?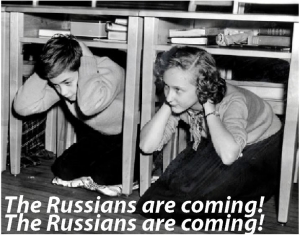 When, during that masterful press conference, Donald Trump told CNN's weasely interrogator Jim Acosta that he had changed his characterization of CNN's coverage of matters Trump from "fake news" to "very fake news," even the hostile audience of media jackals arrayed before him had to laugh, the response to humor and the truth it so often reflects being instinctive and difficult to suppress.

The "Russia investigation" narrative is the fakest of the fake news the liberal media propaganda organs have been pumping out ever since they realized that Trump might actually win the GOP nomination and—oh the horror—the Presidency itself.

On and on and on the amorphous "Russia investigation" goes, like a Hydra that sprouts new heads whenever a head is cut off. Now in its sixth month, the "Russia investigation" involves "the FBI, the CIA, the National Security Agency, the Justice Department, the Treasury Department's Financial Crimes Enforcement Network, and representatives of the director of national intelligence," as well as the House Intelligence Committee and the Senate Judiciary Subcommittee on Crime and Terrorism.