The procession was led by a statue of Our Lady of Fatima, which was carried right into the thronging secular crowd. Agnostics, atheists and pagans gasped and applauded, seemingly comforted by the sight of an image of their Heavenly Mother. The Catholic group was given exorcised St. Benedict medals, and some handed them on to protesters who received them gratefully and thoughtfully. The image of Our Lady was captured in several mainstream media reports, with one referring to "The Madonna" and supplying audio of Catholics praying and singing.
The Catholic presence at Melbourne's freedom rallies brings into focus the grave spiritual battle that is raging in Victoria. Catholics have been waiting for one of their bishops to speak out against a proposed law that could lead to the incarceration of those who refuse COVID vaccines. The Pandemic Powers bill would allow Premier Daniel Andrews, a Catholic, to bypass the Parliamentary process, giving him unlimited power over his citizens in the name of 'health."
Image courtesy of Justin Beirouti
Last week, sixty eminent lawyers signed an open letter requesting that the bill, which has already passed in Victoria's Lower House, be sent to a committee for further scrutiny. The lawyers referred to the proposed law as the "rule by decree."
Instead of speaking out against the undemocratic bill, the Archbishop of Melbourne, Peter Comensoli, banned his priests from attending the Rosary processions and Freedom rallies. On the eve of the second protest, Archbishop Comensoli emailed his priests to tell them not to attend. In the leaked email, sent on November 5th, he said that:
"… I do not support this action, and I ask all Clergy to refrain from attending or promoting something that will place people's safety and health at jeopardy, and which may be an incitement to illegal activity.
Without doubt, there is much to be concerned about the policy and legislative agenda of the Government, and measured steps ought – and are – to be taken to challenge this.
However, I am concerned that the planned form of action is based on misinformation and half-truths that have fostered a sense of fear and pastoral crisis. What might seem an action of prayer will, in the hands of the media, become a political event that will only generate further confusion and animosity."
Despite claiming that "measured steps" are being taken to oppose the government's agenda, the Archbishop went on to scandalise Catholics even further by allowing Premier Andrews to receive Holy Communion at a state funeral last Friday. The funeral was held at Melbourne's St. Patrick's Cathedral, for the repose of the soul of an Australian entertainment personality, Bert Newton.
The Requiem Mass was televised, and the video shows Archbishop Comensoli stating that Catholics who come forward "in good faith" would be able to receive Holy Communion. Premier Andrews can be seen leaving his pew and presenting himself to the Cathedral dean, Fr. Werner Utri, for Communion. The Archbishop can be seen standing only a few feet away and so could not have been unaware of the proceedings.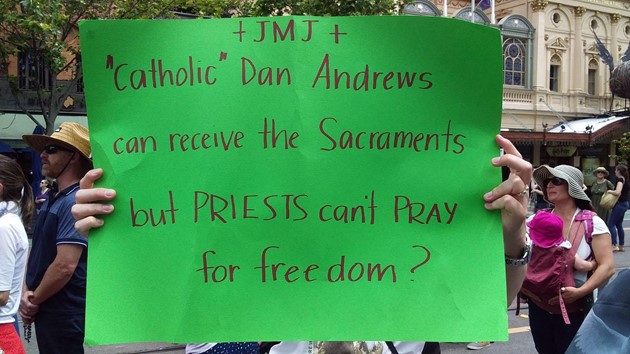 In any case, Premier Andrews' public endorsement of the LGBTI agenda, his shutting down of churches for months on end, his promotion of abortion and assisted suicide and his current attempt at undermining the democratic process undeniably make him a public sinner from whom Holy Communion should be withheld.
The insult given by the Archbishop to his faithful is egregious. Victorian Catholics have been denied the Sacraments for more than two hundred days in the last eighteen months. Yet the man responsible for that is able to freely receive Holy Communion despite his grave, public violations of Catholic teaching.
Thankfully, some priests were still able to attend the third rally. Priests from the Society of St Pius X, for whom Archbishop Comensoli is not the Ordinary, joined the laity in praying and marching for freedom. Their presence boosted the spirits of the faithful who had been aggrieved to learn that their own parish priests had been stopped from attending.
Among the many signs at the rally expressing opposition to mandatory vaccination and the Emergency Powers bill, some showed support for a prominent Catholic doctor whose clinic was recently shut down by government officials. Only this week, Dr. Mark Hobart's clinic was raided by Health Department authorities who confiscated his patient files and removed his appointment book. Dr. Hobart had previously refused to hand over his records to authorities without the consent of his patients.
Image courtesy of Ana Macan
Mainstream media has reported that Dr. Hobart was writing "fake" vaccine exemptions, without explaining that the government's guidelines for allowing exemptions are so narrow that it is almost impossible to be granted one. Many doctors have been refusing to write exemptions for fear that they will be targeted by the authorities; several who were supplying exemptions have been stopped from seeing patients and have had their files and computers confiscated.
The Emergency Powers bill will be debated in Victoria's Upper House this Tuesday, where it is expected to pass narrowly. Organisers of the Rosary procession plan to gather once more on November 20th and will join the secular Freedom protest which is being held worldwide on that date.
If the Bill does pass, we in Victoria will have the consolation of knowing that Our Mother is with us and that we did all we could to stand up against a godless tyrant - despite the kid-glove treatment he has been given by the institutional church. The numerous stories of lapsed Catholics returning to the Faith as a result of these Rosary processions, and the great sense of encouragement which many - including non-Catholics - have felt from participating are the rich fruits of a prayerful public witness that, sadly, our prelates seem to find incomprehensible.
Watch the Latest from RTV - THE GREAT REJECT: Will Democrats Go Down with the Ship?