Whatever you think of President Trump, you'll search in vain for another world leader today who would dare call Jesus Christ "Lord and Savior".
Yes, but he doesn't mean it! So say the never-Trumpers. Perhaps not, but he said it. He cared enough about you and me and Christians all over America to say it here in a most Christophobic moment in our history. He said it, and, really, there's no downside to the fact that he reminded the whole world (last Christmas and then again this Christmas) that Jesus is what this Season is all about.
Here's what President Trump said this year, in 2018, after publicly thanking as "very special" the Dominican Sisters of Mary, a group of singing nuns from Ann Arbor, Michigan:
"For Christians all across our nation, around the world, this is a sacred season that begins 2,000 years ago when Jesus Christ was born," Trump said. "An angel declared to the shepherds tending their flocks, 'Behold, I bring you good tidings, great joy, which shall be to all people. For unto you is born this day in the city of David a Savior, which is Christ the Lord.' There in Bethlehem, Mary and Joseph held in their hands the son of God; the light of the world; and, through Him, the promise of eternal salvation."
And here, you may recall, is what President Trump said last year:
Sometimes I fear that after Nancy and her minions get through destroying this man in a few months, we'll all look back on the Trump years as something of a last hurrah for Christian Americans. History may well record how President Trump stood as the last American president who tried to do the right thing by patriotic, Christian Americans. Despite his flaws, he tried to be on our side, tried to take us into account, tried to represent us when most of the rest of the world was trying to lock us up—but we told him to go to Hell.
I'd say, instead of joining in on the flogging of Mr. Trump, let's pray for him this Christmas.
And, while we're at it, please share this video! What fun it would be if the first RTV video to hit 1,000,000 views was, in fact, the one praising the leader of the free world for saying of Christ the King: "He is Our Lord and Savior Jesus Christ".
Whatever you think of Trump, he's right about that!
Merry Christmas, Mr. President. Whatever they do to you, never give up on your Lord and Savior Jesus Christ or the folks all around this country who follow Him.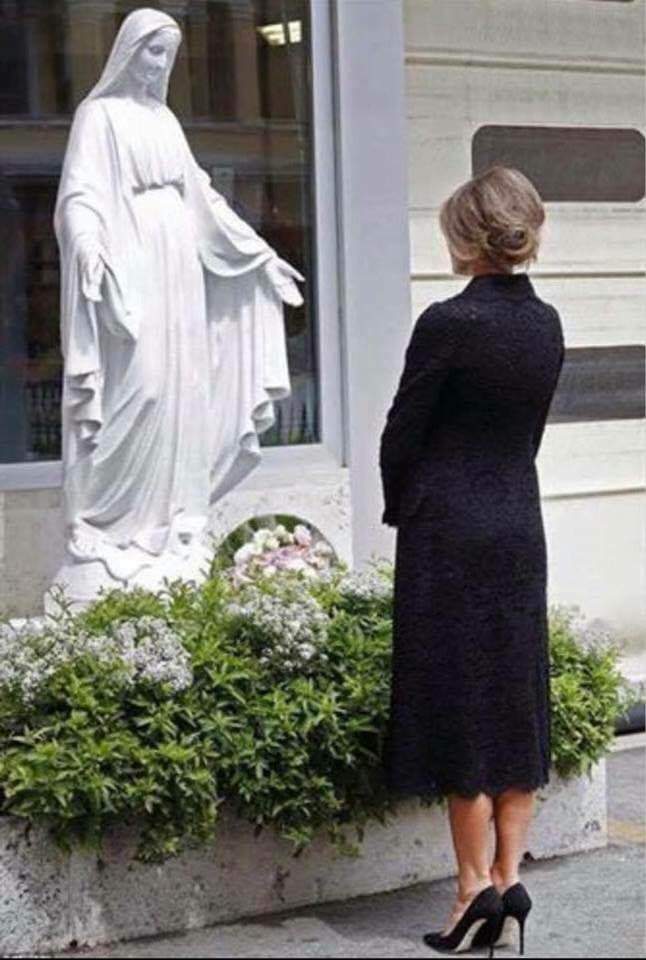 Melania Trump stops at a statue of Our Lady during her and Trump's visit to the Vatican.