Traditional Catholics: The New Judaizers?

Father uses St. Paul's Epistle to the Galatians and the story of Jesus and the ten lepers as foundation for his discussion of the Old Law and a pharisaical approach to the Gentiles. Is St. Paul's anger at the Judaizers the same as the anger many critics today express against Traditional Catholics-- those they accuse of being the new Judaizers for insisting on restoring the Old Latin Mass, the old moral theology and the rest of the traditions of the Church? What do you think?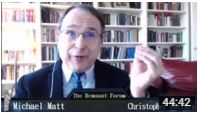 Pope Francis: The Classic Modernist



Are you a gnostic? A Pelagian? Pope Francis evidently thinks so. The Pope's recent address in Florence is dissected in this episode of the Mike n' Chris Show, and found to be not only hopelessly wanting, but downright terrifying. What is Francis's vision for the Church of the future? One that is "bruised, hurting and dirty." God save us what is this man's problem!
More...