Springtime Update from AngelQueen and the Diocese of Quebec:
Number of Quebec parishes falls from 130 to 64 [and eventually to 37] as "reorganization" continues
[The "springtime" of Vatican II comes to Quebec]
Catholic World News – 1/23/18
Prior to a reorganization announced in 2011 by Cardinal Gérald Cyprien Lacroix, the Archdiocese of Quebec had 216 parishes. On January 1, the number of parishes serving these 216 "local communities" was reduced from 130 to 64. In 2020, the number of parishes will fall to 37.
Source: Diocèse de Québec
Read at AngelQueen.org HERE
REMNANT COMMENT: Well played, Vatican II! But at least now the Quebecois can all "participate" in the liturgy...assuming they can find a church that's not been sold or shuttered.
Here, by the way, is some video footage from back in the days of the Old Evangelization—as opposed to the New & Improved one, which is so much better, right? This is what Catholics believed...this is what we used to be...this is what we lost:
And for those not too busy celebrating the Springtime of Vatican II, here's a video report on the recent demise of the great four-century-old Ursuline mother house in Old Quebec: View Here
And here's how the Ursulines in Quebec got started some four hundred years ago, before the Church of Accompaniment came along to help us figure out that proselytism is, as Pope Francis tells us, "solemn nonsense":
St. Marie de l'Incarnation, Mother of Quebec
The arrival of the Ursulines in Quebec, 1639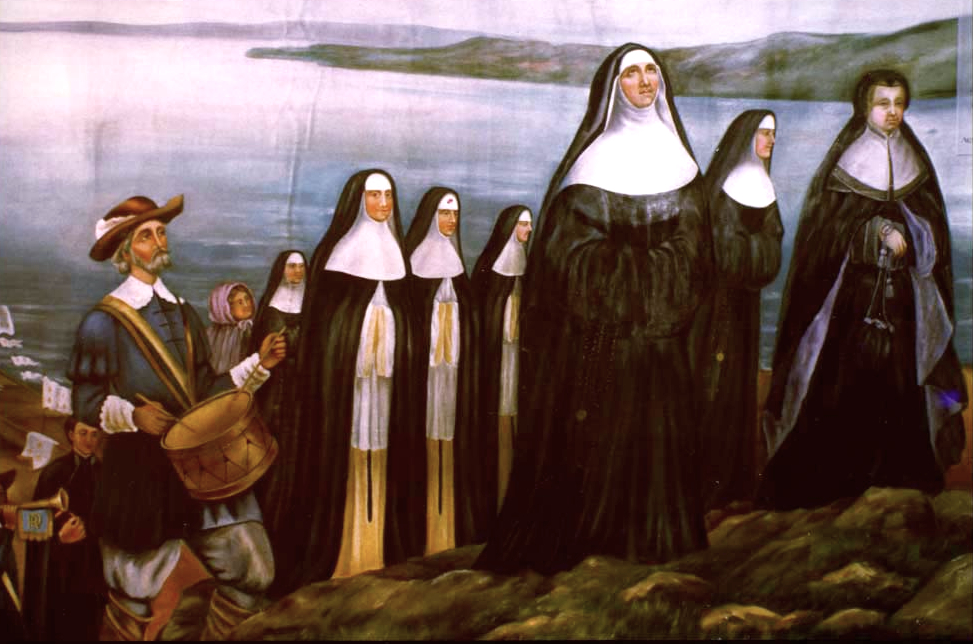 One rarely comes across a person with more true grit than St. Marie of the Incarnation. Not only was she the most significant missionary leader to establish the Ursuline Convent in Quebec, she was also a mother and a skillful entrepreneur.
She was christened as Marie Guyart in Tours, France in 1599. She was the fourth of Florent Guyart and Jeanne Michelet's eight children. When Marie was seven years old, she experienced her first vision of Jesus Christ. In her book Relation of 1654, she recounted: "With my eyes toward heaven, I saw our Lord Jesus Christ in human form come forth and move through the air to me. As Jesus in his wondrous majesty was approaching me, I felt my heart enveloped by his love and I began to extend my arms to embrace him. Then he put his arms about me, kissed me lovingly, and said, 'Do you wish to belong to me?' I answered, 'Yes!' And having received my consent, he ascended back into Heaven." From that point onward, Marie felt "inclined towards goodness."
Intent on belonging to Christ, Marie, at fourteen years of age, proposed to her parents that she enter religious life with the Benedictines of Beaumont Abbey, but her parents disregarded her desire. Instead, she was married to Claude Martin, a master silk worker in 1617. By her own account, she enjoyed a happy - although brief - marriage and within two years she had a son, also named Claude. Her husband died only months after the birth of their son, leaving Marie a widow at the age of nineteen.
With her husband's death, Marie inherited his failing business which she then lost. Forced to move into her parent's home, Marie secluded herself to pursue a deepening of her commitment to spiritual growth. After a year with her parents, Guyart was invited to move in with her sister and brother-in-law, Paul Buisson, who owned a successful transportation business. She accepted, and helped in managing their house and kitchen.
Turns out she had a knack for business, and not only did she make the silk merchant business profitable, but from there she went on to run her brother-in-law's transport company. She took care of everything: the inventory of goods, the drivers, even the 60 horses.
But nothing, not even worldly success and acclaim, could distract Marie from the pursuit of a spiritual life. Finally, free to pursue her religious inclinations, Marie took vows of chastity, obedience and poverty. On 24 March 1620, she received a vision that inflamed and renewed her ardent desire for the habit. "I was constantly occupied by my intense concentration on God," she wrote in 1633. In 1631, after working with a spiritual director for many years, Guyart decided to enter the Ursuline monastery in Tours to test her religious vocation, at which time she received the religious name of Marie of Incarnation, by which she is now known.
Joining the monastery required her to leave her adolescent son. This was the most difficult decision of her life, but she accomplished the separation only because she firmly believed that it was the will of God. Young Claude did not respond with such resignation. He attempted to storm the monastery with a band of school friends, and could repeatedly be found crying at the gates, trying to enter. She left him in the care of the Buisson family, but the emotional pain of the separation would remain with them both. Her heart and prayers reached out toward him all her life, and her constant petitions to God affected a strong zeal for souls in the boy himself; he grew up to become a Benedictine monk. In later years they corresponded candidly about their spiritual and emotional trials.
Marie experienced a vision that would inspire her voyage to the New World. She saw herself walking hand in hand with a laywoman against the backdrop of a foreign landscape; on the roof of a small church in this distant, foggy landscape sat the Virgin Mary and Jesus. In Relation of 1654 she wrote, "I saw at some distance to my left [in] a little church of white marble...the Blessed Virgin was seated. She was holding the Child Jesus on her lap. This place was elevated, and below it lay a majestic and vast country, full of mountains, of valleys, of thick mists which permeated everything except the church...The Blessed Virgin, Mother of God, looked down on this country, as pitiable as it was awesome...it seemed to me that she spoke about this country and about myself and that she had in mind some plan which involved me."
With the assistance of her spiritual director, Marie identified the country to be Canada and became convinced that her vocation was to help establish the Faith in the New World. Marie's initial financial concerns for the funding of the journey and the establishment of a convent in New France were resolved when she was introduced to Madeleine de la Peltrie. Marie recognized that this devout widow, the daughter of a fiscal officer, was the laywoman from her vision. De la Peltrie's contribution to the endeavor was met with strong opposition from her aristocratic family. To garner their support, de la Peltrie went so far as to arrange a sham marriage with a Christian man, Jean de Brenière. Madeleine's new marital status gave her the legal authority to sign over the bulk of her estate to the Ursuline Order, thereby fully funding the mission.
The spiritual daughters of St. Marie, a few years before Vatican II
On May 4, 1639, Marie de l'Incarnation and her intrepid new friend, Madeleine de la Peltrie, set sail from Dieppe for Quebec on board the Saint Joseph. They were accompanied by a fellow aristocratic Ursuline Marie de Sanonières, the young commoner Charlotte Barré, three nurses, and two Jesuit Fathers.
Despite never achieving martyrdom, Marie spent many years in the New World aspiring towards it, working diligently in the meantime. She was one of the first female missionaries in the New World, and the first superior of the Ursulines in Canada. The routine of everyday life was organized in the little house lent by a friend. It consisted of two rooms and a leaky roof. Little Indian girls flocked to the convent in such great numbers that it was thought necessary to build a monastery in 1641. Setbacks could have discouraged this little community, but the management strength of Mother Marie kept the community going. Not only did the sisters teach the young Indian girls, but they also washed, dressed and fed them free of charge. To teach the girls more effectively, Mother Marie learned the Algonquin, Huron and Iroquois languages and wrote dictionaries and catechisms for her students. Slowly but surely the number of sisters grew as they received new vocations.
Then fire destroyed the convent, and in a few hours the sisters' work of nearly ten years was destroyed. Mother Marie and the sisters decided to not leave the area and to build again. She wrote, "We are in the dark here, and we must grope around for our way. We consult wise persons, but things do not turn out as foreseen. We roll along, however, and when we think we are at the bottom of the precipice, we find ourselves standing upright."
Back in France, Marie's son Claude became a Benedictine monk in 1641. He was eventually elected prior, assistant, definer and president of the General Chapter of his Order. For 30 years he kept up regular correspondence with his mother in Canada. This son was the first to write a biography of his mother, and in the foreword, the Bishop of Quebec wrote:
"Having chosen her to establish the Ursulines in Canada, God gave her the full spirit of her Institute. She was a perfect superior, an excellent Mistress of novices, capable of undertaking any religious enterprise. Her exterior life, simple and well-disciplined, was animated by an intense interior life, so that she was a living Rule for all her Community. Her zeal for the salvation of souls, and especially for the conversion of the Indians, was great and so universal that she seemed to carry them all in her heart. We cannot doubt that, by her prayers, she greatly called down God's many blessings upon this new-born Church."
Marie died of a liver illness on April 30, 1672. In the necrology report sent to the Ursulines of France, it was written: "The numerous and specific virtues and excellent qualities which shone through this dear deceased, make us firmly believe that she enjoys a high status in God's glory."
Her powerful intercession can be sought at any time, but especially on her feast day, April 30th.
Sources:
saltandlighttv.org/blog/general/marie-of-the-incarnation-meant-business
Wikipedia
catholicsaints.info/saint-marie-of-the-incarnation-guyart/
ursulinesmsj.org/blog/marie-of-the-incarnation