REMNANT UNDERGROUND:
In this week's Remnant Underground, host Michael J. Matt kicks off The Remnant League of the Sacred Heart. Patterning it after the great Catholic uprising in the Vendee during the French Revolution's 'Reign of Terror', Michael explains the significance of the 'Sacre Coeur' to the Royal and Catholic Army of the Vendee. The pledge of allegiance and fidelity to the Sacred Heart on the part of these very early pioneer traditional Catholics--and the actual wearing of the Sacred Heart patch--was later adopted in the twentieth century by both the Cristeros in Mexico and the Carlists in Spain. The tradition was picked up by the Notre-Dame de Chretiente Pilgrimage to Chartres, and now The Remnant is trying to establish the League throughout the traditional Catholic world. Want to become a member? Watch this video and share it with your friends.
It's so easy to join, and doesn't cost you a penny. Simply order your Sacred Heart lapel pin -- specially designed for The Remnant by a longtime friend of The Remnant... and patterned after those worn by the Vendeans in France (pioneer traditional Catholics).
If you promise to at least try your best to wear it and spread devotion to the Sacred Heart, we'll send you this beautiful champlevé enamel gold-plated pin for free.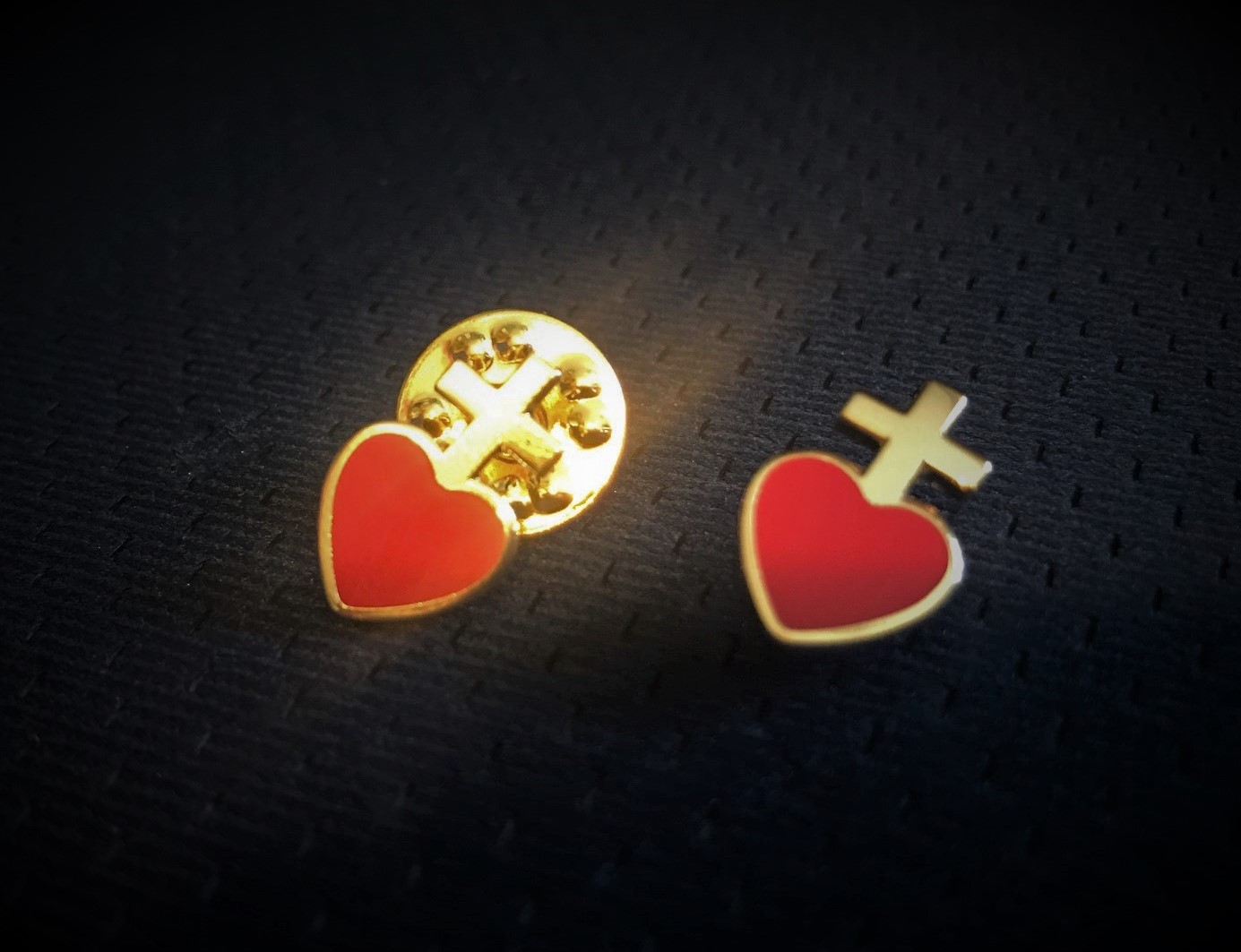 Pins are 1/2 inch in height.
We are giving these pins away for free.
Will you help us cover the cost of postage?
Your donations are tax-exempt.
Catholics of the Vendee, pioneers of the Traditional Catholic movement, wore the badge of the Sacre Coeur.
Background:
The first nation to consecrate itself to the Sacred Heart was Ecuador. The Archbishop of Quito, His Grace Jose Ignacio Checa y Barba, and President Gabriel Garcia Moreno jointly and solemnly consecrated Ecuador to the Sacred Heart on March 25, 1874.
More on the Vendee:
https://www.remnantnewspaper.com/Archives/2009-Remnant-genocide_in_france.htm
Popes on the Sacred Heart Devotion:
Pius XI, Leo XIII, Pius XII
Pope Leo XIII: http://w2.vatican.va/content/leo-xiii/en/encyclicals/documents/hf_l-xiii_enc_25051899_annum-sacrum.html
Pope Pius XI: https://w2.vatican.va/content/pius-xi/en/encyclicals/documents/hf_p-xi_enc_19280508_miserentissimus-redemptor.html
Pope Pius XII: http://w2.vatican.va/content/pius-xii/en/encyclicals/documents/hf_p-xii_enc_15051956_haurietis-aquas.html
____________________________________
Act of Consecration of the Human Race to the Sacred Heart of Jesus
Most Sweet Jesus, Redeemer of the human race, look down upon us humbly prostrate before Thine altar. We are Thine, and Thine we wish to be; but to be more surely united to Thee, behold each one of us freely consecrates ourselves today to Thy Most Sacred Heart.
Many indeed have never known Thee; Many too, despising Thy precepts, have rejected Thee. Have mercy on them all, most merciful Jesus, and draw them to Thy Sacred Heart. Be Thou King, O Lord, not only of the faithful children, who have never forsaken Thee, but also of the prodigal children, who have abandoned Thee; Grant that they may quickly return to their Father's house lest they die of wretchedness and hunger.
Be Thou King of those who are deceived by erroneous opinions, or whom discord keeps aloof, and call them back to the harbor of truth and unity of faith, so that there may be but one flock and one Shepherd.
Be Thou King of all those who are still involved in the darkness of idolatry or of Islamism, and refuse not to draw them into the light and kingdom of God. Turn Thine eyes of mercy towards the children of the race, once Thy chosen people: of old they called down upon themselves the Blood of the Savior; may it now descend upon them a laver of redemption and of life.
Grant, O Lord, to Thy Church assurance of freedom and immunity from harm; give peace and order to all nations, and make the earth resound from pole to pole with one cry; praise to the Divine Heart that wrought our salvation; To it be glory and honor forever.
R. Amen.