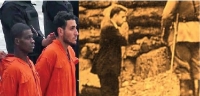 New from RTV...


This month marks the second anniversary of the martyrdom of 21 Coptic Christians at the hands of Islamic terrorists. Their crime? Loving Christ enough to die for Him. Would Roman Catholics do the same? What motivates martyrs, if not love?
Michael Matt asks the question: Is it because the New Order no longer speaks of Holy MOTHER Church that so few of her sons seem willing to die for her anymore?

What have we lost? What was life in the Church like just 40 years ago? Growing up Catholic...and remembering what we lost. Scapulars. Meat-less Friday. Ember Days. Midnight Masses. Catholic Schools. Unlocked churches. Kids on bikes (sans helmet). Dogs without leashes. Large Catholic families. Remember?
Michael Matt 'goes off' on the revolution of Vatican II, pointing out what life was like before Catholics got "sophisticated."

[Comment Guidelines - Click to view]

Michael J. Matt has been an editor of The Remnant since 1990. Since 1994, he has been the newspaper's editor. A graduate of Christendom College, Michael Matt has written hundreds of articles on the state of the Church and the modern world. He is the host of The Remnant Underground and Remnant TV's The Remnant Forum. He's been U.S. Coordinator for Notre Dame de Chrétienté in Paris--the organization responsible for the Pentecost Pilgrimage to Chartres, France--since 2000. Mr. Matt has led the U.S. contingent on the Pilgrimage to Chartres for the last 24 years. He is a lecturer for the Roman Forum's Summer Symposium in Gardone Riviera, Italy. He is the author of Christian Fables, Legends of Christmas and Gods of Wasteland (Fifty Years of Rock 'n' Roll) and regularly delivers addresses and conferences to Catholic groups about the Mass, home-schooling, and the culture question. Together with his wife, Carol Lynn and their seven children, Mr. Matt currently resides in St. Paul, Minnesota.