There in the shadow of the Chartres Cathedral, lies the body of a true Catholic hero. Yes, he was German. Through no fault of his own, he found himself on the wrong side of very complex geopolitical struggle. But not unlike so many German Catholics of that period, he was no Nazi. And during the war, he dedicated himself to his duty as a Catholic priest—saving souls and comforting the maimed and dying victims of war, regardless of their political allegiance.
Today it is very fashionable for us all to make sweeping generalizations about the "good guys vs. the bad guys" in World War II. With our 20/20 hindsight, we like to position ourselves always and forever among the good guys, as though it was all very black and white for the real people who lived through the actual events. This may make us feel very special, but it has little in common with how it actually was for millions of good people caught up in that bloody and terrible war.
Many good German Catholics—priests, nuns, laymen and even soldiers (such as Claus von Stauffenberg, who attempted to assassinate Adolf Hitler)—were not enamored with the National Socialists, and found themselves torn between loyalty to hearth and home and the need to resist the political regime. Some, like Father Stock, dedicated themselves to making a terrible situation just a bit better for victims on all sides. He did so in such a heroic manner, in fact, that today the cause for his canonization has been opened and he has already been declared a Servant of God.
Here is his story…
Father Franz Stock spent most of his adult life in France, working as a priest, a prison chaplain and the director of the "barbed-wire seminary" in a French POW camp for German soldiers wanting to become priests. He was an ardent Catholic. Those who know of him on both sides of the Franco-German border insist that no complete account of postwar rapprochement can be proffered without acknowledging Stock's vital role.
Franz Stock was the oldest of nine children born to a working-class couple, and he knew by the time he was twelve years old that he wanted to become a priest, even though WWI and a disease which compromised his heart were setbacks in pursuing his vocation.
At the age of twenty-two he entered the seminary at Paderborn and joined the Quickborn (Catholic youth) movement, with which he was first able to visit France during the summer of 1926, for an international peace conference held at Bierville. He was deeply impressed by French Catholicism, and as a result of this influence, Stock applied to spend three semesters at the Institut Catholique in Paris; he was the first German to be admitted since the Middle Ages.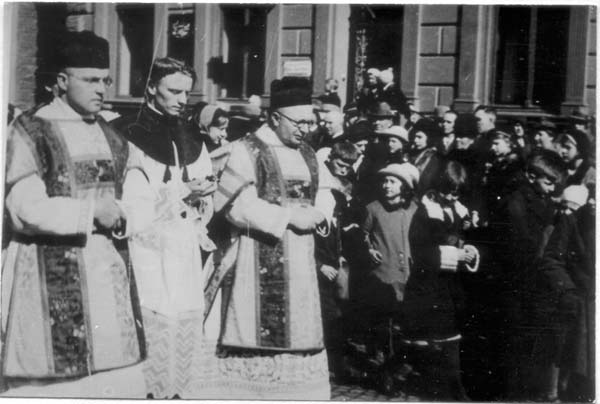 Franz Stock's ordination
It was during this impressionable stage that Stock became determined to dedicate his life to Franco-German reconciliation, a devotion all the more extraordinary for the reality Stock faced when he gave himself over to it: this was arguably the most intensely hostile period of the two countries in their centuries-long history of rivalry, enmity, and bloodshed. At this time, Europe teetered on the cusp of the next global war; a quivering breath between two world-wide calamities.
Stock was ordained a priest in 1932, and two years later was appointed to run the Boniface Mission, Paris' German Catholic center in the Latin Quarter. His arrival back in Germany upon the outbreak of the Second World War was only temporary; he applied for and received permission to return to Paris in June 1940.
He procured from the German ambassador to Vichy, France, a pass which allowed him to visit imprisoned French men and women, to give them pastoral care. Subsequently he was given the title of auxiliary Wehrmacht chaplain, with the honorary rank of Major, and assigned to tend the souls in the prisons of Fresnes, La Santé and Cherche-Midi, all the Wehrmacht prisons in the greater Paris area (used to hold German soldiers charged with breaches of discipline), and La Pitié Hospital.
With the exception of two relatively brief periods when he had junior chaplains assisting him, Stock was the sole provider of pastoral care for three of France's largest war prisons, a hospital, a myriad of smaller prisons, and his own church. He served as a clandestine intermediary between the prisoners and their families, and often was the only link through which they could communicate with each other.
As part of his pastoral duties, he accompanied hundreds of prisoners, mostly members of the French Résistance, to their execution site at the infamous Mont Valérien between 1940 and 1944. Stock accompanied the condemned there, sitting among them on the floor of the trucks, and staying with them to the end. Most importantly he administered Extreme Unction to them before their lives were cut short by execution.
Once there, his task was not over, because he stood watching, holding his Bible and a Crucifix, and silently praying, as firing-squad bullets ripped into the victims. Still he watched as each man was given a last bullet to the head to make sure he was dead. Then he accompanied the dead to the cemeteries, sitting with the bodies in the back of the German army trucks, and still he watched to see where their bodies were dumped into mass graves, taking note of each site in his diary and sending word back to their loved ones.
He was not unmoved by this daily routine. One evening, after he had returned to his rectory in Paris, his sister and a nun, who were keeping house for him, heard an unexpected sound coming from his office. Upon entering they found Fr. Stock weeping uncontrollably.
This remarkable individual is remembered less for the inestimable services he performed as loyal chaplain to the Allied POWs during the Occupation, and more for the responsibility he took on at the end of the war, when he was already physically and emotionally destroyed.
By August 1944, Paris had been liberated and those Germans who had not fled east were taken prisoner by the Allies. Fr. Stock, whose heart condition was catching up to him, was a patient in Paris's Pitié-Salpêtrière Hospital, along with 600 wounded German soldiers and 200 wounded Allied troops. The American liberators of Paris took command of the hospital and arrested all the Germans. So too did they arrest Fr. Franz Stock, an absolute innocent.
Fr. Stock was first held in an American-run POW camp in Cherbourg, where his health deteriorated at an alarming rate. Here two French bishops intervened on his behalf, but the Americans only agreed to move him to another camp.
He wrote in his diary: "I have now entered the ranks of the POWs at Depot #51. The former USPWIB 31 has now become Orléans Prisoner #7300402."
This priest, who had cradled those who were living their final moments on earth, and whom the dying and their loved ones had called l'archange des prisons (the archangel of the prisons); in the POW camps of Cherbourg and Orléans, this priest once again ministered to the prisoners. The only difference was that in these camps the POWs were German.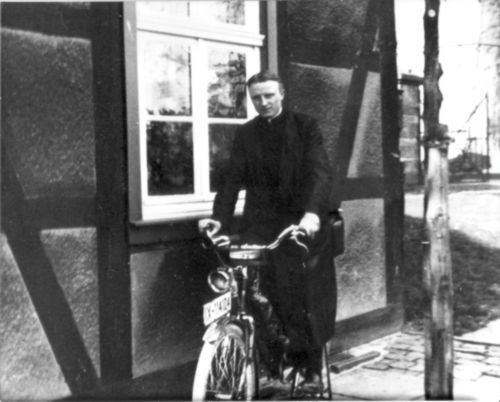 In the winter of 1944/45, after France had been liberated from Axis control, Abbé Jean Rodhain, French chaplain-general in charge of all German and Axis POWs, took note of the presence of young prisoners in various POW camps across the country who had been studying in seminaries before being conscripted into the Wehrmacht. Together with his assistant Georges Le Meur, another priest who had been active in the Résistance, Rodhain received permission from the military authorities to organize a temporary seminary in one camp and began to search for volunteer attendees from among the POW population. They did so in the interests of revitalizing the Catholic Church in Germany, in the hopes that the Church would play a role in the reconstruction – and re-Christianization – of Germany after the fall of Nazism.
Rodhain and Le Meur did not hesitate to choose a German priest to head the seminary. It was Le Meur who nominated Stock for the position. Stock was himself a POW at a camp near Cherbourg, and despite his physical illness, he readily assented to his new position. His incoming theology class was 28 strong.
What began as an experiment with a few seminarians near the POW camp at Orléans, became by Christmas 1945, an impressive, smooth-running operation at Le Coudray, on the outskirts of Chartres, with more than 380 enrolled seminarians.
The seminary was moved after encountering increasingly severe problems with the other German POWs at Orléans. The camp's military commander and supporter of the seminary project, Laurent Gourut, was transferred to Le Coudray and arranged for the seminary to go with him.
In addition to the seminarians, the project also involved: forty lay brothers (culled from the German POW population in France) who served as cooks and cleaners; Chartres' bishop, Monsignor Thomas Harscouet, who knew of and approved of what was going on; and the Vatican's nuncio in France, Angelo Roncalli, who gave his blessing to the camp in person.
In 1946, Stock added several volunteer faculty members from the University of Freiburg, who came of their own free will – and became POWs as a result – to teach courses on moral theology, pastoral theology, canon law, scripture, and others. In the two years that the "barbed wire seminary" (French: séminaire de barbelés; German: Stacheldrahtseminar) existed, more than 1,000 Germans benefitted from its courses, and more than 600 of these went on to be ordained priests.
Fr. Stock in prison camp #501, home to the secret POW seminary
What is even more astonishing was the secrecy that remained relatively intact around the entire affair (only a few ministers in the de Gaulle provisional government knew of the seminary), because Rodhain and Le Meur feared the reaction of the communists if they learned of what was going on. The majority of the French ecclesiastical hierarchy who knew of the seminary did not approve, but kept silent about its existence.
And finally, the inhabitants of Chartres did not know much, either of the seminary or of the camp itself. Consumed with the business of surviving in the post-war chaos, few interested themselves in the detested German POWs languishing indefinitely behind barbed wire on the outskirts of their city.
The camp's remaining seminarian internees were liberated on 1 May 1947, shortly after they had completed their final examinations. Le Coudray was shut down in December of that year. During the summer, Stock returned to Paris, a paroled POW whose could not even obtain an identity card that would have allowed him to leave Paris for short periods of time.
A prisoner of France, he began to reorganize the Boniface Mission in the Latin Quarter and helped whoever came to his door, which included both French and German priests but mostly former German POWs (now called "free workers") unable or unwilling to make the journey back to a devastated Germany. In this capacity, he received an honorary Doctorate from the University of Freiburg, but the French, citing his POW status, refused to grant him permission to leave France to accept the Doctorate, and informed him that the university could ship him his degree.
The French also would not issue his sister, Franziska, a visa to return to Paris to be with him.
On 22 February 1948, he collapsed and was hospitalized, diagnosed with a pulmonary embolism. He was unable to breathe but is reported to have said: "I will be fine. Bring my clothes so that I can get up. I will be leaving for home in a few days."
In a sense, he did go home. He died two days later. Because of his POW status, he was not permitted a public funeral, nor was his family allowed to make the journey from Neheim to attend. Still, some one hundred people appeared for the private service that his friends had organized. Those who attended included Abbé Rodhain, Angelo Roncalli as nuncio, the auxiliary bishop of Paris, and government ministers Michelet and Francisque Gay. He was buried in a simple grave marked only with an unpainted wooden cross in Paris's large Thiais cemetery.
There lied the human remains of Father Franz Stock, quite forgotten, his tomb becoming more and more dilapidated, until Saturday, January 15, 1963, when his body, in an elegant wooden coffin, was transferred to the newly-erected Church of John the Baptist in the northern district of Rechèvres in Chartres. Present, as French and German flags fluttered in the wind, were high ranking French and German politicians, military personnel and clerics, French 'Résistants' and former German POWs. Also present were one of his brothers and one of his sisters: Franziska was too ill to attend, and so was his mother. His father was no longer alive.
Today the camp at Le Coudray near Chartres still stands, but is much diminished. Originally occupying thirty-two hectares and known as POW Depot #501, today the camp is just under eight hectares (the size of the original camp, first opened in 1912). The Franz Stock Committee, in its French and German manifestations, Les Amis de Franz Stock and Franz-Stock-Komitee, is dedicated to preserving the site, renamed the Franz Stock European Meeting Center (Centre Européen de Rencontre Franz Stock; Europäische Begegnungsstätte Frankz Stock). It is composed of a single preserved barrack, which housed the main building of the seminary and its chapel, and the land immediately around it. The rest of the site and the half-dozen or so remaining barracks are owned by various local collectivities. The military has not been associated with the site since 2001.
In March 1998, Chancellor Helmut Kohl of Germany visited Chartres and the former POW camp to honor Stock on the fiftieth anniversary of his death. In February 2008, French President Nicolas Sarkozy marked the sixtieth anniversary of Stock's death with a ceremony at Mont Valérien, where Fr. Stock had accompanied so many Résistance prisoners to be executed; the plaza in front of the memorial set up there was renamed after Stock in 1990. In November 2009, the process of beatification was opened for Stock in his birthplace in Neheim, and is currently ongoing.
Father Stock, Pray for us
Reprinted from The Remnant (5/31/18)
Catholic Heroes is a regular feature in The Remnant Newspaper. Subscribe today and never miss another inspiring story!