At that time, I wrote an article for The Remnant titled, "Heart, Give Me Thy Son – A Story of Vocation," to give readers an insight into how our son, who was raised in the Novus Ordo tradition, ended up joining a Traditional Latin Mass religious order.

Up to this day, I still have people telling me that they have read my article about my son's vocation in The Remnant. They tell me how it touched their lives, and made them think more deeply about what a family goes through when one of their children discerns a vocation to the religious life. Many have told me that they cried while reading it. Some have told me that it inspired them. Others tell me that they forwarded it to all of their friends and re-posted it on their personal blogs.

And this makes me happy. I am happy to know that others are able to glean some insights into how they can help their children choose a religious life – as difficult as it may be in the end for the family. And I am happy that there are now others out there who are more familiar with the Clear Creek monks – a most blessed religious order which is growing so much each year.

And so, now I would like to give a short update to the story.


September 12, 2015 – a new date that will always be remembered and celebrated in my family. A little over two years have passed since we "lost" our son to the Abbey, and to be quite honest, our family has never been happier. On September 12, Br. John McFadden made his First Profession whereby he denounced the world and accepted the life of a monk. On this day, our son was the happiest he had ever been. And we were all very happy for him, too.

If you remember, back in 2013, my family mourned his departure in a very human way. John was the eldest of our ten children. He was our most competent and obedient child. He was the one who instigated or continued our family traditions. He was the leader of the gang, as I wrote in my article. We knew that, once he left, things would never be the same. And we were right. And we were not looking forward to life without him at home.

But then a couple of things changed.

In February 2014, my wife and I visited our son at the Abbey. It was the first time that my wife had been there, and only my second time. When we first laid eyes on John, tears came to our eyes, tears of happiness to see him, and to see him so very happy. After spending a couple of days with him, seeing him praying the hours with the rest of the monks, and talking with him throughout the visit, we knew that he was where he was supposed to be, and doing what God wanted him to do.

That August, the whole family traveled to the Abbey to spend a week with John. It was a great family reunion, and, by the end of the week, everyone felt convinced that John was the happiest he'd ever been and looked natural in his new setting.

A year passed, and once again, we loaded up the van and headed to Oklahoma. This time, though, it was to witness John's marriage, so to speak, to the Benedictine order, through his First Profession. On this day, he formally rejected his worldly clothes and chose the monastic garb, and then gave himself entirely to God. This is what God called my son John to do, and it gives us all such happiness that he said yes to his vocational calling. In three more years he hopes to make his final vows, and then a couple years after that, God-willing, he will be ordained a priest.

Did you miss this one? This article appeared in the October 15, 2015 print edition of The Remnant. To see what else you missed, subscribe here:
So, the point of this short article is two-fold. One, to give an update to those of you who may have wondered whatever happened to the McFadden family, and two, to let you know that God always has a plan, even when things seem to be at their worst.
Back when John left us in August of 2013, we had thought we were losing our son, but in reality, we have gained 45+ new sons of St. Benedict – all the monks at the Abbey – who are now part of our family. At each visit, we get to see many of the same monks over and over again. They all sit in the same spots in the church during their hours; many of them have the same duties each day, and we are, slowly but surely, getting to know each by name and learn more about them. We feel that we are part of their family, and they are part of ours.
Also, throughout these two years, my entire family has discovered the beauty of letter writing. Since this is the only way we can communicate with John, we all write to him on a frequent basis, and send him some picture updates of various things that have happened in our world. And getting a letter from him is pretty much the most exciting thing that happens in our family on a regular basis. In today's age of electronic communication, writing and receiving personal letters via mail is such a rarity and we view the opportunity to do so as a real gift.
Another great benefit of John's entering the Abbey is that when we visit him, we all have the opportunity to see the beauty of the monastic life, while my sons and I are able to dine and work with the monks, if we wish. Spending time on Clear Creek's 1000-acre property really gives you an insight into how monasticism helped develop and form Western Civilization. St. Benedict's Rule, written in the 6th Century, has been the guiding document for many monasteries and convents around the world for the past 1500 years. The Rule of St. Benedict provides a blueprint for how to live peacefully and productively, as a community, in a Christian culture, and when visiting the Abbey, you can see how St. Benedict himself may have lived, alongside his brother monks. It's a great history lesson and a fieldtrip worthy of any good Catholic family.
At the end of each visit, although sad to leave my son behind, my wife and I are pretty happy to return home to our lives in Virginia. We understand that we are called to live in the world, while not being of the world. We understand that our vocation is to marriage, and part of that vocation is to live in society, helping to bring ourselves, our children, and those around us to the glory of salvation. And when we discuss our son's vocation to the Benedictine life, my wife and I always end up agreeing that we cannot understand it, that we couldn't imagine giving of ourselves to God in this unique manner – giving up the world for a life of routine, worship, prayer, and obedience.
And then we remember that we actually do this, in a manner of speaking.
When we said "I do" back in August of 1991, my wife and I vowed to forgo all others in the world, and to cling to each other, and become one flesh. Over the past 24 years of marriage, our lives have been full of routine, worship, prayer, and obedience, but in a different manner than the monks.
Although I am nothing close to being the man that Father Abbot Anderson is, I have the responsibility to guide our family toward salvation. My wife, Amanda, although not the Novice Master that Fr. Francis Bethel is, as a homeschooling mom, is entrusted with helping all of our little "novices" with their educational needs. Although we do not spend 8 hours a day in prayer, our morning and evening prayers, prayers before meals, Angelus, daily Mass, and daily Rosary all help us keep our eyes fixed on God, as the monks try to do throughout their days. And organizing daily chores for the various members of the family is essential for our family to live and to maintain order, just as it is for the monks, when they spend many hours a day working to give glory to God.
And then there is obedience. We, as a family, have all made a vow of obedience to God and His Church through the sacraments of baptism and confirmation. We have chosen to be members of His Church and to be obedient to the rules, regulations, policies, and teachings that Holy Mother Church proposes for us. And this is a good thing, not a hindrance or suffering. Being obedient to the Truth sets us free and enables us to become the men and women that God wants us to be.
So, in the end, although I cannot exactly understand how John can be a monk, I guess he can't really understand how I can be a married man, and that's OK. We are both called to different vocations, and God will use us to fulfill his plan in the manner in which He sees fit.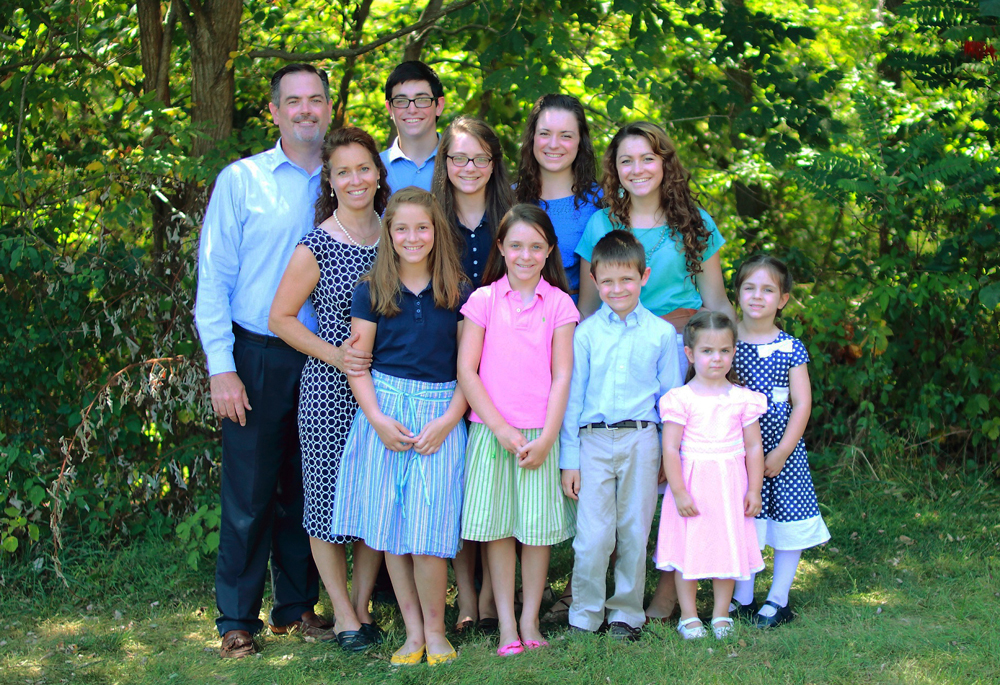 We don't really need to understand each other's vocations, but we do need to continue to pray that each of our other sons and daughters know and follow their vocations, because in the end, that's what's most important.
On a final note, please continue to pray for my son as he moves forward in his vocation, and please pray for the Clear Creek monks (www.clearcreekmonks.org) as they work on completing the construction of their beautiful church, that they might always remain faithful to the Rule of St. Benedict and that other young men may see the beauty of their simplistic and holy lives.


The McFadden Family