St. Bernard of Clairvaux also wrote of the great anticipation for Mary's reply to Gabriel's announcement:
"You have heard that you will conceive and bear a son; you have heard that it will be by the Holy Spirit and not by man. The angel is waiting for your reply. It is time for him to return to the One who sent him. We, too, are waiting for this merciful word, my lady, we who are miserably weighed down under a sentence of condemnation. The price of our salvation is being offered you. If you consent, we shall immediately be set free."
We join Heaven in rejoicing on the Feast of the Annunciation because Mary consented — "Be it done to me according to thy word" (Luke 1:38). As Fr. Papali noted, the Blessed Virgin Mary's consent was "without restriction or condition":
"The whole work of Redemption hinges on Mary's 'Fiat.' She is aware of what God proffers her; she accedes without restriction or condition to what God asks of her. Her 'Fiat' embraces the whole import of the divine invitation, it extends to the entire work of Redemption."
God, our Creator, asked for her consent and that is enough for her. She realized that God created us for no other purpose than to love Him and do His will. As Fr. Reginald Garrigou-Lagrange wrote in his The Mother of the Saviour and Our Interior Life, each instant of Mary's life on earth "entered into a single instant of eternity" focused on doing God's will:
"Whereas we often forget that we are journeying towards eternity and treat this world as if it were to last forever, Mary never withdrew her eyes from the goal of her life, God Himself, and never wasted a moment of the time He gave her. Each instant of her life on earth entered into the single instant of eternity through her accumulating ever richer merits. She saw the present not along the horizontal line of time which ends in a future on earth, but along the vertical line which ends in an eternity that never passes."
Mary "never withdrew her eyes from the goal of her life, God Himself." She was born without the stain of Original Sin and was full of grace, so we cannot realistically hope to match her virtue; and yet we have the same goal in life, "God Himself." Because she never lost sight of the purpose for which she was created, she saw each moment of her life "along the vertical line which ends in an eternity that never passes." In contrast, even the holiest Christians occasionally lose sight of this, and see the present moment in terms of "the horizontal line of time which ends in a future on earth." Indeed, some of us seldom, if ever, have any perspective other than the horizontal.
This distinction between the horizontal and vertical perspectives may not be one we encounter frequently in spiritual writing, at least not in these terms. In his Christ the Ideal of the Monk, Blessed Dom Columba Marmion wrote of the same matter in more familiar terms:
"If we seek God in spite of every trial, if each day, each hour, we give Him this homage, so extremely pleasing to Him, which consists of placing in Him, and in Him alone, our beatitude; if we never seek anything but His will; if we act, in such a way that His good pleasure is the true motive power of all our activity, God will never fail us. 'God is faithful.' He cannot forsake those who seek Him."
A soul who follows this advice will no doubt still encounter the various crosses consistent with his or her duty of state. But one who never seeks anything other than God's will shares the Blessed Virgin Mary's vision of the present moment "along the vertical line which ends in an eternity that never passes."
Two classics of Catholic spirituality — Trustful Surrender to Divine Providence by Fr. Jean Baptiste Saint-Jure and St. Claude de la Coumbiere, and St. Alphonsus de Liguori's Uniformity with God's Will — each include the following, more concrete, illustration of this vision:
"There is a story to this effect in the 'Lives of the Fathers' about a farmer whose crops were more plentiful than those of his neighbors. On being asked how this happened with such unvarying regularity, he said he was not surprised because he always had the kind of weather he wanted. He was asked to explain. He said: 'It is so because I want whatever kind of weather God wants, and because I do, he gives me the harvests I want.' If souls resigned to God's will are humiliated, says Salvian, they want to be humiliated; if they are poor, they want to be poor; in short, whatever happens is acceptable to them, hence they are truly at peace in this life. In cold and heat, in rain and wind, the soul united to God says: 'I want it to be warm, to be cold, windy, to rain, because God wills it.'"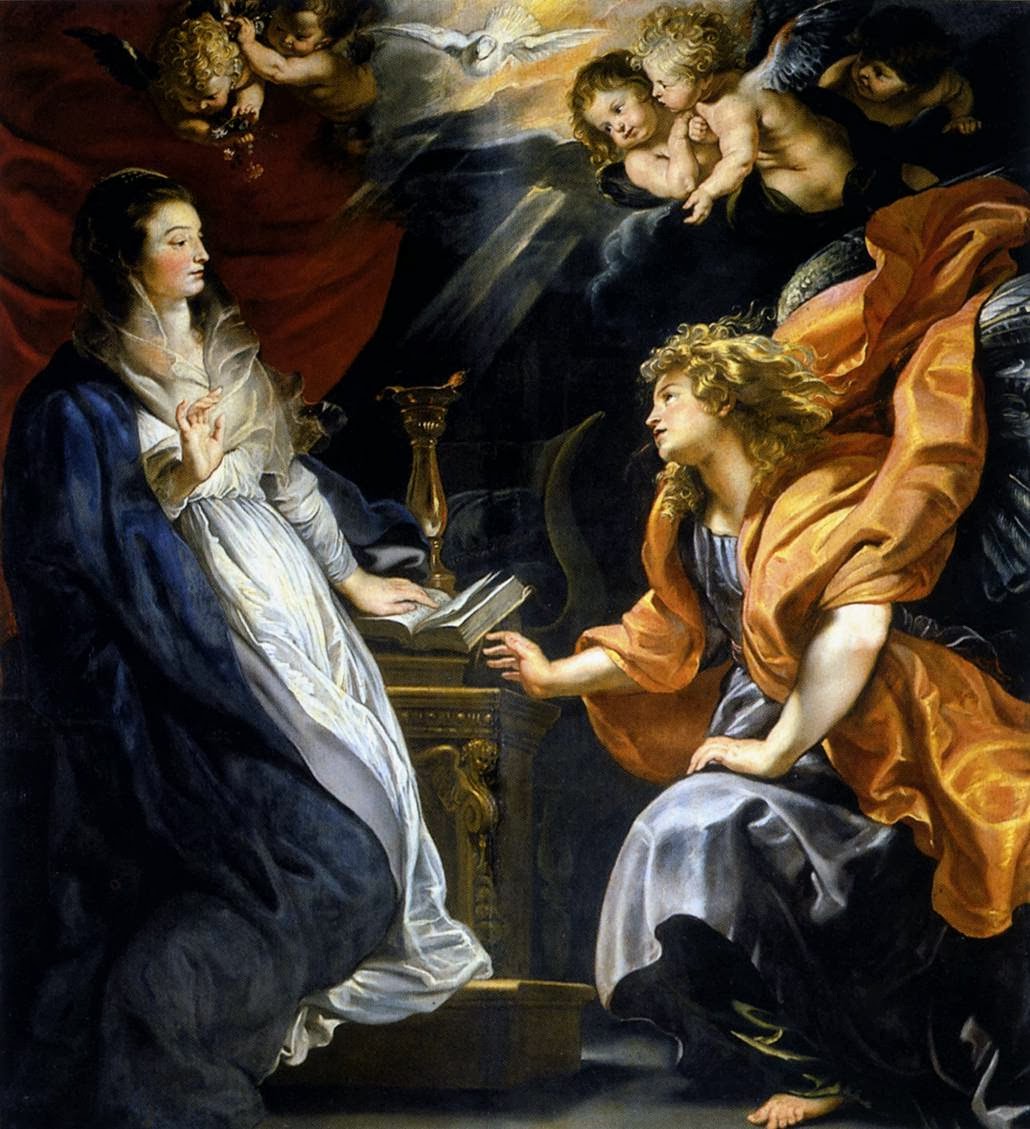 We may have some natural reluctance to even consider such an approach to life — after all, we have to provide for our various material needs — and yet as Dom Marmion wrote, God "cannot forsake those who seek Him." Do we imagine that the Blessed Virgin Mary or the other saints were less productive because they put the will of God before all else? The story of the crops follows almost naturally from Our Lord's words from the Sermon on the Mount: "Seek ye therefore first the kingdom of God, and His justice, and all these things shall be added unto you" (Matthew 6:34).
Mary never lost this perspective, this grasp of reality. Corresponding to this grasp of reality is her great humility, which we see so clearly in the words of her Fiat: "Behold the handmaid of the Lord, be it done to me according to thy word." As Fr. Garrigou-Lagrange writes, Mary's humility was based on the fundamental reality "that of herself she was nothing and could do nothing in the supernatural order":
"Her humility never had to struggle against the slightest movement of pride or vanity. She recognized that of herself she was nothing and could do nothing in the supernatural order. Therefore she bowed down before the Divine Majesty and before all that there was of God in creation. She placed all her greatness in God alone, realizing thus the words of the Missal: Deus humilium celsitudo. At the Annunciation she speaks of herself as the handmaid of the Lord, and in the Magnificat she thanks the Most High for having regarded her lowliness. On the day of the Purification she submits to a law which did not bind her. Her whole life long, humility was manifested in her bearing, her modesty, her voluntary poverty, in the lowly tasks she performed—and all that, even though she had received graces as no other mere human ever did."
Although we cannot equal Mary in her virtue or merit, we must try to follow her in this humility, for we have much greater reason for it than she did. Whereas we who are proud rarely act in a way that fully conforms to God's will, the humble "Handmaid of the Lord" dedicated her entire life to doing God's will as perfectly as possible:
"She is the only creature of whom it can be said that every one of her actions was so perfect that from her part it could not have been more perfect. She is the only creature about whom God has nothing more to wish. St. Bernadine of Sienna has said: 'She never chose anything by what the Divine Wisdom indicted to her, and loved God as much as it was her duty to love.' And a creature's duty towards God is defined in the Scriptures thus: 'Thou shalt love the Lord thy God with thy whole heart, and thy whole soul, and thy whole mind, and all they strength.' This was realized completely only in the Blessed Virgin."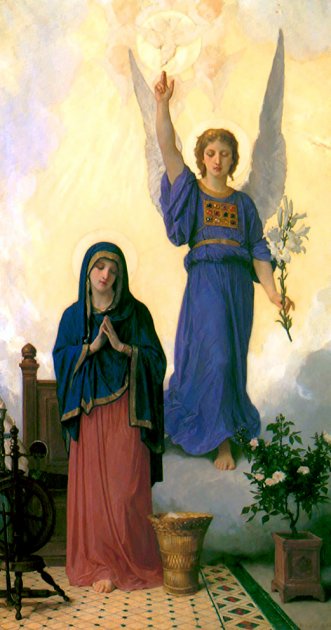 All of us have this duty to love God with our whole heart, whole soul, whole mind, and all our strength. Mary did this completely and was humble because she appreciated one of the most fundamental realities of the human existence: we are God's creatures and nothing of ourselves. In this light we can see that our lack of humility condemns us not only as prideful but foolish.
Today we hope and pray for the worldwide triumph of the Immaculate Heart of Mary, which we know will take a tremendous miracle. While we wait and pray, we can ask God to allow the Immaculate Heart of Mary to triumph in our own lives. If we follow her in humility and the desire to do God's will above all else, we will lose nothing but will virtually assure ourselves of Heaven and as much peace as we can have in this life. The Fiat we celebrate on the Feast of the Annunciation should be ours as well.
Fr. Papali ends his book on the Mother of God with the following words from Thomas a Kempis, who clearly knew that Mary shows us the path to God:
"With Mary live joyfully, with Mary bear all your trials, with Mary labour, with Mary pray, with Mary take your recreation, with Mary take your repose. With Mary seek Jesus, in your arms bear Jesus, and with Jesus and Mary fix your dwelling at Nazareth. With Mary go to Jerusalem, remain near the Cross of Jesus, bury yourself with Jesus. With Jesus and Mary rise again, with Jesus and Mary mount to Heaven, with Jesus and Mary live and die."
Immaculate Heart of Mary, pray for us!
Michael Matt on the Ukraine Crisis
PUTIN'S WAR: Biden, Soros, and the Ghost of John McCain