The Remnant Needs Your Help!
Dear Friends:
Postage and production costs continue to rise each and every month, and The Remnant is in desperate need of some help from its friends and allies around the world.
If you enjoy the daily updates and loads of free content here on our website, would you consider donating to our tax-exempt Foundation?
Now on five continents. The Remnant is available in dozens of countries and to priests all over the world, as well as curial cardinals in the Vatican and Latin Mass centers in the US, Canada and Europe. It is being translated into Spanish and we hope to soon begin offering a French edition.
We're absolutely committed to the Catholic counterrevolution. We're hard at it every single day, in fact, and The Remnant's success indicators are not hard to find. All we need is a little help from our friends.
The liberal Catholic press is bankrolled by foundations and wealthy special interest groups. We, on the other hand, rely totally on subscription revenue and private donations.
With your help we will continue to fight in defense of Tradition and Christ the King!
Please consider giving a donation of any size to The Remnant Foundation.
The situation is critical. With gratitude in advance, as well as a prayer for the success of this crucial initiative, I remain yours in Christ our King,
Michael Matt
Editor, The Remnant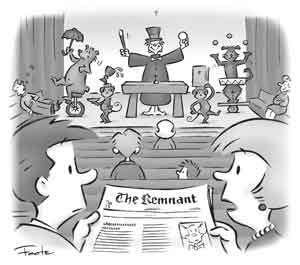 "Honey, maybe we'd better help these guys out!"