Vintage Photo of the Week...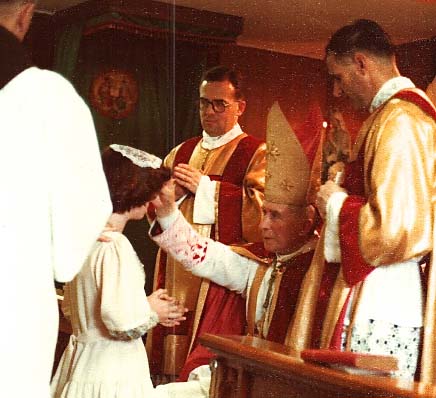 This is a photo of Kamela Gleason in 1978 receiving confirmation from the late, great Archbishop Marcel Lefebvre back in the days when the old-rite Confirmation had nearly disappeared from the face of the earth. The new-rite Confirmation was so appalling that many parents worried it was not even valid.

Imagine, then, what a visit from the French Archbishop meant to us all back in those days!
Kamela is a Remnant subscriber and an old friend, and we're very grateful to her for sharing this touching and meaningful photograph with us.

(If you have a vintage photo of any important event or person from the old days of the traditional Catholic movement, please send it to us and we'll post/publish it along with a description and credit.

This email address is being protected from spambots. You need JavaScript enabled to view it.

)


---
Michael J. Matt
From the Editor's Desk…
A Visit to the Top of the World. A frank discussion of a recent visit to Menzingen, the SSPX's canonical status, and whether or not now is a good time for the Society to be regularized.

---
Chris Ferrara
Vandals In Rome Francis to Sack Christian Marriage? Neo-Catholics Beware: This one is not for the faint of heart.

---
Hilary White
Dig Up the Bar:
A Word on Pro-Life Feminism. Uh-oh, there goes yet another sacred cow.

Subscribe Today!

Patrick Archbold
Bracing for the Synod…
Means, Motive, and Opportunity.
Is Francis responsible for what will happen at the Synod, or not?

---

Father L. Cizik
TLM 101
:
The Canon:
Let All Mortal Flesh Keep Silence

---
John Rao
Hail the Conquering Hero!
A Willful America Prepares to Adulate a Willful Pope

---
Jesse Russell, Ph.D.
An Offer You Can't Refuse:
Pius XI at the Movies


---
Magister Athanasius
Excommunication:
The Real Medicine of Mercy

---
Orlavo de Carvalho
Liberation Theology Survives Discredit and is Alive and Well...
Under the Command of a Corpse.
If you want to understand Francis you MUST read this article, though it includes not a single reference to him.

---

Dr. Joseph Romanoski
An Introduction to Scholastic Philosophy:
The Logical Question

---

Father Celatus
The Last Word…
Parting Shots:
Michael "Flip-flop" Voris Condemns SSPX


---
The Remnant Speaks
Letters to the Editor this week include one from a prisoner trying to gain access to the Latin Mass.