Publication Notice: This issue of The Remnant is dated September 7, 2015, and is currently in the mail. You can read the new issue online right away by subscribing to THE REMNANT E-EDITION.

We need your help. Please Subscribe to The Remnant Right Now!


---
Vintage Photo of the Week...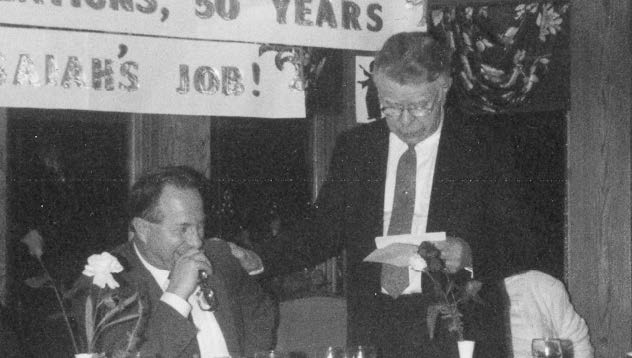 Brothers in Arms
Michael Davies (RIP) and Walter L. Matt (RIP) on Mr. Matt's 50th anniversary in the Catholic press apostolate (1985).

Side-by-side for 30 years, Davies and Matt opposed the New Mass and the revolutionary 'Spirit of Vatican II' from the very beginning.



(If you have a vintage photo of any important event or person from the old daysof the traditional Catholic movement, please send it to us and we'll post/publish it along with a description and credit. This email address is being protected from spambots. You need JavaScript enabled to view it. )


---
Michael J. Matt
Introducing a talented new writer to The Remnant's stable:
And his name is….
---
Chris Ferrara
On the SSPX Canonical Status:
Time to end the Chinese water torture
---
Hilary White
Theology and Depression:
Only the Real Counts.
Do Traditionalists, as a group, tend to suffer from depression? Why?
What to do about that and so much more.
Benedict Carter
A Personal Reflection on the Novus Ordo.
(WARNING TO NEO-CATHOLICS: Stop Reading Here—


"The New Mass was designed to effectively protestantise the Catholic Church, the motivations for which range from naivety to outright demonic hostility to the Church." Can you handle the truth about the New Mass?
---
Father L. Cizik TLM 101:
The Preface:
Preparation for Calvary
---
Thomas Morey
When a Pope Carries his own Briefcase
.
Francis's life story shows that humility is not an innate quality of his, but a calculated religious, and sometimes political, choice.
---
Magister Athanasius
After the Synod on the Family:
Three Possible Scenarios.
Is an antipope rising?
---
Alberto Carosa
A Summorum Pontificum Pilgrimage to Norcia's Benedictine Monastery.
The Dom Cassian Folsom Interview
---
Anne Roche
"What Have You Done to Our Catholic Church!"
---
Jeffrey C. Kalb, JR
The Ordinary and Extraordinary Forms of... Catholic Education?
The Catholic home is the ordinary means of educating children, while the Catholic school is an extraordinary means to be employed when the ordinary means are unavailable
---
Dr. Joseph Romanoski
An Introduction to Scholastic Philosophy:
The Logical Question
---
Timothy J. Cullen
The Great Indoors
A healthy husbandry and admiration of created Nature is a good thing, but an authentic and reverent Catholic knows this from childhood, just as that Catholic knows that when the traditional "solar" monstrance is displayed, it is the Real Presence of Christ that is to be worshipped: the Son, not the sun.
---
Vincent Chiarello
The Remnant on the Road Again…
Nagasaki:
The Tragic City
For more than two centuries, any form of Christian worship in all of Japan was a cause for immediate execution, the sole exception being the man-made island of Dejima in Nagasaki harbor
---
Father Celatus The Last Word… Sex and the Synod: What to Expect.

Funniest comment on the upcoming Synod on the Family so far:

"I'm not overly concerned about it."


- Karl Keating
---
The Remnant Speaks
There is no Letters column in this issue, since we ran out of column space. But look for a super-duper one next week.
J
---
Only about 10% of our articles ever appear online.
Subscribe to the Print Version of The Remnant
Subscribe to the E-Edition of The Remnan
t