The Catholic situation in China continues to depress. While the Vatican fusses over pagan tribes in the Amazon who don't want Catholicism (despite being dubbed—incredibly— "the Heart of the Church" by Pope Francis), faithful Chinese Catholics inch closer than ever to all-out persecution under a patently anti-Christ government and their Vatican-approved, state-appointed, window dressed "church".
Most recently, Catholic shrines are taking a hit. A churchgoer in China described the new crackdown.
May 12 in Ludezhuang, China, is a special day on which tens of thousands flock to its famous Catholic pilgrimage site. This year the government stacked the entrance with over 300 police officers who practically frisked each pilgrim, then capped it off at 10,000. Thousands more arrived only to be denied entrance. These faithful knelt on the ground outside the shrine and prayed there in quiet witness.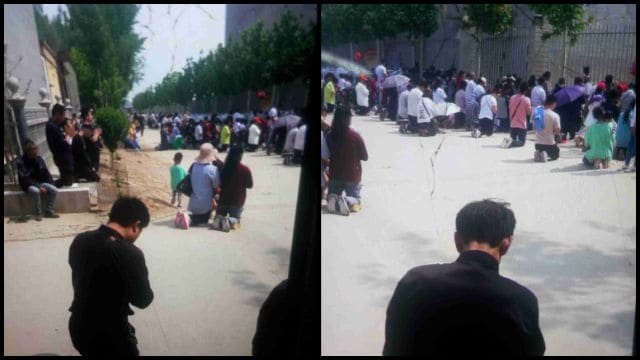 Also in May, pilgrims along the road to the Sheshan Hill pilgrimage in Shanghai were forced by police to fly the national flag and sing the national anthem, in an attempt to assimilate their religious doctrine and erode their religious faith—else they faced the threat of imprisonment. As one local pilgrim put it:
"It is an insult to us to sing the national anthem before Mass, but if we resist, the CCP will arrest us."
And last August, the Mozi Mountain pilgrimage site in the Inner Mongolia Autonomous Region also fell under government suppression. Checkpoints were stationed on each of the major roads leading to this site, and all without a specific travel pass issued by the Religious Affairs Bureau were denied access. Moreover, the electronic signal at the shrine itself was scattered, which prevented faithful from posting photos and videos of their pilgrimage.
Persecution is coming, and not just in China. Imagine if such a thing happened in France, home of the massively-successful Chartres Pilgrimage?
Let's pray for our Chinese Catholic brothers, friends, and pray for our Church which is in the hands of demons.
Lastly, a quick request for prayers for the soul the recently deceased Bishop Stefano Li Side of Tianjin. Asia News reported that Bishop Stefano Li Side, the legitimate ordinary of Tianjin, died last month after a long illness. He was 92 and had been living under house arrest since 1992. Since Bishop Li Side never joined the schismatic CCP, the state-backed religious authorities will not permit his body to be buried in a Catholic cemetery.
Bishop Li Side, RIP
We'd like to thank this good bishop for his faithful service and remember him in our prayers.
For more Remnant China coverage, read THIS article by award-winning Remnant columnist, Theresa Moreau.