If you're the Pope and you don't want to be the obvious bad guy in the most massive clerical sex scandal debacle in history, there are certain obvious things you just have to say, such as:
"I'm so sorry."
"This is a mortal sin that violates the laws of both God and nature, to say nothing of the laws of the Church, and I will have it out!"
"I'm doing my best to eradicate this pox from the Church."
"Please join me in public reparation for the sins of my priests."
"Lord Jesus Christ, I beg forgiveness for all that we've done to violate Your most pure and spotless bride."
Here's the closest Francis has come so far, excerpted from a new book-interview with Claretian Father Fernando Prado, The Strength of Vocation: Consecrated Life Today:
"The Church urges that persons with this rooted [homosexual] tendency not be accepted into (priestly) ministry or consecrated life… We have to urge homosexual priests, and men and women religious, to live with celibacy, with integrity, and above all, that they be impeccably responsible, trying to never scandalize either their communities or the faithful holy people of God. It is better that they leave the priesthood or the consecrated life rather than live a double life."
But, Holiness, who are you to judge? Remember?
Although this is positively Piusthetenthian by Francis Church standards, it still seems like we may have a bit of cherry picking going on here--the question is, cherry picking by whom? Because there's no doubt that Francis' words will not be well-received by the pro-LGBT activists in the Church, such as Jimmy Martin, who are hell-bent on creating the illusion that the Church has changed her teaching against homosexual acts. Clearly, Francis can't have it both ways, as is evidenced by his #1 cheerleader's hissy fit over even just this slight papal walk back of the grand deception: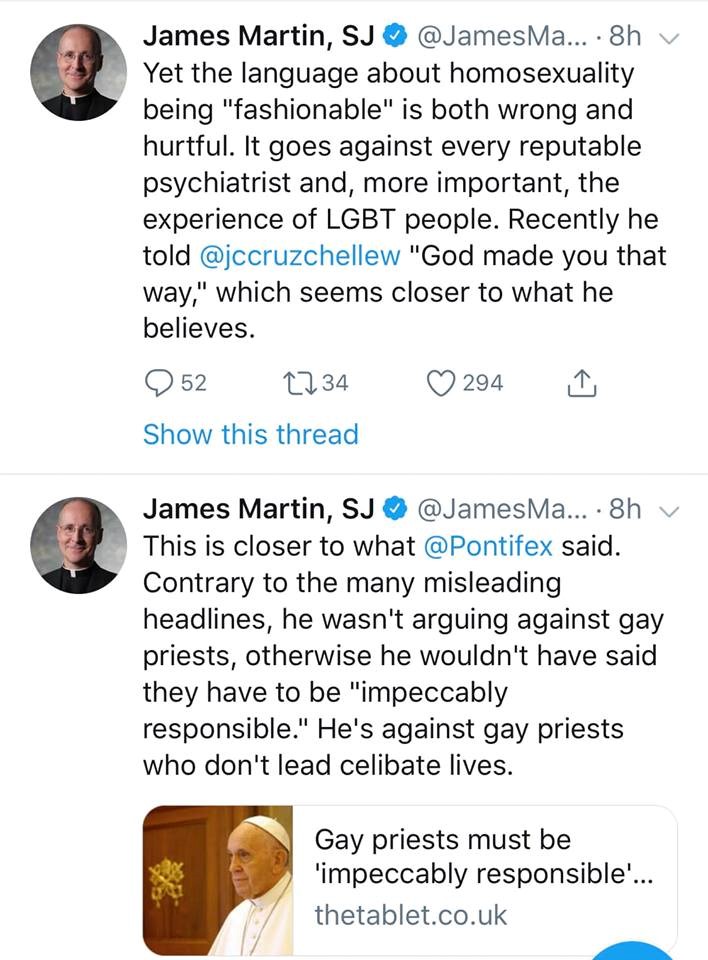 Isn't that a doodle! Catholic teaching can be pretty gauche, girlfriend!
It is unlikely that we will hear words even like these from Pope Francis again any time soon, keeping in mind that this August 2018 book-interview took place before Francis had engaged in the Vigano smackdown, culminating in the hijacking of the USCCB's meeting in Baltimore when the bishops were ordered to not take action against Cardinal McCarrick. In other words, in the aftermath of the Pennsylvania Grand Jury report the Pope was saying some nice words, but those words ring a little hallow in the wake of Hurricane Vigano, especially given the fact that Francis has been promoting homosexual priests for years, covering for homosexual bishops and cardinals, and tends to surround himself with those who aren't exactly the, well, marrying type.
And, evidently, out "homosexual priests" are a thing now, according to the Pope who famously said of gay priests: Who am I to judge? But what about the other truth of the Church: that they were never allowed to be priests in the first place? What about the terrifying prospect that, objectively speaking and according to the Catechisms of the Catholic Church, such priests will damn themselves forever unless they reform their lives? Yes, of course they need to go, but what about their souls, Francis? It's not enough to say: "Go do your stuff somewhere else, or at the very least try harder not to partake in this sin that cries to heaven for vengeance while serving as a priest."
Huh? This is the Pope talking here, and in the midst of the most horrific clerical sex scandal in history. I'm sorry, but this is insufficient!
Contrast this with the words of the late Bishop Morlino, who said:
The Church's teaching is clear that the homosexual inclination is not in itself sinful, but it is intrinsically disordered in a way that renders any man stably afflicted by it unfit to be a priest.
On the bright side: Fr. Jimmy Martin? You heard His Holiness, right? Time for you to catch the peace train right on out of here. Maybe you can build your bridge to hell from somebody else's "faith community."