Claire Marie Lanthier, a fiery Catholic woman with a huge heart, piercing blue eyes and cloud of blond curls, became a mother 8 days ago at the age of 26. Claire is also an old and dear friend of one of my most trusted team members, who has been with The Remnant for the past ten years.
Claire's son, Aaron, has been in the NICU since August 2nd, fighting a serious infection in his blood. He contracted it from his mother, and it wasn't noticed until almost too late. He is now being bottle fed and rocked by his young aunts and uncles, his father and his grandparents, and the baby boy is growing stronger each day.
Claire, however, is fighting for her life with the same infection, a bacteria which devours the skin and organ tissues when not confined to the blood vessels. She went under the knife four times in three days, during which several organs were removed. She is currently in the OR again, as the infection has returned with a vengeance after a brief remission. Her condition is extremely critical, and her prognosis is uncertain at this time.
Those who can, are humbly encouraged to help with the medical bills which this new young couple cannot hope to tackle on their own, but what her husband asks for much more urgently are prayers. God is not cruel, but we can't always see His plan from our limited perspective. Please, in your charity, storm heaven for Claire and baby Aaron.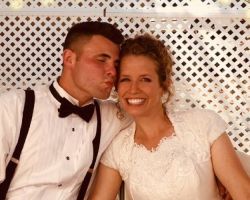 Zachary and Clarie on their wedding day, one year ago. Those who wish to, can help them finacially HERE. May God bless your generosity.