This week, the highly respected Italian journalist, Sandro Magister, no 'traddie' and certainly no 'conspiracy nut', wrote the following: "It is the unprecedented innovation that Ratzinger seems to want to put into practice. It has been announced by his secretary, Georg Gänswein. Redoubling the already abundant ambiguities of the pontificate of Francis.

"ROME, June 17, 2016 – The revolution of Pope Francis is turning the Church upside-down. But his meek predecessor named Benedict is not to be outdone.

"The resignation of the papacy was not his last act. Already in his withdrawal from the see of Peter, in that memorable February of 2013, Joseph Ratzinger made sure to say that in his election as pope there had been something that would remain "forever."

"In fact, he continues to wear the white tunic, continues to sign himself "Benedictus XVI, pope emeritus," continues to live "in the enclosure of Saint Peter," continues to have himself called "Holiness" and "Holy Father."

"And most recently the archbishop in closest contact with him, Georg Gänswein, has told us that Benedict "has by no means abandoned the office of Peter," but on the contrary has made it "an expanded ministry, with an active member and a contemplative member," in "a collegial and synodal dimension, almost a shared ministry":

"These staggering statements from Gänswein, made on May 20 in the aula magna of the Pontifical Gregorian University, have sown dismay among Ratzinger's admirers themselves. Because no one doubts that they correspond to his thought and were authorized by him. But no one would have expected from him such an unheard-of act of rupture in the history of the papacy, totally without precedent, "a sort of exception willed by Heaven," as Gänswein himself has called it, after a pontificate that is also "exceptional," an "Ausnahmepontifikat."

"The absolute innovation is not the resignation, but the sequel." READ ARTICLE HERE
REMNANT COMMENT: The only explanation for why the Catholic world has so blithely accepted this ludicrous notion of two Popes in Rome is that Catholics just don't care anymore. The spirit of Vatican II has so stripped away the sensus Catholicus that Catholics -- those still bothering to tune in to "As The Vatican Turns" -- literally don't give a damn. They have no traditions left to help keep them afloat in the veritable ocean of novelties in which they're drowning.

Who knows? Who cares! There's nothing left to play out in this act, save for a fat lady named Chastisement to take the stage. But, alas, before we conclude that Pope Benedict is the hero in this tragedy and Pope Francis the villain, perhaps we should take a moment to try to understand and explain the warm and loving expression on the face of this Bishop in White as he greets that Bishop in White: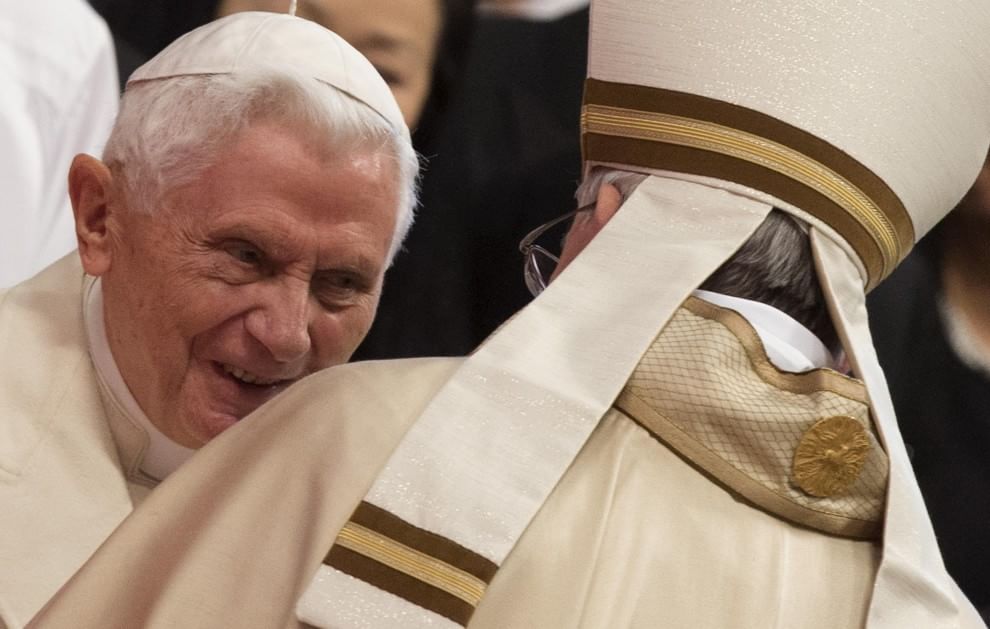 Really, who's kidding whom here?