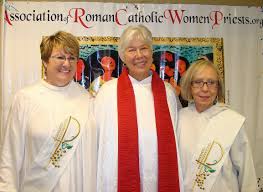 Mary Theresa Streck, the priestess lady in the middle, who we believe should be properly addressed as Father Mary, poses with newly-elected Deaconette Mary Sue Barnett and veteran Deaconess Maureen McGill.
Congratulations, Deaconette Mary Sue!
Father Mary, by the way, is the former Sister Mary—a Sister of St. Joseph who married former priest Jay Murnane in 1984. So, Jay is the priest who decided to become a layman, while his lovely wife Father Mary is the nun who decided to become a priest. How cool is that!