Headline News Around the World
Introduction (Author's Update)
The following article is my reply to an interview by Catholic World Report of one Kevin J. Symonds, whom I debated recently on the question whether the Vatican has disclosed the Third Secret of Fatima in its entirety. My reply is not motivated by the merits of anything Symonds has to say in this interview. As this article shows, his contribution to the Third Secret controversy is practically nil, despite his inflated opinion of own research into a few matters that are old hat to experts on the subject.
I am motivated, rather, by CWR's use of this interview as a vehicle to launch yet another round of gratuitous insults and calumnies against traditionalists, including (by name) me and the late Father Nicholas Gruner, with whom I worked closely for more than 20 years.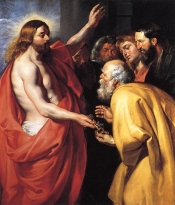 Then Jesus said to the twelve: Will you also go away? And Simon Peter answered him: Lord, to whom shall we go? (Jn 6:67-68)

My Dear Brethren,

Authority of Christ

When Jesus taught, He taught with authority. He had authority by right because He was God. He also had a natural authority because he told the truth and He told it in a way that was admirable even if it was difficult to accept. He even worked miracles to make it easier for His listeners to believe the truth that He taught; and He lived and ultimately died according to that truth. Simon Peter recognised this authority and stayed with Jesus when so many walked away.