Headline News Around the World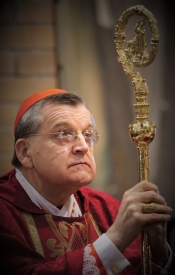 On the Occasion of the Pilgrimage of the Institute of Christ the King Sovereign Priest to Fatima, Portugal
In the name of the Father, the Son, and the Holy Spirit, Amen.
Our Lord, in his Providence, has allowed our pilgrimage, to commemorate the centenary of the apparitions of the Mother of God to the holy shepherd children at Cova da Iria, to include the first Friday of November. On the first Friday of every month, we celebrate with special joy the covenant of love which God the Father has sealed with us by sending his only son into human flesh for, in the words of St. Paul, "to abide in our hearts by faith,"[1] that "we may be filled with all the fullness of God."[2] In connection with the great mystery of faith, Our Creator, who has no need of our love, has chosen us as His adopted sons and daughters in his only Son. He chose to love us with a human heart, unconditionally, totally and forever. Dom Prosper Gueranger in his commentary for the feast of the Sacred Heart of Jesus, highlights the covenant of love between God and man in the Heart of Jesus, with these words:
I heard the question posed the other day: "If Jesus were to return to earth today, which religion would He identify with? Which political party? Which country?" It's a question that could generate a lively discussion to be sure, but it is moot. The very idea of Who and What Jesus is has been very diluted and distorted by a number of things in recent decades. Among these are Hollywood, televangelists, many different flavors of Christianity and a continually evolving and shape-shifting Catholic Church, at least that large portion of it that is most visible.