Headline News Around the World
30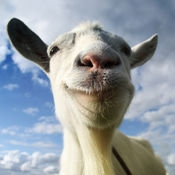 If your child is browsing through apps on the app store using your mobile device, he or she may come across a seemingly innocuous game called "
Goat Simulator
." The game has a rating of "9+" and thus is supposed to be acceptable for any child 9 and over to play. At the present moment,
"Goat Simulator" and its four sequels
are available on iPhone and Android mobile phones, Windows, Mac, and Linux computers, and Xbox and PlayStation video game systems.
The manufacturer of the game, a company called
Coffee Stain Studios
, is a video game developer and publisher based in Sweden. As of 2016, Coffee Stain Studios reported that Goat Simulator had brought in $12 million in revenue. The company's description of the game in the Apple App store gives no indication of anything insidious or evil, but instead describes a fun game attractive to young children.
Inspired by Francis commemorating the Reformation on Halloween of last year, Ecumenical events commemorating the 500th anniversary of the Reformation are now coming to a diocese near you! Just a few examples include Grand Rapids, MI, Saskatoon, Canada, Pittsburgh, PA, Lansing, MI., and Lima, OH. Other dioceses like Orlando. FL and Pueblo, CO already enjoyed their commemorations earlier this year. Far from condemning these events, the USCCB is actually facilitating and encouraging them by posting a "2017 Commemoration of the 500th Anniversary of the Reformation Resource Guide" on their website.