Headline News Around the World
In a true spirit of heroism and love for the Church, Sicilian priest Don Minutella has put his neck on the line and said the Gospel truth for the sake of those who today are being tempted by the pontifical "operation of error to believe lying." (2 Thess. 2:10)

Don Minutella was sacked last June by the Vatican for his open criticism of Pope Francis' teachings, and has been under an order of silence for the past nine months, but Rome is now giving him a chance to "vindicate" himself. Under the pretext of asking him to pledge fidelity to the pope, the Vatican is asking Don Minutella to deny his Catholic Faith, that is, to cease from his strict adherence to Church teaching and to accede to the perfidious teachings of Pope Francis, i.e. his blessing of adultery via Amoris Laetitia, his blessing of Luther, gays, Marxists, and anti-life globalists, and his incessant push to unite the Catholic Church with world religions. Rome has said that if Minutella doesn't consent to their wish, he will receive "two excommunications."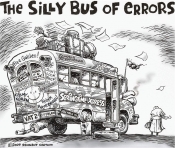 In the interest of fairness, let's not lose sight of the conciliar context of the present debacle in Rome. This Remnant cartoon is from 2004. It requires no explanatory notations.

It may be hard for some to believe –especially young recruits to the burgeoning, worldwide traditional Catholic movement—but the present crisis had plenty of life before Francis.