I am a Catholic and have been profoundly saddened and distressed by the sins which some Novus Ordo prelates have been foisting on the Catholic faithful here. In early November of this year, I wrote a letter to Archbishop Leo Boccardi, the Apostolic Nuncio to Japan, on the infiltration and promotion of LGBT ideology in the Catholic Church of Japan. Earlier this year, I wrote a letter to Bishop Josep Maria Abella Batlle, C.M.F., in Fukuoka on the same subject. But as I had no reply from Bishop Batlle (bishops in Japan usually don't reply to letters from laity), I reached out privately to a Catholic Japanese friend about the matter. My friend encouraged me to write to His Excellency Archbishop Boccardi, which I did in a letter dated November 2, 2022. I know from the delivery record that my letter arrived at the Apostolic Nunciature on Nov. 4.
The text of the letter is reproduced here in full. (Please note, however, that I did not include photos with my letter. The photos are included here for Remnant readers so that the situation in Japan may be properly understood.)
November 2, 2022
Dear Archbishop Leo Boccardi,
I am a Catholic living in Saitama. I am writing to you today because I would like to report on the infiltration of LGBT ideology in the Japanese Catholic Church. So far nobody in the Church, neither clergy nor laity, has raised a voice against this. I hope my letter will contribute toward correcting the situation.
There are three groups promoting LGBT ideology in the Church in Japan, namely, the "LGBTQ Min'na no Misa", Nijiiro no Tomoshibi,[1] and the HIV/AIDS Desk.[2] The latter is a committee within the Catholic Bishops' Conference of Japan (CBCJ).
The first group was founded as LGBTCJ (LGBT Catholic Japan) in 2015 by Dr. Shin'ya Ogasawara and Mr. Toru Miyano. They are "allies" and not in the category of LGBT themselves. This group justifies homosexuality, same sex marriage, and "sex reassignment" surgery. Dr. Ogasawara even wished that Pope Francis would accept these things.[3] LGBT-friendly clergy such as Fr. Keiji Kousa, who was the group's adviser in the beginning, Fr. Juan Masiá Clavel, S.J., and Fr. Nobukuni Suzuki, S.J., have said Mass for LGBTCJ. Fr. Juan Masiá even blessed a gay "couple" in 2019.[4] The LGBTCJ website claims that Bishop Emeritus James Kazuo Koda is also in favor of the group.[5]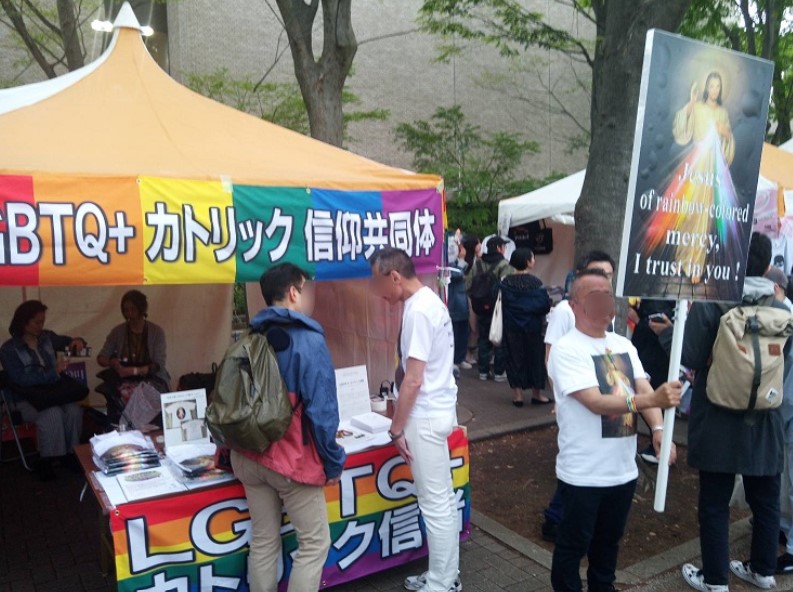 LGBT Catholic Japan tent at the Tokyo Rainbow Pride event, Yoyogi Park, Tokyo, 2019
Catholic media have not come out against LGBTCJ. Rather, the Catholic media in Japan have assisted the group's efforts. For example, Katorikku Shimbun (The Catholic Weekly) wrote an article in favor of LGBTCJ. The article was distributed at the booth run by LGBTCJ during the Tokyo Rainbow Pride event in 2019. Fr. Kousa contributed an article in favor of LGBT to the Catholic magazine "Fukuin Senkyo" (Evangelization) in 2021.[6] The Tokyo Archdiocese newsletter regularly announced the LGBTCJ Mass schedule on the website.[7]
The second group is called Nijiiro no Tomoshibi (The Light of the Rainbow). It was formerly run by Ms. Chihiro Nomiya, a lesbian Catholic, and others. Ms. Nomiya is not a leader of the group anymore but she, too, used to invite priests to say Mass for the group, similarly to LGBTQ Min'na no Misa. It is a sacrilege that those who break the Church's teaching on homosexuality nevertheless receive Holy Communion.
The abovementioned two groups are already threats to the Church, but the most scandalous and influential organization of the three is the HIV/AIDS Desk. According to the CBCJ homepage, the role of the HIV/AIDS Desk is "to act with the aim to eliminate prejudice and discrimination against HIV/AIDS by spreading correct knowledge to Catholic schools and young people."[8] In fact, there is another role not mentioned on the homepage: the infiltration and promotion of LGBT ideology in the Catholic Church.
Those who have contributed to achieving the other role of the HIV/AIDS Desk are: Archbishop Tarcisio Isao Kikuchi of Tokyo, who was in charge of the committee until last year; Pastor Aika Taira of the United Church of Christ in Japan; and Ms. Kazuko Ito, who is a lay person and a secretary of the HIV/AIDS Desk. Archbishop Peter Michiaki Nakamura of Nagasaki succeeded Archbishop Kikuchi this year in overseeing the HIV-AIDS Desk committee, but the nature of the committee remains unchanged. It still invites LGBT activists to its workshops.[9] Archbishop Tarcisio Isao Kikuchi, one of the leading figures of the Japanese Catholic Church and now president of the CBCJ, has supported the HIV/AIDS Desk by collaborating with people in support of LGBT ideology. Such collaboration partners include Mr. Toyomi Nakaya, a teacher at Nanzan Catholic High School run by the Society of the Divine Word where an LGBT "Seijin Shiki" (coming-of-age ceremony) was held in 2015.[10] Mr. Nakaya is also a member of a LGBT organization called "PROUD LIFE".[11]
Archbishop Kikuchi's recommendation for a pro-LGBT book (right) at the Pauline bookstore in Tokyo, alongside another pro-LGBT book (written by a Catholic) for sale
I personally exchanged emails with the Archbishop about Pastor Taira and LGBTCJ in 2019. Although His Excellency was not in support of same-sex marriage at that time, he did have connections with Pastor Taira and the LGBT group. His Excellency did not check if Pastor Taira or the LGBT group were against the teachings of the Church. He only asked me about Pastor Taira and the group's view on homosexuality.
Because of His Excellency's responses, I personally went to the Tokyo Rainbow Pride in Yoyogi Park, Tokyo in 2019. There were two booths there run by Catholic LGBT groups: one booth run by LGBTCJ, and another booth run by Nijiiro no Tomoshibi. I met the leaders of the groups and talked with them. I found that both of them supported homosexual action (sodomy) and did not consider it to be a sin.
On the first day of the Pride event, I went to the LGBTCJ booth and talked to Dr. Ogasawara. Surprisingly, he informed me that he was already in Heaven, even though I was of course speaking to him on earth. According to him, he was saved by his faith. He told me that the teaching of the Catholic Church on homosexuality is out of date. Interestingly, he denied the existence of demons and told me that to emphasize the world after death is the same as Soshiki Bukkyō (funeral Buddhism, implying that Buddhism is useful for funerals alone).
On the second day of the Yoyogi Rainbow Pride event, I talked to Ms. Chihiro Nomiya. I learned that she also supported same-sex marriage and that she had invited a priest, whose name she would not disclose, to say Mass for her LGBT group. When I told her that homosexual people also had the duty to keep chastity, she was irritated and said, "Duty! I see, I will do my best to have a girlfriend to fight against you." So, I said to her, "You will go to Hell if you say such a thing." She said "Yatta!" ("Yeah!") and did not take my words seriously. At last, she said to me, "See you in Heaven," and wanted to shake hands with me, but I rejected her handshake and said, "We can't meet (in Heaven)". I could not pretend to agree with her, because I did not want her to misunderstand and think that I also supported her view on homosexuality.
Photos of Archbishop Kikuchi's "column," or short chapter, in the LGBT book.
Pastor Aika Taira, the first openly gay pastor of the United Church of Christ in Japan, claims that there are one hundred sexualities when there are one hundred people gathered together. This is a complete denial of the Bible: "And God created man in His own image: in the image of God He created him: male and female He created them." (Genesis 1: 27) It seems that Pastor Taira has had a connection with the Catholic Church since around 2012. On February 16, 2013, Pastor Taira gave a lecture on sexuality at Sagamihara Catholic Church in the Diocese of Yokohama. The pastor at Sagamihara Catholic Church at that time was Fr. Masami Hamasaki. Before the lecture was held, a Catholic in Sapporo wrote a letter to Bishop Raphael Masahiro Umemura of Yokohama calling his attention to the problem, but his letter was ignored.[12]
Later, Pastor Taira somehow became a member of the HIV/AIDS Desk through the offices of a woman who was already a member of the committee. He now contributes to the promotion of LGBT ideology in the Catholic Church with the collaboration of Japan Catholic Council for Justice and Peace. It is deplorable that not only Archbishop Kikuchi, but also Cardinal Thomas Aquinas Manyo Maeda of Osaka,[13] Bishop Bernard Taiji Katsuya of Sapporo,[14] Bishop Michael Goro Matsu'ura of Nagoya,[15] and Bishop Jose Maria Abella Batlle of Fukuoka[16] allowed Pastor Taira to give lectures on LGBT issues in their dioceses.
On this issue, I wrote a letter to Bishop Jose Maria Abella Batlle of Fukuoka, on Sep. 9, 2022 and sent it to him by registered mail. I confirmed that my letter was delivered on Sep. 11, but so far I have had no reply from His Excellency.
Not only these bishops I mentioned, but others, too, have been remiss. The late Archbishop Peter Takeo Okada, for instance, also contributed to the spread of LGBT ideology through neglect of his flock. In 2017, I wrote a letter to Archbishop Okada about LGBTCJ but received no reply. So, I went to St. Mary['s] Cathedral in Tokyo and asked him directly about the matter. His reply was most irresponsible and discouraging. His Excellency told me he would not interfere with the LGBTCJ, even though it supported same-sex marriage, because he did not "persecute" the thought of others! In 2021, Okinawa Catholic Junior & Senior High School in the Diocese of Naha had a lecture on LGBT[17] by Mr. Kiyohumi Takeuchi, a gay man and the director of Rainbow Heart Okinawa.[18] I wonder if Bishop Wayne Francis Berndt will continue to allow the school to accept LGBT ideology.
Pro-LGBT book for sale at Catholic bookstore in Japan
As a result, these groups' and people's work have borne a terrible fruit: the book "LGBT to Kirisutokyō – Nijūnin no Sutori-" (LGBT & Christianity – the stories of twenty people) published this February by the Board of Publications of the United Church of Christ in Japan, a Protestant publisher. Pastor Taira is a supervisor of this publishing initiative. Archbishop Kikuchi wrote a column quoting the words of Pope Francis in Amoris Lætitia: "We would like before all else to reaffirm that every person, regardless of sexual orientation, ought to be respected in his or her dignity and treated with consideration, while 'every sign of unjust discrimination' is to be carefully avoided, particularly any form of aggression and violence."
A Catholic editor named Ms. Maki Ichikawa, who works at the Protestant publisher, promoted the book. According to AMOR, an online Catholic media edited by some members of SIGNIS JAPAN, Ms. Ichikawa received a recommendation of the book from Archbishop Kikuchi,[19] and made an announcement about it which was then distributed by flyer to all the churches in the Archdiocese of Tokyo, as well as the Dioceses of Nagoya and the Archdiocese of Osaka.[20] [The flyer which recommended the book was also found near the entrance of Tokyo Archdiocesan Office.] Let me quote the text of the recommendation, which reads as follows:
***
This book is not intended to question or debate the good and bad of LGBT (sexual minorities), but rather the experiences of twenty people, most of whom are LGBT. Through real voices, this book conveys the diversity and possibilities of sexuality and the rich and deep love of God.
Catholics have been very supportive of the book, and five of the "twenty people" in the subtitle are Catholic laypeople.
1. "LGBT among Elderly Christians: Living as I am while growing old," by Megumi/Ai
2. "Bringing up Children and Starting a Family with a Partner of the Same Sex: Various Forms of Family," by Haru Ono
3. "LGBT in the Catholic Church: Seeking a Place of Prayer at Peace," by Chihiro Nomiya
4. "The Support of LGBTI Refugees in Africa: Jesus on the Side of the Persecuted," by Junko Shimada (pseudonym)
5. "The Thoughts of a Man Involved in Poetry: Live, Pray, and Write," by Kia Hotta
In addition, there are three vignettes related to Catholics, including one contributed by Archbishop Isao Kikuchi.
1. "Undergoing Sex Reassignment Surgery at Sixty-Eight and Getting Baptized!"
2. "They Should Be Respected and Cared For because of Their Dignity" by Archbishop Isao Kikuchi
3. "Catholic HIV/AIDS Desk"
Mr. Taira Aika is a supervisor. He is a member of the "Catholic HIV/AIDS Desk" and a pastor who does a lot of work in the Catholic Church, including serving as a lecturer at priests' workshops and at the "Japan Catholic National Assembly for Justice and Peace."
You don't need to know much about LGBT or Christianity to read this book, so I especially recommend it to those who are wondering, "What is LGBT? I have heard of it but......."
***
On the contrary, the book which Archbishop Kikuchi recommends challenges the Catholic Church because it justifies practices not compatible with the teachings of the Catholic Church, such as same-sex marriage, "sex reassignment" surgery, and transgenderism. In particular, Ms. Haru Ono, a Catholic lesbian and the leader of a group called Nijiiro Kazoku (Rainbow Family), supports the various forms of "family" by adoption, artificial insemination, and surrogate motherhood, along with same-sex marriage.[21]
Personally, I worry that there will be more problems within the Church in the near future. According to the book, a man who became a "woman" through "sex reassignment" surgery is accepted as a woman in the Catholic Church through baptism. Once the Church accepts that sex and gender are changeable by surgery, who is to say that there is no possibility that a transgender woman will be ordained to the priesthood, or that a transgender man will become a nun? Furthermore, Pastor Taira supports transgenderism without "sex reassignment" surgery in the book. This also makes the problem even more serious.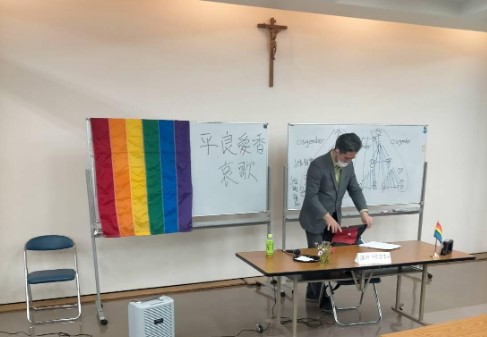 Pro-LGBT Protestant pastor Taira Aika is leaving from a pro-LGBT talk at the Catholic Center of St. Mary's Cathedral, Tokyo, Japan
I read in the book the description which Ms. Nomiya provided of the talk I had with her at the Tokyo Rainbow Pride event in 2019. Her description of that conversation came in the course of an exchange with Pastor Taira, who apparently interviewed her. According to LGBT & Christianity, a Catholic man (she surely means me) said to her at the Tokyo Rainbow Pride event, "Go to Hell," and in return she said "See you in Heaven" and asked for a handshake. This may give readers the impression that my words were hate speech and that she is a humble and kind person. In fact, I want Ms. Nomiya to go to Heaven, which is why I reminded her of Catholic teaching. I see how unfair Ms. Nomiya is in mischaracterizing, or possibly just forgetting, my words for the book.
It is disheartening that AMOR, some Catholic media such as Katorikku Shimbun, and the newsletters of Nagoya Diocese[22] and Fukuoka Diocese[23] favorably introduced LGBT & Christianity. As far as I can tell, no clergy or laity has seen the book as incompatible with the teachings of the Catholic Church. I am personally disappointed that Cardinal Thomas Aquinas Manyo Maeda has not said anything about the book, even though the book was also promoted in the Archdiocese of Osaka.
The attitude of Catholic bookstores toward LGBT & Christianity is also very regrettable. I found LGBT & Christianity at Komyosha, a bookstore run by the Franciscan order in the Diocese of Sapporo. I talked to the clerk at the bookstore, explaining how the book was incompatible with the teachings of the Church, but he did not pay much attention. I also saw the book in Tokyo and Fukuoka at Pauline bookstores. In the Tokyo Pauline bookstore, I found for sale, in addition to LGBT & Christianity, another pro-LGBT book called ALLY ni Naritai (I want to become an ally) by Ms. Ayumi Kojima, a Catholic layperson.
In sharp contrast with the infiltration and promotion of LGBT ideology within the Church, I cannot help but be reminded of the example of St. Francis Xavier. The saint was faithful to the teachings of the Church, even though sodomy was common in Japan at that time. Nevertheless, he did not give up, and warned the Japanese people about the sin of sodomy because he cared for the salvation of their souls more than anything else. If the saint had said, "God loves you as you are," and had never condemned sodomy, there would have been no Catholic Church in Japan with many brave souls who dedicated their lives for their faith. But now, the attitude of Catholics and Christians in Japan, even bishops, archbishops and a cardinal, is completely opposite; These people lead us to eternal damnation.
Unfortunately, the Vatican and Pope Francis have not taken any action against the same trends toward tolerating sin which are found in Germany[24] and Belgium[25]. Bishops in those countries try to change the teaching on homosexuality so that the bishops can bless homosexual "couples." To make matters worse, Cardinal Jean-Claude Hollerich, who once taught at the Jesuit-run Sophia University in Tokyo, denied the Church's assessment of homosexual relationships as sinful this February.[26] If nothing is done, I have to admit that the prophecy by Our Lady of La Salette will have come true: "Rome will lose the faith and become the seat of Antichrist."
Lecture by Pastor Taira at Sagamihara Catholic Church, 2013
Lastly, let me quote the words of St. Paul in the New Testament as a warning applicable to everyone, not only Catholics but those who claim to be the followers of Christ like Pastor Taira.
"But though we, or an angel from heaven, preach a gospel to you besides that which we have preached to you, let him be anathema. As we said before, so now I say again: If any one preach to you a gospel, besides that which you have received, let him be anathema." (Galatians 1:8-9)
I beseech Your Excellency and Pope Francis to take this problem very seriously, and to help us by showing us all the right way.
Yours truly in Christ,
Jun'ya Kato
The Apostolic Nuncio replied on Nov. 12, 2022 via his secretary's email. However, his reply was far from satisfying. Although His excellency promised he would continue to study the problem, he also wrote:
Our attitude must always be inspired by tolerance and respect towards all people, avoiding condemnation and violence of any kind, but at the same time, it should be clear for every Christian to know the doctrine of the Church which must be the model of life for every family who finds in the Word of God the inspiration, the ideals and the values of his existence.
However, I would like to ask His Excellency, What is the necessity of tolerance and respect towards those who promote LGBT ideology in the Church? Zero tolerance is the only answer. Souls are at stake. If Catholic prelates show "tolerance" to sin, then they themselves will perish along with those whom they have falsely indoctrinated.
I do not say lightly that Catholic prelates in Japan have falsely indoctrinated—are falsely indoctrinating—many, including the Catholic faithful, about the sins of LGBT. For several years, as I mentioned in my letter above, I have been sending letters and emails to, and communicating in person with, Archbishop Tarcisio Isao Kikuchi, the leader of the Archdiocese of Tokyo and also the secretary general of the Federation of Asian Bishops' Conferences (as of July 2021). Prior to Archbishop Kikuchi's accession to the Tokyo see, I also communicated, via letter and in person, with his predecessor, Archbishop Peter Takeo Okada (now deceased). I alerted both archbishops—and several other high-ranking prelates in the Church in Japan—to the various LGBT indoctrination activities going on here, often within the Japanese Church itself. But the outrages continued, and worsened.
My emails to Archbishop Tarcisio Isao Kikuchi, S.V.D., have apparently been not paid very much attention. I wonder whether people in Japan, including Japanese Catholics, think that we Catholic faithful are just a tiny minority here, and so can be overlooked and ignored. In any event, LGBT ideology continues to corrupt Japanese society, now with the recommendation of the Archbishop of Tokyo himself.
The problem seems to stem from the Novus Ordo system itself. For example, there is an annual Latin Mass at St Mary's Cathedral organized by the Catholic Action Fellowship Association, which is actually part of the Novus Ordo regime. Only those who registered could join the Mass and the number of participants was limited to two hundred people for the prevention of COVID-19 infection.
However, nobody at the pseudo-traditional Latin Mass paid attention to the pro-LGBT lecture by Pastor Taira, even though it was held almost at the same time and place. I think those who organize the pseudo-traditional Mass won't say anything against it, or they will have no place for Mass anymore at the cathedral. Archbishop Kikuchi will see to it that those who criticize LGBT ideology are cancelled, but he refuses, repeatedly, to speak in defense of Catholic teaching against the LGBT ideologues.
I therefore reach out again now to Remnant readers, as I did in 2020, in the hope that they will take the situation in Japan very seriously and help to fight against the working of the devil in God's Church in Japan.
Latest from RTV — WHAT'S NEXT? (The G20 Summit & Future Lockdowns)
______________
[1] https://hongsenotomoshibi.webnode.jp/
[3] https://lgbtcj.blogspot.com/2016/08/lgbt.html
[4] https://infovaticana.com/2019/05/06/jesuita-espanol-participa-en-el-desfile-del-orgullo-gay-de-japon/
[5] http://lgbtcj.org/posts/news19.html
[6] https://www.oriens.or.jp/fs/fs_back/fs_back_2021.html
[7] https://tokyo.catholic.jp/info/news/34732/#toc10
[8] https://www.cbcj.catholic.jp/japan/comt/hivaids/
[9] http://cath-aids-desk.jp/2022/08/31/890/
[10] https://web.archive.org/web/20150303114101/

[11] https://proudlife.org/about/director
[12] http://www.maroon.dti.ne.jp/gokyo/diary2013/d-2013-02-06b.html
[13] http://www.osaka.catholic.jp/no_side/jptaikai2021/program.pdf
[14] https://www.csd.or.jp/old-csd/gyoji/2019siencenterworkshop.pdf
[15] https://www.jcarm.com/wordpress/wp-content/uploads/2018/09/18%E5%A4%A7%E4%BC%9A%E3%83%8F%E3%82%9A%E3%83%B3%E3%83%95%E3%83%AC%E3%83%83%E3%83%88.pdf
[16] https://fukuoka.catholic.jp/wordprss2/wp-content/uploads/2020/12/%E3%82%AB%E3%83%88%E3%83%AA%E3%83%83%E3%82%AF2021jan_Web.pdf
[17] https://ryukyushimpo.jp/news/entry-1317425.html
[18] https://rainbowheartokinawa.com/
[19] http://webmagazin-amor.jp/2022/05/09/lgbt%E3%82%92%E3%81%A8%E3%81%8A%E3%81%97%E3%81%A6%E3%80%8C%E7%A5%9E%E3%81%AE%E6%84%9B%E3%80%8D%E3%82%92%E7%9F%A5%E3%82%8B/
[20] https://bp-uccj.jp/files/lgbt.pdf
[21] https://gendai.media/list/author/Onoharu
[22] http://nagoya.catholic.jp/wp-content/uploads/2022/07/%E6%95%99%E5%8C%BA%E3%83%8B%E3%83%A5%E3%83%BC%E3%82%B9No426.pdf
[23] https://fukuoka.catholic.jp/wordprss2/wp-content/uploads/2022/06/%E3%82%AB%E3%83%88%E3%83%AA%E3%83%83%E3%82%AF202207_Web.pdf
[24] https://www.ncregister.com/cna/german-synodal-way-meeting-ends-with-call-for-same-sex-blessings-change-to-catechism-on-homosexuality
[25] https://www.thetablet.co.uk/news/15899/belgium-s-flemish-bishops-approve-blessings-for-same-sex-couples
[26] https://www.ncronline.org/news/quick-reads/top-eu-cardinal-calls-change-church-teaching-gay-relationships