The Christians stood silent, 6 feet apart, & holding the small signs that you see. No political representation was allowed at their silent, standing protest. But as evening fell, they began to be surrounded by adversaries, much more numerous than themselves, who shouted, chanted "vergogna" (which means shame on you) and cursed at them but were thankfully held back by the police.
No major paper in Italy reported on this protest, but we found a small newspaper that did.
These pictures are from Piazza San Lorenzo where the protest in Florence was held: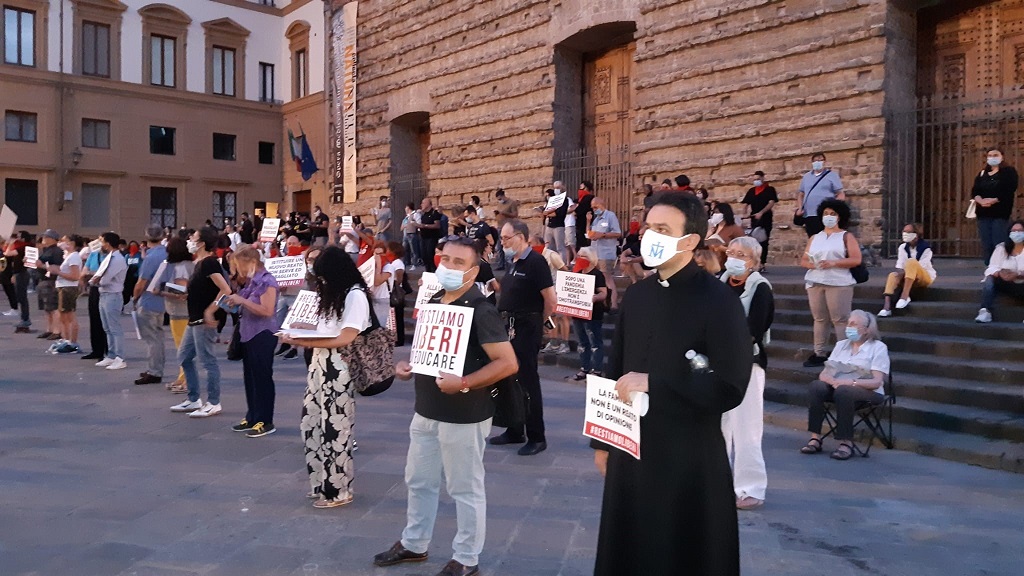 Restiamo Liberi...means let us be free, in this context, let us be free to teach our children what we think is right.
The priest is holding a sign that says: "la famiglia non è un reato di opinione." "Reato" means a crime, and the sign is saying that believing and teaching about the traditional family is not a thought crime.
The penalty proposed by this law is severe. A parent who objects to his child being taught the lifestyles of transgender, non-binary, gay, etc., in school, may be subject to 18 months in prison. You may also be subject to house arrest, the removal of a driver's license, a hunting license, and/or other punitive measures.
Forming any type of association to protest against these teachings is punishable up to 6 years in prison.
This is not yet a law, but it is being proposed in Italy.
Bretheren, the darkness is upon us. I know from your work and what you believe that you are very much aware of this. Pray that the Most High would grant us believers the spiritual focus and endurance to stand firm to the end.