But Pro-abort Nancy is hardly an anomaly. Joe "Catholic" Biden is also illustrative of the problem. Here he is, long before he went senile, officiating over a "wedding" between two White House staffers back in 2016:
Pro-Abort Joe is also a huge fan of Pope Francis, by the way, calling him the "embodiment of the social teaching I was raised with." (Good to know, Joe. Call us when the shuttle lands.)
And then, of course, there's that great "Catholic" paragon of compassion for the "most vulnerable among us"-- Governor Andrew Cuomo.
Here's Andy signing into law the "legal" protection of those wishing to slaughter babies right up to and including the moment of birth and delivery:

And there are so many others from which to choose, ranging from the late, great apostate Sen. Ted Kennedy to Anthony Fauci (Jesuit trained "Catholic") to Alexandria Ocasio-Cortez (whatEVER!) to that fanatical liberal governor of California, Gavin Newsom--hero of the delicate, young things over at Planned Parenthood:
Need I go on? They all claim to be faithful Catholics, and the tragedy is that most "Catholic" bishops in this country would concur, refusing to bar them from receiving Holy Communion even when they go public with their support for killing unborn babies.
Kind of makes you wonder: Now that Traditional Catholic "paranoia" over a coming Christophobic police state has proven to be anything but, I wonder if the time has come for our neo-Catholic friends to get serious about the other concerns we've shared with them over the past half century:

A Modernist infiltration of the Vatican (CHECK!)

The destruction of the Roman Rite of Mass (CHECK!)

The Regime of Novelty kicked off by the Second Vatican Council -- a watershed event that, just fifty-five years later, has left the Church in ruins
We've been arguing for decades that the Catholic Church had to be "taken out" first before any serious New World Order was possible. Were we wrong? (When's the last time you were allowed to go to Mass?)
Fifty-five years after the closing of that disastrous Council, the vast majority of the Catholic people have lost interest in the Faith to such an extent that they won't even fight for their churches to open or their Sacraments restored. When it comes to reopening America's churches, it's left up to Protestants to lead the charge.
With their liturgy mangled into something unrecognizable from that of their own grandparents and virtually indistinguishable from any garden variety Protestant service, Catholics today were never taught what it means to be Catholic. And so it should come as no surprise that they've thrown in with the crucifiers of the Mystical Body of Christ.
And if there was any question about that before, a quick survey of American "Catholic" political leaders today should make it abundantly clear: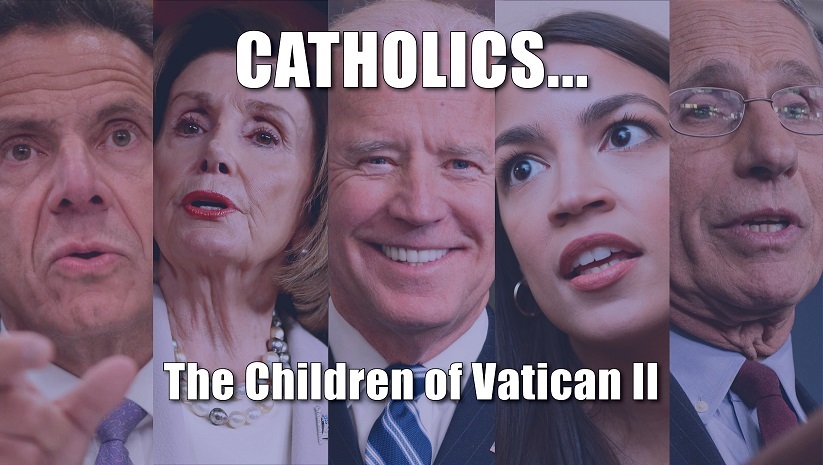 The most powerful champions of the war against the unborn, the family and of what's left of Christian America are disproportionately "Catholic".
President Donald Trump—the most pro-life president in fifty years—has no more committed political opponents than those claiming to be Catholic.
It's an embarrassment. It's an outrage. It's a sacrilege. But it was a long time coming. And "Catholic" politicians such as these are not Francis's doing. In fact, they paved his way.
The Council's chickens have long since come home to roost, their heretical clucking regularly blessed and approved by the Council's bastard sons, i.e., Jimmy Martin, Jorge Bergoglio, Blase Cupich, etc. Together they are the abomination of desolation standing in the holy place, signaling the approaching ruin of Jerusalem.
And they are no more Catholic than the Man in the Moon.
So, here's the thing: Now that these "Catholic" water carriers for socialists and baby killers are trying to lock down our country and hand us over to the New World Order, isn't it time to get serious about what really happened to our Church?
If we're ever going to get out of here, shouldn't we at least try to find out how we got here in the first place? It's really not just that papal clown's fault. He was the inevitable effect, yes, but the actual cause of nothing more than a slight acceleration of the runaway train. I'm talking about root causes of what's gone wrong, not the pathetic little cheerleaders of the Revolution running around loose in Rome today.
Bottom line? If you think the Revolution of Vatican II was blessed and approved by God, then your blindfold is still securely in its place, and you're doomed to wander the post-conciliar wilderness with the rest of the Catholic cadavers.
It's time for the silly season to end. For God's sake and the sake of your own soul, join the traditional Catholic counterrevolution, and let's make the Church Catholic again. #ToHellWithVaticanII