UPDATE: Since this was published, five more pilgrims have been fully sponsored. Thank you very much for your generous support, and please check the list below for the remaining candidates.
As a homeschool dad, I'm frequently asked how my wife and I deal with the physical education of our seven kids. The answer is always the same: sports, of all kinds. Canoeing as a family, hiking, biking. I'm a pretty terrible tennis player, but my eldest son and I played so much tennis while he was growing up that he's now playing for his university. In his absence, my third eldest daughter regularly uses the Old Dad Tennis Ball Machine to work on her game. It's a family affair, but my wife and I have always believed that a family that prays and plays together—STAYS together.
Another great sport for those who live in the colder climes—i.e., "God's country"—is cross-country skiing. Downhill skiing is fine and it's a lot of fun, but it's an expensive sport, and there's nothing quite like cross-country skiing in terms of physical and even mental development for youngsters.
It's true, there isn't a high "wow factor" in cross-country skiing. First and foremost, it's challenging! But for that very reason, it's also excellent for developing strong and healthy kids. Plus, it's a very inexpensive sport. A one-time investment in skis, and you're off to the races on the free ski trails available all over the north country.
Walter & Michael Matt, Birkebeiner Ski Race
But, again, skiers of all ages have to work at it. First time out in a new season, for example, and it's huffing and puffing discouragement after maybe a half-mile. But kids learn to understand that they've got to push on, even when it hurts. Cross-country skiing is not for snowflakes.
Some of the girls in our family like classic or "in-line" traditional skating, whereas the boys (and tomboys) tend to enjoy the more popular "skate skiing". Either way, it's a technique that requires years to develop, which gives kids a tremendous sense of accomplishment if they stick to it. The same teenager who was near tears wanting to quit in December is, by February, doing five miles and smiling all the way. And the ski trail takes the whole family deep into the woods where they'd not likely go on 10-degree mornings were it not for the "skinny skis" … and the challenge.
The largest cross-country ski race in America is held in Cable, Wisconsin every February—about two hours by car from St. Paul, MN. It's a 50-kilometer trail through woods, up steep inclines and over the gorgeous trails leading to downtown Hayward, WI. At the front of the event, world-class skiers—the best in the world, in fact—compete for prize money and positioning in the Worldloppet Ski Federation.
Here's an official promotional video from the 2016 event:
In the middle are the up and coming skiers—tomorrow's Olympians. And then falling in behind them are skiers of every skill level, age and variety. Naturally, the farther back you go the more old-timers you see chugging along—but everyone's there for the same reason: love for the sport.
Over the years, some of the more adventurous skiers in our homeschool community have taken positions in that column of some 13,000 skiers. For old timers like this writer, it's at the back and slow going, but no less beautiful, no less rewarding. We've skied for different causes, but this year it's all about finding sponsors to send the last few young people on pilgrimage to Chartres, France in May—the premier Traditional Catholic event, the promotion of which I've dedicated 27 years of my life.
I'm so keen on finding sponsors for these kids this year that I've decided to ski the American Birkebeiner on their behalf. My son, Walter (20 years old), and I will attempt it together, and we'll be wearing Vendee badges in the hopes of sparking up conversations about the Pilgrimage along the way.
The event—which takes place Saturday February 24—is 50 kilometers long, and I'm hoping to find a few generous souls who'd be interested in sponsoring our two-man team on a per-K basis. If that's you, please click the button below and make up your own pledge—whether it might be $1 per kilometer, $2 $5—whatever you like. You can help get these young and worthy traditional Catholic pilgrims sponsored and then your name and prayer intention will be read aloud every day during the Pilgrimage to Chartres. You'll find application letters and photos of the aspiring pilgrims below. Please indicate which pilgrim you'd like to sponsor.
Anyone interested in watching the "Birkie" live on Saturday to see how we fare, by the way, can access the Birkie website and make use of the live streaming. http://www.birkie.com/
I'm not getting any younger, and this is a long race. So it might take me awhile. Please keep us in your prayers and many thanks for considering this request for sponsorship in this really great cause.
Those new to the Chartres Pilgrimage may enjoy watching the little video below. Also, there are still 5 spots left on this year's Remnant pilgrimage to France/Portugal. Contact us if you're interested in joining us: This email address is being protected from spambots. You need JavaScript enabled to view it.
Seeking Pilgrimage Sponsors

Dear Remnant Readers: My Name is Mark Chamandy. I live in Rockville, Maryland and I am the third of six kids in my family. I attend Christendom College and I'm currently a sophomore there studying political science. I have been a big fan of the Remnant Newspaper even since I attended the Catholic Identity Conference this past October.

I wish to attend the Chartres pilgrimage because it would be a great experience for me since I have never been in Europe nor been on a pilgrimage before. It would also be a great opportunity to meet traditional Catholics like myself from all over the world. It is a blessing to know that there are like-minded individuals around the world who believe what I believe because in the post Vatican II world it is extremely difficult to find such people. Like many Catholics, it is hard to attend a traditional latin mass in my area because there are very few parishes that offer it and the parishes that do offer the latin mass are a great distance away from me. Thus, it is my hope that through all the praying and sacrificing I will make during the pilgrimage, that in the future there may be more opportunities for me to attend the latin mass. I also will include the prayer intentions of anyone who sponsors me.

Mark Chamandy ($675 thus far)
Dear Remnant Readers: My name is Benjamin Montgomery and I am from southwest Ohio. I have recently begun to attend Holy Family (FSSP) in Dayton, Ohio whenever I am back home from college. I am 21 years old, and a junior at one of the few conservative Catholic colleges in the nation. I first learned about the Latin Mass my senior year in high school, when my brother came back from college explaining it to me. However, I did not have the opportunity to attend a Latin Mass until a year later when I began to attend College. From there I continued to learn more about the tradition of the Church, which has changed my life much more than I could have imagined.

I learned of the Chartres Pilgrimage from my brother, who had just been learning about the pilgrimage himself. Reading about the experiences of others on this pilgrimage grounded my desire to go on this pilgrimage, and I do not want to miss an opportunity to join thousands of other Catholics in a movement that is greatly needed in the Church. I wish to have the opportunity to give glory and honor to our Lord Jesus Christ and to attain the graces for myself to grow in virtue, for those that I will pray for, and for the Church. I look forward to attending this pilgrimage, because it will be a wonderful change of pace for my daily life. It will be a great change in atmosphere to be around so many other Catholics who share the same values that I do, especially because I am quite often surrounded by people who would rather not hear about traditional Catholicism, or those who simply do not see the importance of it. I would appreciate the opportunity to attend this pilgrimage which I hope will prepare me to serve Christ for the duration of my life on earth.

In order to attend this pilgrimage, I will need some assistance with the cost of the pilgrimage, as I have another full year of college that I have yet to pay for before I graduate. I will be able to cover half of the cost for the pilgrimage, but I will need to rely on assistance for the rest of the cost. I appreciate all that you are able to offer and ensure you that I will pray for you and any intentions that you may have during the pilgrimage. Thank you, and God bless.

Benjamin Montgomery ($1300 thus far)
Dear Remnant Readers: My name is Nicholas Heiny and I am interested in attending the Chartres Pilgrimage. I am 22 years old, a cradle Catholic, and a senior business student at Indiana University Bloomington. Growing up, I attended a conservative Catholic parish in Fort Wayne, IN. I was first introduced to the Tridentine Mass after graduating from high school. The grandeur and sublime essence of the liturgy captivated me, yet I still had no real idea of what I had just experienced and no real guidance as my family members are not traditionalists.

For the past few years, I have attended Sacred Heart (FSSP) in Fort Wayne. Frequently attending the TLM has worked wonders in my spiritual life, giving me a greater understanding of Holy Mass and the holy priesthood, the necessity of confession, and introduced me to traditional devotions and theology. Attending a Low Mass with my now-deceased Catholic grandmother who was born in 1917 was the turning point from tepidness to conviction with Tradition for me. This was her first Latin Mass since the wholesale changes in 1969. While it took her a bit to recollect the ways of the old liturgy, she eventually followed along smoothly. Even at the age of 98, at the time for Communion, she calmly knelt down at the communion rail and received the Eucharist on the tongue. I was moved to tears because of her profound devotion and belief in the Real Presence. After Mass, she just smiled and said, "It was just like the good ol' days." Afterwards, I could no longer continue to turn a blind eye and accept the many novelties so prevalent in many New Masses.

Being a business student at a large secular state university that, has no traditional sacrament and, until very recently, had a nonexistent Catholic Newman center, I have experienced firsthand the temptations of the world as well as the emptiness that much of the corporate world has to offer. As a person who is delving deeper into true Catholic Social Teaching and its integration into professional life, I believe that the Chartres pilgrimage will provide me with a truly ethereal spiritual experience, create true Catholic camaraderie, and strengthen the Church Militant. I am truly convinced that the restoration of the Church will begin with the restoration and affirmation of her traditional faith, liturgy, theology, and soul. The Chartres Pilgrimage will be the chance of a lifetime to experience a glimpse of what the Church is destined to become once again! I will be working this semester to help afford the cost and I appreciate all that you are able to contribute. I will most earnestly pray for you and any intentions that you may have during the pilgrimage. Sincerely thank you and God bless. Viva Cristo Rey y la Virgen de Guadalupe!"

Nicholas E. Heiny ($1600 thus far)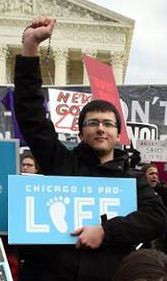 Dear Remnant Readers: My name is Samuel Ratner. I am a 21-year-old philosophy and theology major from the Catholic University of America who will be taking a gap year after college to focus on my spiritual growth. I am writing to ask for your financial assistance so that I may participate in the 2018 pilgrimage. I am prepared to cover as much as $750 of my expenses, but I am seeking sponsorship from the readers of the Remnant so that I can raise the rest (or, God willing, receive a full sponsorship if I am so blessed).

The Latin Mass has always attracted me because of its tradition, mystery, and beauty, but my exposure to it is unfortunately very limited. I grew up in the northern suburbs of Chicago and attended Mass at a Novus Ordo parish. It wasn't until college that I attended my first Latin Mass at Old St. Mary's in Washington DC. I was pleasantly surprised at what I experienced there. Old St. Mary's and other Extraordinary Form parishes have a rich sense of community, piety, and Catholicity that satisfies the spiritual longings I've always had. That said, as I graduate college and discern God's plan for the next step of my life, I am prayerfully searching for a Latin Mass parish to anchor myself in so I can grow closer to God in traditional prayer and spirituality.

The Chartres pilgrimage appeals to me for a few reasons. First, I believe it will be an excellent opportunity to retreat from the world after my graduation so that I can discern how God wills for me to serve Him in the future. Second, I believe that being exposed to rich, traditional Catholic piety outside of the Mass itself will transform my interior spiritual life and help me to further embrace and promote traditional Catholic devotion. Finally, I believe that the pilgrimage will offer me the opportunity to make positive spiritual connections and feel like a part of the traditionalist community in a way that I've never been able to before.

I would appreciate any help I can get to participate in this pilgrimage. I would be delighted to present the intentions of any potential sponsors to the Blessed Mother when I arrive in Chartres. God bless!

Samuel Ratner ($1000 thus far)
Thanks to your generousity, a number of pilgrims have been fully sponsored:
Daniel McNichol
John Pheasant
Dominic McFadden
John Falciano
Joseph Falciano
Veronica Rose Hoffmann
Joshua L. D. McDonald
Sophia Stuckey
Zoe Frisch
Brad Montgomery
Joseph Cavanaugh
Margaret Bresee
Gabriella Gladney