When we think of Cancun, Mexico, we think of a rich vacation spot, but here in the heart of the city there is poverty and a deep Catholic piety among the Mayan Indians and Mexicans from the whole republic.

This past August 5-13 of 2017, Cancun, Mexico had its first Traditional Latin Mass since perhaps the liturgical changes of 1969. The Fraternity of St. Peter had celebrated some Masses nearby in Playa de Carmen, Mexico, several years ago, and now it was Cancun's turn. Away from the beaches, the heart of the inner city saw the Traditional Latin Mass.

Fr. Jeffery Jambon, a resident priest in the diocese of Covington, Kentucky, conducted a weeklong parochial mission at St. Miguel's Parish, including its Cristo Buen Pastor chapel and San Juan de Dios chapel. Each day from Monday to Friday, The Latin Mass started at 8am (which averaged about 50 people) and followed by catechism class (which averaged about 50 people) on the 3 stages of the spiritual life by St Teresa of Avila. Each evening there were chances for confession and a preached meditation on the eternal truths, the evil of sin, God's mercy, the love of Mary and the Passion and death of Christ (which averaged about 100 to 120 people each night).
Fr. Jambon directing on of the Evening Meditations at St Miguel's Parish during the Parochial Mission
The week was followed by a High Mass on Sunday which about 120 persons attended. The people seemed to love the traditional Latin Mass, certainly a novelty for them. The people heard that this Mass was the Mass of the Cristeros and this perked up more interest. Some people asked if they can keep the Latin / Spanish Mass booklets, since they thought the prayers were "deeper and stronger" and could be useful to their prayer life.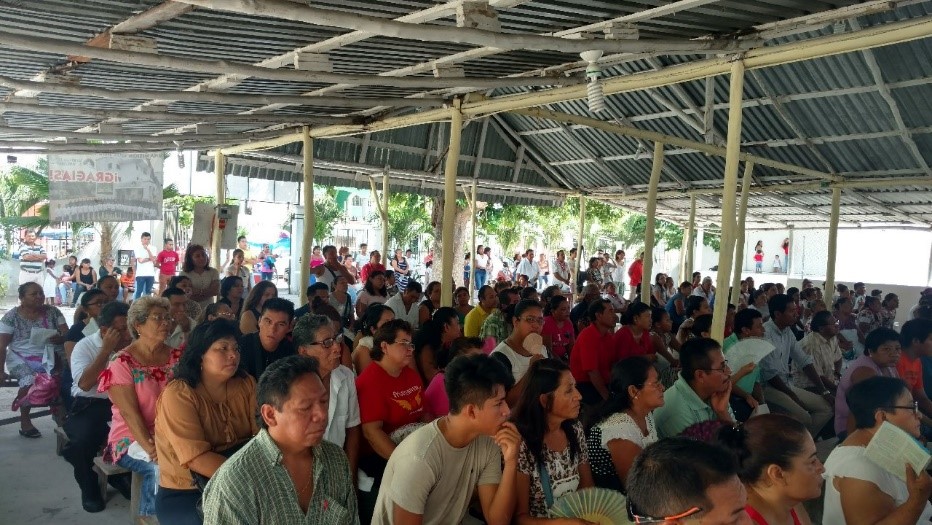 Fr. Jambon preached during Sunday Mass to the faithful at Cristo Buen Pastor Parish, August 6, 2017
98 people were enrolled in the Brown Scapular and a visible handful of people seemed to have had a life-changing experience. We thank God for the opportunity.
Fr. Jambon teaching in the morning catechism class in the Hall of St Miguel during the week of missions.
Viva Cristo Rey y la Santísima Virgen de Guadalupe!
May Long live Christ the King and Our Lady of Guadalupe!