UPDATE: The Archdiocese of Newark contacted our office this morning to report that those parishes in New Jersey making this Voter Guide available to their parishioners are not authorized to do so. The Archdiocese asked for the names of the parishes responsible so that appropriate action can be taken to stop the initiative. We are delighted to comply with this request.

This development demonstrates the effectiveness of speaking out against scandal. I'm grateful to the Remnant reader in New Jersey who took the time to report this incident to us. We denounced it, which prompted the Newark Archdiocese to take action to stop it.

The end result? The truth was served and, in future, parishes around the country may think twice before using this dangerous Voter Guide, widely available on the Internet. Please let us know if it pops up in your parish.

Here is the letter from the Vice Chancellor and Director of Communications Archdiocese of Newark:

Mr. Matt:

I am the Vice Chancellor and Director of Communications of the Archdiocese of Newark. You reference in your recent post -- "Grandma Clinton Wins Archdiocese of Newark" -- a publication called "Revolution of Tenderness: A Pope Francis 2016 Election Voter Guide." Please tell me in which parishes this guide has appeared within the Archdiocese.

Let me be clear: the only election materials that are permitted to be distributed within the parishes and institutions of the Archdiocese of Newark are those prepared and promoted by the US Conference of Catholic Bishops. Any other materials are strictly prohibited.

The guide you reference is not authorized for distribution, nor is it approved or condoned by the Archdiocese. Once you provide me with details, we will be able to take appropriate actions to see that they are no longer distributed here.

Thank you.

James G. Goodness, KHS
Vice Chancellor and Director of Communications Archdiocese of Newark

Many thanks to Mr. Goodness for taking prompt action against the very dangerous "A Revolution of Tenderness: A Pope Francis 2016 Election Voter Guide." MJM


The following handout was forwarded to us by a good friend in New Jersey. It's called "A Revolution of Tenderness: A Pope Francis 2016 Election Voter Guide," and it was inserted into Sunday bulletins in the Newark Archdiocese this past weekend.

It's actually a bullet-point version of "A Revolution of Tenderness: A Pope Francis 2016 Election Voter Guide," which was put together by a coalition of national liberal Catholic organizations:

Catholics in Alliance for the Common Good
Columban Center for Advocacy and Outreach
Conference of Major Superiors of Men
Faith in Public Life: Catholic Program
Franciscan Action Network
Leadership Conference of Women Religious
National Advocacy Center of the Sisters of the Good Shepherd
Pax Christi USA
Pax Christi International
Sisters of Mercy of the Americas' Extended Justice Team

After even a cursory glance at the Newark handout, it seems obvious which of the two viable presidential candidates the Catholic Church in Newark is supporting. But maybe it's just me. So, what do you think:


1) Which candidate is calling for massive enforcement of U.S. immigration law--something the Archdiocese of Newark sees as "categorically immoral" because it "separates families" and "furthers injustice"? We can't "simply close our borders" says Newark's Voter Guide, but must "open our communities to those who suffer." Agree or disagree with this, it's perfectly obvious which candidate falls short on this issue in the eyes of the Archdiocese of Newark. (HINT: It's not Hillary Clinton)

2) Which candidate is more concerned about protecting U.S. borders and bringing jobs back than he or she is about "climate change"? "Pope Francis reminds us," says the Catholic Church in Newark, that "addressing climate change" is our responsibility before God. "The first words of the Bible tell us that God is the creator of heaven and earth. God's first home for us was a garden, and God's first vocation for us was to be gardeners who protect, care for, sustain and develop creation." Reaching UN-sponsored "sustainable development" goals doesn't place too terribly high on the list of priorities for Donald Trump, does it?

3) Which candidate has campaigned on support for small businesses, less government and the entrepreneurial spirit that built America? And yet the Catholic Church in Newark assures its people that "Pope Francis says we must say 'no' to an economy of expulsion and inequality" while we stand for "a just minimum wage…protection of labor rights and strong and effective welfare programs." Hillary scores again!

4) Which candidate is calling for vigorous screening of Muslims attempting to enter this country? Which candidate is calling out Islamic extremism? And yet the Catholic Church in Newark says "we are particularly called to protect the persecuted Muslims in our midst."

Persecuted Muslims? What about persecuted Christians? "There is no room in our society for anti-immigrant laws that seek to exclude any people based on their religious beliefs. Our democracy is strongest when we support diversity of thought and belief. We are also strong when everyone can live in communities, contributing to the common good." Touch 'em all, Hillary!

And respect for human life? Yes, there are a few passing and impassive references, dutifully associated with hot-button liberal causes, of course. For example:

The inviolable dignity of each and every human person, especially those who are vulnerable, is the foundational political concern for Catholics. That dignity becomes meaningless unless human life is valued both in our laws and in our culture. Indeed, as Americans, we believe, as our Declaration of Independence states, that the very purpose of government is to promote "life, liberty, and the pursuit of happiness." Catholics stand four-square in opposition to any and all dishonor to human dignity and to life.

Today, human dignity and life is degraded by racism, violence, abortion, war, the death penalty, euthanasia, human trafficking, torture, environmental damage, and poverty. We believe that these issues are all related. In many situations, there are often nuances and root causes that need to be addressed. A person whom we persuade to respect the rights of immigrants is a person more likely to understand our concern for pregnant mothers and children. Those who share our commitment to supporting family life must be challenged to embrace programs that provide affordable healthcare to everyone.
The Archdiocese of Newark claims that their voter guide "isn't an attempt to promote a partisan agenda", but what else do you call a voter guide that champions the top talking points of one party's candidate while blatantly pitting itself against those of the other?

Does the Archdiocese of Newark think their own people are too stupid to see through this not-so-subtle support for the candidate on the Left?

And perhaps more to the point, when the Archdiocese of Newark brings God into this equation by admitting that "this guide is…an attempt to promote Jesus's Gospel of love, justice and mercy in the public sphere", is this not an indirect means of using the pulpit to directly tell religious people how to vote?

If the good people of Newark are to incur the wrath of God if they don't follow the "Pope Francis 2016 Voter Guide", could it not be argued that the Archdiocese of Newark is either being too clever by half, or is no longer interested in maintaining its tax exempt status?

Here are a few more samples from "A Revolution of Tenderness: A Pope Francis 2016 Election Voter Guide," prefaced (in bold) by the liberal cause that we believe is being either directly or indirectly espoused:

1) BLACK LIVES MATTER: "In this new place of mercy the last are first, the poor are blessed, and enemies are loved. Black lives matter here. LGBTQ lives matter here; and so too do the lives of refugees, the imprisoned, the unborn, and anyone else who suffers dehumanization, exclusion, and injustice."

2) PUNISH THE RICH: "It is appalling that social programs which help the poor are being cut while the super-rich are not asked to contribute their fair share of tax revenue."

3) GUN CONTROL: "We hope the U.S. will pay closer attention to the socio-economic needs of our neighbors in Latin America, where America's thirst for drugs and abundance of weaponry for export wreak havoc on still fragile democracies."

4) OBAMACARE: "What is each candidate's position on health care reform? What is being proposed to ensure that all Americans have access to healthcare?"

5) OPEN BORDERS: "Where does each candidate stand on a pathway to citizenship for undocumented immigrants? On deportations? On detention of women and children in for-profit prisons? How does each candidate challenge anti-immigrant rhetoric?"

6) CLIMATE CHANGE and FOSSIL FUELS: "How does each candidate talk about climate change? Does he or she have any policies for addressing this issue? What does each candidate say about alternatives to fossil fuels, and jobs associated with them?"

7) PERSONAL ASSOCIATION: "Archbishop Desmond Tutu said it well: 'true reconciliation exposes the awfulness, the abuse, the hurt, the truth. …It is a risky undertaking but in the end it is worthwhile, because in the end only an honest confrontation with reality can bring real healing.'"

Grandma Clinton with Desmond Tutu, old friends.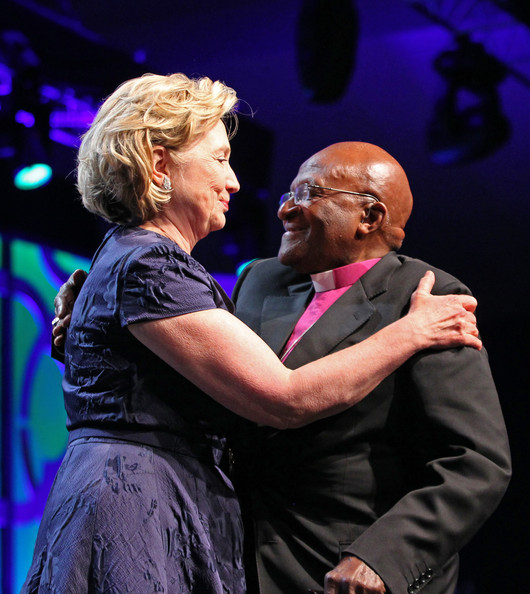 8) RACISM AND VOTER ID: "What is each candidate's stance on mass incarceration and reform of a criminal justice system that disproportionately puts people of color in prison for long periods of time? What is each candidate's position on voter identification laws and other restrictions that suppress voting among people of color?"

9) BLAME THE COPS: "The August 11, 2014 community response to the killing of Michael Brown, an unarmed teenager in Ferguson, Missouri, shed a clear focus on personal and structural racism that continues to plague our nation's history, its laws, and its criminal justice system."

Again, the point is not whether you or I or anyone else agrees or disagrees on these issues. The point is that the Archdiocese is clearly leaning to the Left in their efforts to influence the upcoming presidential election. Why? Follow the money here.

In the meantime, why not contact Bishop John J. Myers and ask him what's going on:

Archdiocese of Newark
171 CLIFTON AVENUE, P.O. BOX 9500, NEWARK, NJ 07104
TEL | 973-497-4000 - EMAIL: This email address is being protected from spambots. You need JavaScript enabled to view it.

And finally, let's take a moment to enjoy the accompanying Prayer for Our Earth, also inserted into the bulletins in Newark this past Sunday to mark "Laudato Si Week" and what the Archdiocese is calling the "Global Catholic Climate Movement" (whatever that means):
A prayer for our earth

All-powerful God, you are present in the whole universe
and in the smallest of your creatures.

You embrace with your tenderness all that exists.

Pour out upon us the power of your love,
hat we may protect life and beauty.

Fill us with peace, that we may live
as brothers and sisters, harming no one.

O God of the poor,
help us to rescue the abandoned and forgotten of this earth,
so precious in your eyes.

Bring healing to our lives,
that we may protect the world and not prey on it,
that we may sow beauty, not pollution and destruction.

Touch the hearts
of those who look only for gain
at the expense of the poor and the earth.

Teach us to discover the worth of each thing,
to be filled with awe and contemplation,
to recognize that we are profoundly united
with every creature
as we journey towards your infinite light.

We thank you for being with us each day.

Encourage us, we pray, in our struggle
for justice, love and peace.

(From Laudato Si': On Care for Our Common Home. Learn more about Laudator Si' and how to celebrate the anniversary at www.LaudatoSiWeek.org)

Personally, I prefer the original:

Imagine there's no heaven
It's easy if you try
No hell below us
Above us only sky
Imagine all the people
Living for today... Aha-ah...

Imagine there's no countries
It isn't hard to do
Nothing to kill or die for
And no religion, too
Imagine all the people
Living life in peace... You...

You may say I'm a dreamer
But I'm not the only one
I hope someday you'll join us
And the world will be as one

Imagine no possessions
I wonder if you can
No need…

Imagine no possessions
I wonder if you can
No need for greed or hunger
A brotherhood of man
Imagine all the people
Sharing all the world... You...

You may say I'm a dreamer
But I'm not the only one
I hope someday you'll join us
And the world will live as one