Let's all take a moment to thank the Euro market, "Lidl", for helping to make the world safe for diversity. According to Breitbart:
German supermarket giant Lidl has been caught doctoring pictures of the iconic Anastasis Church in Santorini, Greece, which appear on some of its products, to erase the crosses which adorn the building.

Images of the world-renowned church were used for the packaging of its Eridanous brand Greek-style yoghurt — an in-house label which also includes a range of feta cheese, moussaka, and pistachio products, according to RTL Info.

A spokesman for the low-cost retailer — which has hundreds of stores throughout Europe and the United Kingdom — justified the Soviet-style alterations by saying: "We avoid the use of religious symbols because we do not wish to exclude any religious beliefs."

They added: "We are a company that respects diversity and this is what explains the design of this packaging."
The rationale behind the supermarket's belief that erasing Christian iconography from Christian religious buildings is "respecting diversity" is left unclear, and its statement that "we avoid the use of religious symbols because we do not wish to exclude any religious beliefs" does not appear to be wholly accurate.

…The news comes shortly after Aldi — another low-cost German retailer — courted controversy by putting up a sign in a store in Northampton, England, advising customers that they could not purchase alcohol at a till manned by a cashier thought to be Muslim.

"If a colleague raises concerns about a job they have been asked to do, our approach is to try and find a solution," a spokesman told the MailOnline.

"In this instance, we informed customers via a sign on the tills that our colleague would not be serving alcohol."

This accommodating stance stands in sharp contrast to some Christian workers and business owners in the United Kingdom. READ MORE HERE

REMNANT COMMENT: Good to know.

Meanwhile back at the ranch, let's talk "kashrut," shall we? Kashrut is a set of Jewish religious dietary laws. Food that may be consumed according to halakha is termed "kosher" in English, from the Ashkenazi pronunciation of the Hebrew term kashér, meaning "fit". Kosher labeling is commonplace throughout much of the world, as grocery stores from east to west and in cities large and small are expected to provide food that is fit enough to be consumed by Jewish people in accordance with the dietary laws of their religion.
Maybe you've seen pictures: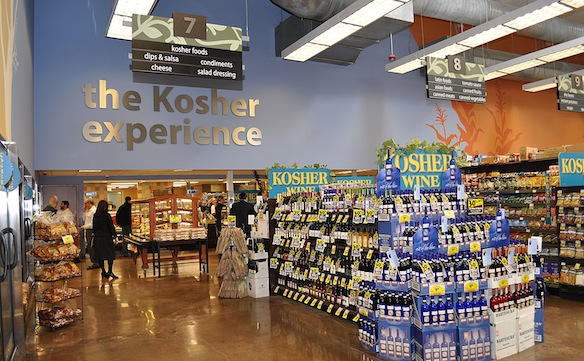 Are you offended? I'm not. But obviously this does indeed "exclude my religious beliefs." So apparently Christians aren't the snowflakes everyone else seems to be, freaking out like vampires in a grocery store at the mere sight of a cross on a bread wrapper or a yogurt cup.

What I find offensive is that the only religion that seems to present a problem for the diversity crowd is Christianity. Why are they so afraid of the Cross? Why if I didn't know better I might suspect this is all part of a grand Christophobic conspiracy of some kind. But of course that's crazy talk, right?