With the modus operandi, "the more diversity, the better," this program was created to further fragment the ethnic and cultural solidarity of the United States by randomly selecting immigrants from countries that do not have high populations in the United States and inviting them to come to America. The fact that the archbishop of a major American metropolitan center would issue a letter advocating for diversity a day after eight people were killed by a man brought here by the Diversity Lottery, is bitterly and tragically ironic.

On the other hand, the core message of Cardinal Wuerl's letter is imminently timely, for real racism, that is, racial hatred and an idolization of one's culture or race, is on the rise throughout America and the West. It is therefore very appropriate for US bishops to condemn any neo-pagan idolization of race and culture that is oozing throughout the internet. On the other hand, there is, unfortunately, much in "The Challenge of Racism Today" that criticizes not simply racism, but rather the conservative principles on which America was built and which have traditionally been affirmed and blessed by the Catholic Church.

In many ways, Cardinal Wuerl's "The Challenge of Racism Today" is an important reminder of the dignity of the human person and the fellowship shared among all baptized Catholics—two perennially Catholic teachings that have been obscured by the morass of postmodern nihilism and individualism in which we are drowning. His Eminence notes that our fundamental identity as Christians is "as sisters and brothers redeemed by Christ" who have been reconciled to God through Christ.

Also, very importantly, the Cardinal is right to remind us that what unites Christians throughout the world wounded and fragmented by sin is "the power of grace," and it is in Christ that "we live in the same Spirit, we share the same new life and are members of one spiritual body." In fact, as various utopian schemes for world government are being presented to the people of the world with increasing seriousness and intensity, this point needs to be made much more by the bishops of the world: it is only by God's grace that the human family can be healed.

However, there is much in "The Challenge of Racism" that sounds less like a pastor's concern for the evil of racial hatred and excessive patriotism and more like an old Silent Generation liberal (and/or his ghost writer) chastising Americans for not adopting the progressive platform of the Democratic Party.


While attacking "subtle" racism (a nebulous term that can mean anything that someone on the left considers "racist") in "The Challenge of Racism Today," Cardinal Wuerl further berates those who have "become comfortable in the enclave of…[their]…familiar world and even view others who are different…with suspicion." Cardinal Wuerl's statement here is not only incorrect but is extremely insulting to generations of Americans who have labored to build a safe, prosperous, and united country.

Cardinal Wuerl further boasts that the Washington Archdiocese celebrates "Black Catholic History Month," an initiative of the Office of Cultural Diversity and Outreach, and tells us that the schools in the archdiocese of Washington provide "accessible, affordable education" to "students from African American, Hispanic, Asian, and Native American Families." Rather than assuaging whatever American Catholics may still be seduced by racism, these policies that deliberately exclude Irish, Italian, Polish, and other American Catholics only seem to play into the hands of genuine racists who seek to fish for angry American Catholics online by telling them that the Church leadership today only cares about people from developing nations.

However, along with asides arguing for affirmative action or what Cardinal Wuerl calls "recruitment, hiring, and promotion policies" that "protect true opportunity" as well as an Orwellian campaign to promote diversity to lay Catholics via homilies, prayers of the faithful at mass as well as "catechetical material for adults," the strangest and most unCatholic weapon in the arsenal of Cardinal Wuerl's argument is his barrage of repeated statements that Catholics must embrace a specific political agenda of a borderless multicultural America.

While rightly praising a healthy diversity in the world and Church on one hand, Cardinal Wuerl repeatedly refers to "divisions" which are caused by recognizing cultural differences among Americans. Cardinal Wuerl seems to be implying that not only is the Christian message that all should be one in Christ found in a universal Catholic Church, but it also should be the formula for constructing a civil community, and the cardinal seems to confuse the ecclesiastical with the political order.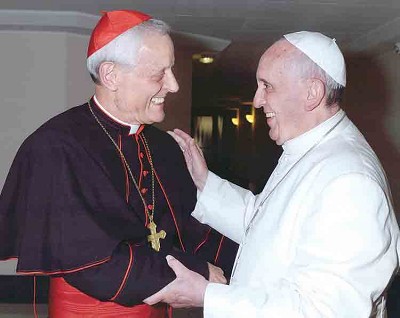 Just because many different cultures make up the body of Christ, it does not mean that we all have to live together in one political structure as well. Cardinal Wuerl is right to state that Christians are called "to unity," but he is wrong to think that this necessarily means political unity under the umbrella of a federal state.

Furthermore, the unity that Cardinal Wuerl desires is not just reconciliation between the many diverse communities already living in the United States; it is to be actualized by welcoming immigrants on their way to the United States. Cardinal Wuerl's solution to the current backlash against migration and refugee resettlement, on which genuine racists have unfortunately capitalized, is more migration and more refugee resettlement.

His Eminence boasts that the Archdiocese of Washington celebrates "National Migration Week" and "encourages Catholics at our local parishes to reflect on the challenges faced by immigrants, refugees and victims of human trafficking." His Eminence seems to forget that it is precisely this large scale immigration and subsequent violent crime wave that has engulfed not just America, but Europe, which has caused the angry backlash from Americans and Europeans.

Cardinal Wuerl's notion that unity in the body of Christ is to be transferred to unity in a political state is incorrect. Without a doubt, all Catholics are unified into one body of Christ, and the Catholic Church should never prevent anyone from entrance to her membership. However, this unity in Christ does not translated into a globalist, multicultural, open borders political unity.

In order for us to begin uncovering the true Catholic teaching on the unity of the human community, we must turn to an often neglected work of St. Thomas Aquinas, his letter to the King of Cyprus, often called De Regno.

In De Regno, a work that provides a synthesis of many of the Angelic Doctor's political ideas, St. Thomas Aquinas crafts a common sense antidote for Cardinal Wuerl's neo-Marxist notion of the diverse body political as a secularized and multicultural body of Christ.


For St. Aquinas, the true community grows out of the family or "household;" this household, in turn, joins with other households to form "a street" (think of the ethnic Catholic neighborhoods of Irish, Italian, or Polish Catholics in major American cities) of which the "city" is composed. Cities, in turn, join together with other cities to form a "kingdom," which, incidentally, is formed by cities in "need of fighting together and of mutual help against enemies."

St. Thomas derives this notion of an organic, real, unified human community from common sense as well as Book I of Aristotle's Politics on which St. Thomas wrote a partial commentary. Aristotle explains that the household is formed by "a union of those who cannot exist without each other," that is, the marriage of a male and female who join, so "the race may continue." This family links with other families in marriage to form a village, and the village becomes the polis, the perfect political community, which is a "creation of nature."

Incidentally, it is from this section of the Politics that is derived Aristotle's statement, "man is by nature a political animal".

What St. Thomas Aquinas and Aristotle both mean is that a state is not formed from the scheming of racists plotting the "ethnostate" or the mad "mix and match" diversity plotting of Cardinal Wuerl. The root or radix (from which we get the word "race") of a human community is the family. Despite what His Eminence might think, humans are naturally tribal animals and will react negatively if diversity is forced upon them. However, unlike the wild and stupid claims of today's new generation of racists, we as humans long for the village composed of households joined together by culture, marriage, lived experience, and, most importantly, faith, not the navel-gazing materialist fantasies of racial nationalists.

"The Challenge of Racism Today" is, unfortunately, a missed opportunity for Cardinal Donald Wuerl and the US Catholic Bishops. Instead of rightly condemning the evils of neopagan worship of one's own culture and hatred of others, Cardinal Wuerl provides a boiler plate of left wing ideology mixed with bits of authentic Catholic ecclesiology, not authentic Catholic political thought. The true identity of a Catholic is given to him by his faith, and the deepest bonds among Christians are found in the brotherhood we share in the mystical body of Christ. However, in this valley of tears, we can only blossom as political animals if planted in the warmth and protection of a genuine political community rooted in an authentic and loving Christian family.