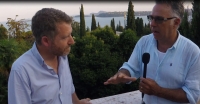 New from Remnant TV...

As part of Remnant TV's documentary on the 25th Anniversary of the Roman Forum in Gardone Riviera, Italy, Michael Matt interviews Vatican journalist and premier Rome correspondent, Edward Pentin, as well as King's College's renowned professor of philosophy, Dr. Thomas Pink.

This is the first installment of a series of interviews that will appear over the course of the next few weeks.

The RTV Documentary on this most unique symposium on the Shores of Lake Garda will appear on August 1, 2017.
.be">.be
[Comment Guidelines - Click to view]

Michael J. Matt has been an editor of The Remnant since 1990. Since 1994, he has been the newspaper's editor. A graduate of Christendom College, Michael Matt has written hundreds of articles on the state of the Church and the modern world. He is the host of The Remnant Underground and Remnant TV's The Remnant Forum. He's been U.S. Coordinator for Notre Dame de Chrétienté in Paris--the organization responsible for the Pentecost Pilgrimage to Chartres, France--since 2000. Mr. Matt has led the U.S. contingent on the Pilgrimage to Chartres for the last 24 years. He is a lecturer for the Roman Forum's Summer Symposium in Gardone Riviera, Italy. He is the author of Christian Fables, Legends of Christmas and Gods of Wasteland (Fifty Years of Rock 'n' Roll) and regularly delivers addresses and conferences to Catholic groups about the Mass, home-schooling, and the culture question. Together with his wife, Carol Lynn and their seven children, Mr. Matt currently resides in St. Paul, Minnesota.