Perhaps, knowing the vulnerability of youn
g people who engage street people, whether the mentally ill or homeless, imperils their safety and well-being. Perhaps, the years of investigating thugs, posing as street people, who prey on impressionable children and teens by luring them into human trafficking, drugs and other violent crimes, influences my opinion about the bizarre and troubling catechetical advice given by an American bishop at World Youth Day in Poland.
I am sure this bishop is a decent fellow. Yet his lecture and views not only amplifies the profound absurdity of the mercy mantra perpetuated by Francis and his fellow bishops, but it poses a grave risk to children.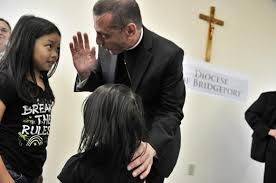 At World Youth Day in Poland, Bishop Frank Caggiano of Bridgeport, Connecticut followed the dictates of the Jubilee Year of Mercy with his 'catechetical lecture' on mercy, demonstrating the inanity and idiocy of the Francis mercy mania. Bishop Caggiano shocki
ngly instructed 150 young people that giving $1 to a homeless person that you see on the street is not enough as a Catholic and advocated a dangerous practice in the name of 'mercy. ' As Bishop Caggiano pointed out,
"My friends, that may be good enough for the world, but that's not good enough for Jesus Christ. That is not what we are being called to do. We are being called to more than that," Bishop Caggiano explained.
And then invoking that unforgettable phrase summoned incessantly by Pope Francis, Bishop Caggiano displayed and acted out the truly merciful Catholic actions toward the homeless person.
"You get down on your knees and put your hands under them and you bring them close to you and you lift them up," he said. "And the smell of the sheep is when your heart and their heart are so close that they touch." Touching, eh?
Don't hold your breath for any citations to the Catechism of the Catholic Church.

Elizabet
h Smart Brian David Mitchell
Perhaps, Bishop Caggiano was not paying attention on June 5, 2002, when 14-year-old Elizabeth Smart was abducted out of her bedroom in the middle of the night by a homeless man, Brian David Mitchell. Ed and Lois Smart, Elizabeth parents, would often seek out and help the homeless street people of Salt Lake City by paying them to do odd jobs around their home. They didn't just pass them in the street and drop a $1 in the basket, no, they wanted to do more. Mitchell was one of the homeless people who was helped by the Smart Family and worked for 5 hours doing handy work at their home. No doubt, their intentions were merciful toward the homeless, but perilous to their 6 children.
For nine months, Elizabeth Smart was daily and repeatedly raped by Brian David Mitchell as her parents and law enforcement desperately searched for her.
Not a very merciful ending for an innocent young girl. Nor for the thousands of girls raped on the streets by Muslim migrant men in Germany, Sweden, Norway, Denmark and France.
Apparently, Bishop Caggiano strongly influenced his audience of young people because they were sufficiently chastised for their unmerciful attitudes toward homeless people.
One of the girls at his lecture commented, "Instead of just handing people money, I should get up and give them a hug and make them feel like they're a person too, like they're accepted in society. Something more physical than just giving them some coins and walking by."
"I think I need to re-evaluate how I look at things now and how I act toward people who are homeless or less fortunate," she said.
The self-styled mercy theology of Francis devolves into trite and vapid sociology 101, a course in street hugging. I can hear the Francis missionaries now, "honk, if you need a hug." Really, Bishops, with your precious S.T.D. are you really falling for this tripe? Stinky sheep are the new salvation standard by which we are all judged in the Francis Church?
Reject the mercy modernism of Francis' stinky sheep, in all its hideous and phony manifestations, and invoke the intercession of the courageous martyr, Fr. Jacques Hamel. Is there one of you who is a fearless shepherd?
Elizabeth Yore is an international child advocate attorney. She served as General Counsel at the National Center for Missing and Exploited Children, and General Counsel at the Illinois Department of Children and Family Services. She investigates and consults on missing and exploited children cases around the world.

Subscibe to The Remnant and never miss another article by Elizabeth Yore.