A quick Google search reveals that only the Douay Rheims still has it right, so conscientious were the modern exegetes in rewriting Scripture to fit their narrative. Every other Bible in the world bastardizes this passage. Evidently, we have an inalienable right to peace without good will just as we have an inalienable right to mercy without repentance. It's all part of the grand Masonic benefits package.

After all these years of Orwellian tampering with the Words of God I sometimes wonder to what extent we've all succumbed to the spirit of the age which that tampering seeks to accommodate. Can it still be said of us, for example, that we stand with the "men of good will" for whom peace is no stranger and God is still God? Or have we signed on with those demanding peace while banishing God from hearth and home and dropping bombs all over the world.

Where do we stand? There is so much unrest in the world today that it's easy to become bitter and to lose track of who we are and what we still believe. Padre Pio anticipated this way back in 1917 when he wrote: "If you have neither sufficient gold nor incense to offer Our Lord, you will at least have the myrrh of bitterness. And I perceive that He willingly accepts this." I hope so, as sometimes it seems that the myrrh of bitterness is all we have left—bitterness over what we've lost, over what's been stolen from us, and over what we in our weakness have willingly swapped for a mess of pottage.

I've felt it more keenly over the past two years than ever before—that certain sense of unease and confusion and hurt and even doubt...we'd be lying if we said we are impervious to it. All the forces of hell are working on the unbelief of the children of God just now. "Lord, I believe. Help my unbelief."

With His vicar on earth now warming himself at the fires of His mortal enemies even God Himself seems to be growing silent in the face of ongoing apostasy. What greater chastisement could there be than that He Who is the source of all hope and comfort should grow silent? Is there a more terrifying prospect in all the world than that of Calvary's dead silence and all that it portends?

What did the "little people" do then? He said He was God and yet, there He was, hanging from a gibbet while His enemies mocked Him to death.

My father often wrote of the "little people" and the "language of silence." Why? Because I think he knew it is only the spirit of the "little people"—those who stood in silent belief first in Bethlehem and then at the foot of the Cross—that will help us persevere to the bitter end.

Can we still count ourselves in their humble company, or have we become pathetically acceptable to high priests and Romans in high places? Have we begun to blend in with the crowd that persecuted those who mattered most to Jesus Christ?

As my father waged his lonely war for the restoration of the old Latin Mass in the dark days after the Second Vatican Council, he warned his readers of the dangers of becoming puffed up with pride in the name of service rendered to a worthy cause.

Almost fifty years later I sometimes fear that as there's no one left from the old days to provide those pertinent warnings, we risk falling out of the company of "little people"—the anonymous shepherds, for example, content to watch their sheep by night or go with angels to the nursery of a King, whatever God asked of them.

Christmas is all about the "little people", which is why it seems a fitting time for us to recall their example and to commit to remain in the quiet company of those who "not only confound the wise and put to flight all wickedness when they have a mind to, but whose power is such that Our Lord Himself singles them out for special attention, declaring that even Heaven considered them to be a special adornment."

Can that be still said of us today? Will we remain faithful and true and devoted to them as to a noble principle and common cause – or will we, like modern-day pagans, succumb to the evil spirit of narrow egoism and loveless petty bickering which has become the hallmark of our times and which threatens to engulf and destroy what was once the Christian West?

Bluntly stated, will the spirit not of Christ but of Anti-Christ succeed in penetrating our ranks, too? Will there be 'traditionalists' who, not unlike the modernists, will be persuaded to believe and to act as though it mattered little whether we ourselves be reformed and renewed in Christ Jesus, but rather that it is the Church and society which must in the first place be overhauled and reconstituted in our image and likeness?

Do we honor the memory of the "little people" when we stoop to remind the world that we were "right all along" and that everyone else was wrong? Do we retain the right to be counted among them when we become inordinately puffed up and proud? We have no special mandate, no real or direct commission from Jesus Christ to reform or rebuild His divinely established and divinely upheld Church. Our job is simple-- to remain true to God, true to one another and to the promises of our baptism. To watch and wait. To keep the old Faith.

We cannot abandon Holy Mother Church, regardless of the vile men who now hold her captive. Where would we go? We cannot start our own church. Nothing else short of the Bride of Jesus Christ will ever do for us. She is ours and we must stay at the foot of her Cross now, holding fast to her bloodied feet even as Magdalene held fast to His. There is no worldly glory in that, but for the "little people" there is no honor more sublime. And there is no excuse to give in to despair or arrogance, for they had no place either in Bethlehem's stable or on Calvary's summit. The "little people" knew this and we must never forget what it means even now as the whole world turns against the followers of Jesus Christ.

First off, we must stop whining! God put us here for a reason. And at Christmas especially, Sursum corda! – Lift up your hearts! The Mass, Christ's Mass, is indestructible. Calvary, like Bethlehem, cannot be expunged or erased from the hearts of those who love Him. Christ lives, He reigns, He is and always shall be—and there's nothing Washington or Rome can do to change that!

Next, we're no heroes…so let's stop pretending otherwise. Christ's Church, now well over 2,000 years in the making, will go on with or without us. Doing one's duty does not merit the martyr's crown, at least not yet. Learning the language of silence is the challenge.

Let us keep our role in all of this in perspective. Let us resolve to help each other—as did our fathers and mothers in times of persecution past—keep the old Faith, keep charity and hope burning in our hearts and souls so that maybe we can help the "little people" move mountains, outlast pagan empires, and rescue and rally the spiritually depressed and downcast ones all over the world.

What is needed now most urgently is not more texting, tweeting, Facebooking and upvotes, but rather a renewal of the spirit of the "little people" who despite the world, the flesh and the devil remained on fire with zeal to raise their minds and hearts and souls to Christ who is King whether the world acknowledges Him as such, or not.

ISIS? They are mere terrors for children for those enlisted in the army of Christ the King. So let's enlist!

Archbishop Fulton Sheen once said that the mark of the Christian is his willingness to "look for the Divine in the flesh of a babe in a crib, the continuing Christ under the appearance of bread on an altar, and a meditation and a prayer on a string of beads."

It's all about a willingness, an eagerness, to become like children for His sake—children the world despises, Rome rejects, but God calls His Own. There's no excuse to do anything less. He knows what it means to be lowly and little. He was impoverished, despised by the world, acknowledged only by those who didn't matter.

His father and mother were hounded by the State, forced to flee the thugs of the Old World Order. He is love itself and yet He was charged with "hate crimes". He was home schooled. He knows what it is to be ridiculed and mocked and put to death as a common criminal. Yet He remains the sole Desire of Nations and the hope of the whole world. What cause have we to fret or fear this world if we remain true to Him.

So our brave new world is once again on the brink of war and apostasy and disaster. Of course it is! Those at war with Christ will know nothing other than death and chaos. But this changes nothing for us. Our resolve remains the same—to humbly stand with shepherds so that we might one day earn the right to kneel with angels at the manger of a King. Mighty Rome cares nothing for us, so let us go to Bethlehem to save our souls.

"We go to Bethlehem," noted Pius XII in his famous Christmas address of 1942, where "His light can overcome the darkness, the rays of His love can conquer the icy egoism which holds so many back from becoming great and conspicuous in their higher life." Icy egoism, pride, self-righteousness—the baggage we all must decide to discard in the ditches on the way to the stable.

Pius challenged a world already at war to "declare war on the darkness which comes from deserting God." He warned that ours is a "fight for the human race, which is gravely ill." He called Christians to combat the "evil from which society suffers", to be consoled and inspired anew by the "star that stands over the Grotto of Bethlehem, the first and the perennial star of the Christian Era."

Even in the middle of world war, in other words, the Church held up a Child as the only hope of the world.

"If armies in camp should stand against me, my heart shall not fear. Where that star shines, there is Christ. With Him for leader we shall not wander; with the Child that is born today we may rejoice forever." Nothing has changed, except us, perhaps, if we depart from the company of the little ones.

This Christmas let's raise a glass, then, to the Christ Child and to the "little people" He made heirs to His kingdom and who, please God, will one day welcome us there too if we can accomplish but one simple objective: Keep the old Faith and never lose hope, come what may.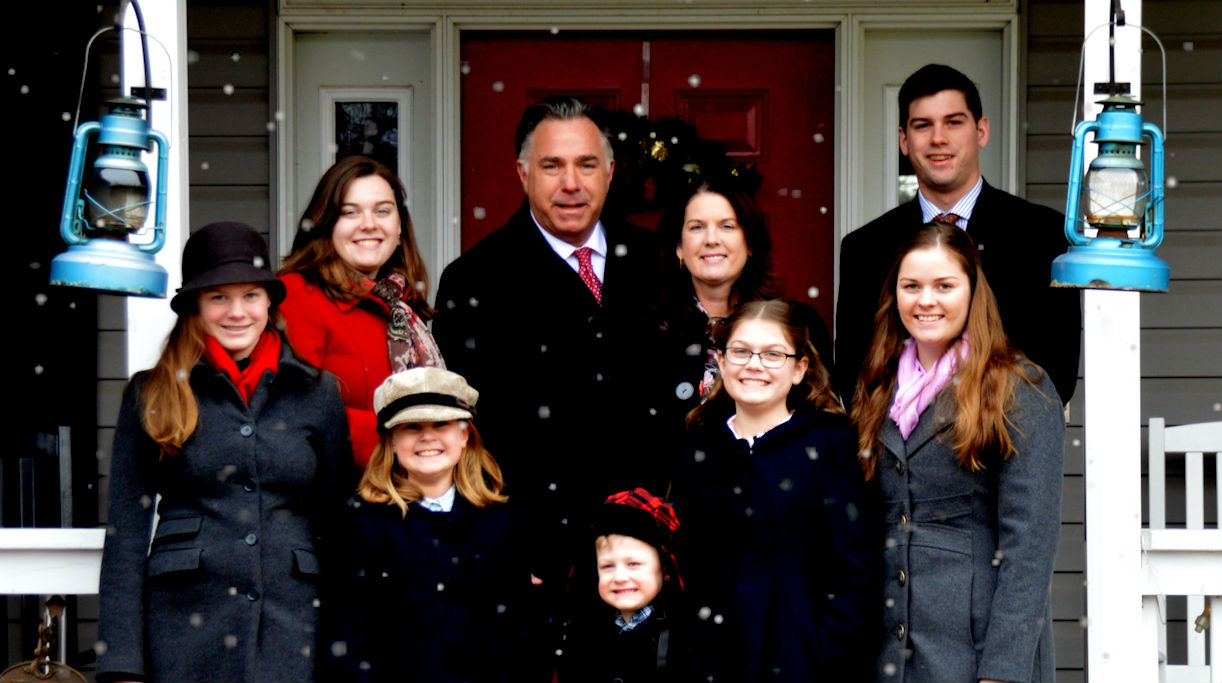 Merry Christmas and Happy New Year from the Michael J. Matt family.