Among the members of the child protection commission, was a clergy sex abuse victim, and an array of lay members from the medical, political, academic and diplomatic arena, along with two Jesuits. There was no legal document, no formal mandate or structure assigned to the commission, leaving some to criticize the commission as mere "window dressing."
The Pope assured Catholics that reform had finally arrived to the Vatican.
Pope Francis underscored the reform with stern words, "families need to know that the church is making every effort to protect their children and they should also know that they have every right to turn to the church with full confidence, for it is a safe and secure home."
Tough talk from the Pontiff, si?
Not so fast.
A year later Pope Francis is embroiled in a bitter scandal over his appointment of a Chilean Bishop who is accused of not only covering up clergy sex abuse of minors, but also of being present and observing the actual abuse of three male minors during the abuse. Chilean Catholics are red hot over this outrageous appointment. So much for the "reform Pope."
This past January, Reverend Juan Barros was appointed by Pope Francis to become Bishop of Osorno, a southern Chilean diocese. Since this announcement, the violent and loud outcry from Chilean Catholics and abuse victims can be heard as far away as the Pope's residence at Casa Santa Marta.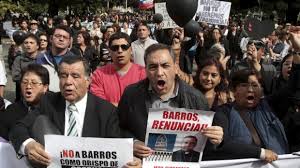 Chileans are furious over the appointment of Barros who clergy abuse victims contend covered up sexual abuse committed by his mentor, the charismatic Rev. Fernando Karadima, in the 1980s and '90s. Dr. James Hamilton, another teen victim of Karadima who is now 49 years old, stated that Barros also enjoyed watching Karadima commit the abuse. Another child victim recounted watching the sexual encounters between Barros and Karadima.
Barros was one of four bishops who were mentored by Karadima and defended him from the accusations. In 2011 during Benedict's papacy, a Vatican investigation found Karadima guilty of sexually abusing boys (who else) and sentenced the 84-year-old priest to a cloistered life of "penitence and prayer" in a monastery for nuns.
Initially, Chileans gave Pope Francis the benefit of the doubt. They believed that Pope Francis couldn't possible have all the information about Barros or else Francis would never have made the appointment. Over the years, these victims repeatedly asserted that Barros covered up and personally witnessed the child sexual abuse by Karadima at the Sacred Heart of Jesus church in an affluent neighborhood of Santiago.
Yet, the Vatican released a statement saying that Barros was fully vetted and the cover-up allegations were investigated and the Pope is satisfied in Barros' exoneration. The Vatican has issued its unequivocal support for his selection, saying it had investigated Barros thoroughly and found no "objective reason" to stop his appointment to the Osorno diocese. So much for reform.
More than 1,300 church members in Osorno, along with some 30 priests from the diocese and 51 of Chile's 120 members of Parliament, sent letters to Pope Francis in February urging him to rescind the appointment, which was announced in January and is set to take effect on March 21. Yet, the installation went forward.
This article will appear in the next print edition of The Remnant. To see what else will be published in our April 15th issue, SUBSCRIBE TODAY!
A violent riot ensued inside the Cathedral by outraged Catholics when Bishop Barros appeared at his installation as the Bishop of Osorno. The protesters tried to stop his ordination as Bishop, accusing him of covering up sexual abuse of young boys. Police in the city of Osorno said at least 650 people turned up at the cathedral wearing black in protest against the ordination of Juan Barros. Barros has declined to comment publicly on allegations against him.

Thus far, the Vatican is stonewalling and refusing to rescind the appointment.

Pope Francis has repeatedly assured Catholics that his pontificate was not going to tolerate or reward bishops who cover up clergy abuse and he would move swiftly to address abuse allegations against priests.

Not so fast.

Francis failed his first most important test as the reformer of clergy child sex abuse. Commissions and tough language are meaningless and cynical window dressing if the Pope appoints bishops who failed to protect children from sexual assault by priests. The scandal which plagues the Church is not only the horrendous violation of the innocence of children by priests, but also the cover up by superiors which allows predators to continue to exploit innocent children.

The Plot Thickens

Why is the Vatican staunchly defending Barros? Are victims of clergy sex abuse also victims of the powerful and mighty in the Vatican? Karadima's victims report that allegations against Karadima were reported years before but were ignored by none other than the powerful Cardinal Errazuriz. Sound familiar? Cardinal Errazuriz is one of eight cardinals personally chosen by Pope Francis to serve on his key advisory panel. This is the same Cardinal Errazuriz that testified in court that he failed to act on several abuse allegations because he believed them to be untrue. Is this Francis' idea of reform?

Despite his protestations, promises of reform, and splashy commissions, Pope Francis not only appoints bishops who cover up clergy abuse of children, but he also elevates them to his prestigious Council of 8.

Something is rotten in Vatican State. Did the influential Cardinal Errazuriz promote the name of Bishop Barros for new appointment to the Diocese of Osorno? Did the powerful Cardinal Errazuriz, of the Pope's Kitchen Cabinet, ensure that Barros' sordid past as a cover up artist and voyeur of child sex abuse not disqualify him for prominent appointment? Did the Papal confidante, Cardinal Errazuriz persuade the Vatican bureaucracy that the child abuse cover up allegations against Barros are imaginary? Is the powerful Errazuriz leading the stonewall against the faithful Catholics of Chile who want to rid their Church of a corrupt bishop?

Francis has a big problem on his hands. Instead of writing silly environmental encyclicals in consultation with the Obama administration, he should spend his time ridding the Church of child predators and their protectors.