In 2013, the archdiocese announced significant budget cuts, including closing five schools, eliminating 75 positions at the archdiocesan chancery and imposing a moratorium on loans to its 356 parishes from the archdiocesan bank for three years. It was expected that the budget would be balanced in several years, but the tasks ahead remain significant.

The archdiocese also confronted numerous cases of clergy sexual abuse. Cardinal George acknowledged the toll the cases have taken on the faithful. In a letter issued in January that accompanied the release of documents detailing sexual abuse by 30 Chicago priests, Cardinal George wrote, "I apologize to all those who have been harmed by these crimes and this scandal ... (and) shamed by the actions of some priests and bishops."

Reuters, October 29, 2014:

The Catholic Church will close or merge a dozen of its 240 Chicago-area schools due to falling attendance in some areas of the country's largest parochial school system, the Archdiocese of Chicago said on Wednesday.

"We will not be able to maintain all schools in their current form," outgoing Cardinal Francis George said in a letter posted on the website of the archdiocese, which has a deficit of millions of dollars.

Six schools would close in June 2015 while another six would merge into three, affecting 1,280 elementary school students, it said.

The archdiocese ran nearly 500 schools in the 1970s.

Chicago Suntimes.com, November 24, 2014:

Advised by a cadre of concerned priests and laity to clean out the old wood at the chancery, Sneed hears the Chicago's new archbishop is eyeing the installation of women in top leadership positions...

Sneed is told Cupich went calmly ballistic when he discovered a dearth of women, nuns and altar girls included in his installation Mass last week at Holy Name Cathedral.

Backshot: When Cupich was bishop of the diocese in Spokane, Wash. — before he was chosen to replace ailing Cardinal Francis George — he permitted women to hold top leadership positions in the Spokane chancery, claiming he valued their perspective and they stopped him from making bad decisions.

Cupich's office in Rapid City, S.D., where he served as bishop until he left for Washington in 2010, was staffed mostly by women, according to an article about him in Spokane's Spokesman-Review.

What does all of this mean? It means that while the Church in Chicago continues to lose the Faith and decline by every statistical measure, its new shepherd is more concerned with enforcing his own tired ideology than saving souls. (Assuming, of course, the Archbishop still believes that the soul needs saving. Judging by his fondness for ecumenical prayer services, the Archbishop apparently sees the leading of heretical sects, as no danger to salvation at all.)

Almost any pre-conciliar bishop coming in to the devastated vineyard that is Chicago would begin emergency triage measures to stop the dire crisis of Faith in the city. He might start by cleaning house of heretical celebrity clergy like Fr. Pfleger, restoring sanity to the city's liturgy, ensuring the Catholic Faith is taught in schools and from pulpits, loudly condemning the city's "Catholic" yet pro-abortion politicians, and promptly punishing predator priests who were allowed to run wild for 50 years in the "Church of the New Springtime."

But not Archbishop Cupich. Absolutely no level of devastation, moral suffering, mass apostasy, heresy, or paganism can hope to offer a reality check to the good bishop. Why? Because the Archbishop, like his Modernist forerunners, proudly believes his own ideology to be infallible. After all, the presence of the divine has welled up in the people (aka liberal Catholics) who have gathered together to express their divine sentiment as a consensus opinion. That consensus opinion, to Archbishop Cupich, is, de facto, the voice of God.
Abp. Cupich's New Chancery?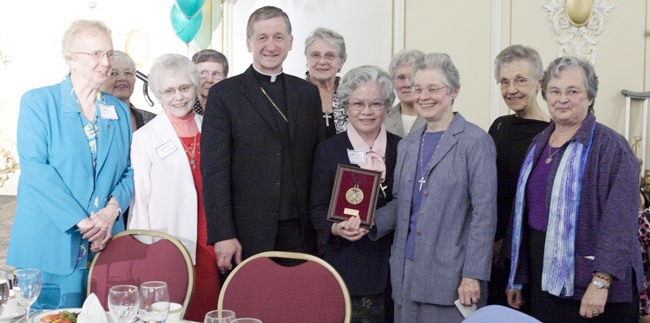 Success, to people like Archbishop Cupich is not to be found in statistics such as declining Mass attendance, declining Catholic school enrollment, declining vocations…how could it be? No, success is instead found in good feelings… and feelings are not measurable by statistics. As long as Archbishop Cupich swells with indignation at the perceived evil of gender inequality in the Archdiocese of Chicago and then quells it with a flood of warm emotions from deposing male Catholics from serving in chancery positions and at the altar then that is "progress." And "progress" no matter the actual result, is always successful in the modernist paradigm.

For this is the only way to explain the utter disconnect between the wasteland of devastation this bishop finds in his new diocese and the issues that cause him to be outraged. All of life must be seen by such a man through the lens of ideology. His job, as he sees it, is to correct all perceived "injustice" wherever he finds it and to try to recreate the world as his ideology dictates. In this perverse world, the "correct" ratio of male to female chancery officials brings "balance" between genders and uplifts and empowers Catholic women all over Chicago. In reality, all this will do is discriminate against male heretics in the chancery, who will then be substituted for your typical "nun on the bus" women-priest supporting feminist heretics, who already control most liberal parish churches, and who do not in the least represent the faithful Mass attending women in the pews. Thus, similar to the effect of rearranging the deck chairs on the titanic, the Archbishop's ship will still be going down, but at least more of the crew will be wearing pantsuits.

This is not to mention the fact that Cupich went "calmly ballistic" at the lack of girl altar boys at his installation Mass. Never mind the fact that there were four of them present. Was this not enough for the good bishop? As we know, girl altar boys are a proven vocations-killer. The entire practice is itself a novelty and an innovation left to us by John Paul "The Great." For 2,000 years, the Church understood that the altar boy acts as an extension of the priest's hands at the altar and that the priest is an alter Christus (another Christ) at Mass. Apparently it never dawned on the countless poor "unenlightened" masses of female saints through the ages, including Our Blessed Mother, that they had somehow been deprived victims of bigotry for 2,000 years. It took a letter from John Paul II in the 1990's allowing girl altar boys, to inform them of it.

So, as the Archdiocese of Chicago continues to burn, its new shepherd continues to fiddle the same old tired neo-modernist tune we have been hearing for the last fifty years. His focus is on slaying imaginary dragons, which his ideology tells him must be defeated. Meanwhile the Chicago faithful are left to fend for themselves in a wasteland of neo-pagan apostasy and corruption.

Some of the few bright spots in Chicago are the Latin Mass communities, which are growing against the odds as the rest of the archdiocese descends into darkness. But far from supporting such seeds of restoration, all historical signs point to Abp. Cupich's hostility towards these communities. For regardless of holy fruits and real results, the Archbishop's ideology tells him they are bad. Therefore, they are.

As Remnant columnist, Chris Ferrara wrote back in 2002:

…Cupich is a living refutation of the neo-Catholic bromide that the younger priests and prelates of the Novus Ordo are going to turn things around, just you wait and see. Cupich is the youngest bishop in America, if not the world.

Cupich has grudgingly allowed a single "indult" Latin Mass on Sunday in Rapid City, at the Immaculate Conception Church on Fifth Street. But there he draws the line on all this tradition stuff. Cupich refused to permit the traditional Good Friday and Easter vigil services at Immaculate Conception. To ensure that his edict would be followed, he locked the parishioners out of their own church from Holy Thursday morning until Easter morning. The Iowa Journal reported that "the members of St. Michael's congregation will gather at 3 p.m. today for Good Friday services on the sidewalk in front of the church." And so they did.

Cupich, caring and compassionate Novus Ordo shepherd that he is, coldly insists that the Ecclesia Dei indult is only a temporary provision aimed at "mainstreaming" diehard traditionalists into the new liturgy, whether they like it or not, and that Holy Week is as good time as any to begin the process of assimilation into the Novus Ordo: "Eventually, Catholics have to understand that the reform of the Second Vatican Council is, in fact, an improvement and is important to our spiritual life," said Cupich. Yes, like Winston Smith in George Orwell's fictional Oceania, Catholics of the postconciliar springtime must learn to understand that two plus two really is five.

Not long ago Cupich was seen breaking the ground for the new "Sioux Spiritual Center" in Rapid City. The news photo shows him in his flowing white Novus Ordo gown, daintily poking a ceremonial shovel into the dirt. According to the Rapid City Journal of November 9, 2000, the Sioux Spiritual center has been built to serve the Lakota Indian tribe. "When it's complete next spring, the 40-foot diameter, octagon-shaped log building—which will feature a 16-foot high ceiling and windows that face the four directions—will replace an old chapel that's too small to accommodate the many groups that use the center for weekend retreats, educational seminars and lay ministry training programs."

The Sioux Spiritual Center will host weekend retreats, "many of them inculturated programs designed specifically for Lakota Catholics." According to Father Steve Mitten, the director of the Sioux Spiritual Center, "Our purpose is to work for the Lakota people as they develop their own church in their own style—a real Catholic Church rooted in their culture and traditions." The Sioux Spiritual Center will offer "recovery retreats for native people recovering from drug or alcohol addiction that allow them to draw on both Christian and Lakota religious traditions for spiritual healing."

Can You Find the Real Bishop?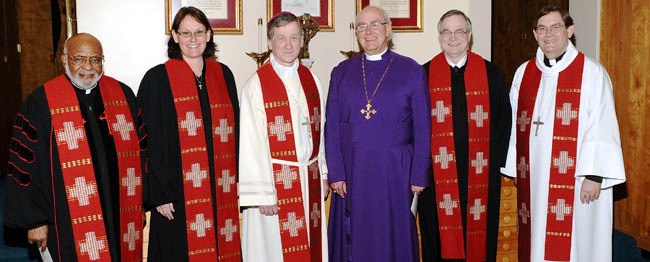 Bishop Cupich provides a place for the Lakota tribe and "Lakota religious traditions" in his Novus Ordo diocese, but he casts into the street those who wish to adhere to Catholic religious traditions on Holy Thursday and Good Friday.

As Michael Matt would say: "Folks, you couldn't make this stuff up." Cupich is the very model of a Novus Ordo bishop. He is the very exemplar of the crisis we must still endure.


Please pray for your brother Catholics in Chicago dear readers. They are going to need it.