Lucky Pie-Winner's Prize:
The lucky winner of the "Humble Pie" contest will, among other great prizes, be pictured on the cover of Humblenews Magazine with Humbenews Magazine's "Man of the Year", Pope Francis. The duo of baker and Pope will appear on the cover of this November's issue following the close of the Synod. Also included in November's Humblenews Magazine will be special candid photos of the Pope and the baker cutting it up and eating the winning humble pie. Featured will be a special inside interview with the Pope and the lucky pie-maker revealing family tips and baking recipes. Contest entrance forms and rules are now available at all participating Parish Offices; they can also be downloaded and printed right from the Vatican website. All Humble Pie contest pie entries will be judged on originality, taste and appearance and all entries must be in the hands of the judges by no later than October 1, 2014. This is an ecumenical interdenominational contest and all are invited.
Some Informational Background on the Choice of Pie:
The Contest Coordinating Committee, as part of the Vatican Publicity and Communications Office, spent many long hours researching other possible contest options before settling on "Humble Pie". A preliminary list included such items as: "Humble Car", "Humble Shoes", "Humble Cafeteria" and even "Humble Hotel Room". These and some other non-food items were considered but, ultimately rejected as unsuitable for an international participatory contest representative of Pope Francis and family values. The Committee was convinced early on that humble comfort food was their best contest venue. Other humble VIHPC suggested humble food possibilities were also considered such as: "Humble Hamburger", "Humble Hoagie", "Humble Chowder" and "Humble Kielbasa" but eventually the committee agreed upon the "Humble Pie" as their best choice. A spokesperson for the committee said, "We were looking for something that would coincide with the complex issues facing the Synod on the Family as well as represent Pope Francis' extraordinary humility and Humble Pie made the perfect fit."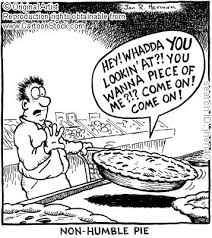 Ecumenical "Humble Pie" Only:
In the Spirit of Vatican II the contest specifically rules out Traditional Humble Pie as being too Pelagian and rigid with too rich a restorationist neo-promethean flavor. The rules strictly specify that the new "Humble Pie" needs to be ecumenical, more inclusive and tolerant of ingredients not normally found within traditional pie recipes. The committee suggests that, "the ingredients be open to change and diversity in values within culinary hermeneutics but, follow a continuity in traditional living pie-ness. The perfect Humble Pie must represent an openness to neo-cultural praxis which would define and be welcomed in today's multiplex and merciful modern family of diverse and creative cohabitation." Rumor has it that the judges will be looking for something that is cheap, flavorless, plain and simple in form but, digestible; something that would accurately reflect Pope Francis' humble character. Humble and merciful rather than critical but, most especially, insipid as resembling the banal Novus Ordo liturgy.
Alternative pie-style "Pizza Humble Pie?"
The Committee, true to the Second Vatican Council's spirit of inclusive ecumenism, has unanimously and enthusiastically approved an alternative Pizza Humble Pie style. The Committee said, "Alternative pie lends a special egalitarian significance reflecting the influence of multiculturalism; the alternative "Pizza Humble Pie" cannot be considered any differently than those baked in a pan. One advantage of the Humble Pizza Pie is that there is a great range of toppings available. The Committee also agrees that humble pie entries can and should be made of any mixed combination of any known style as long as it can be eaten as a humble pie. One official speaking in anonymity told us, "The Vatican is planning to expand on the theme of humbleness and is even considering declaring 2015 the "Humble Year of Humility". The purpose is to encourage the faithful to dress down and abstain from all traditional praxis and formalities in honor of Pope Francis and the new non-traditional forms of the Catholic family. The VIHPC promoters, judges and committee members are looking forward to tasting your humble pie entry so get busy baking and good luck. Just remember to keep it humble.
http://remnantnewspaper.com/web/index.php/fetzen-fliegen/item/924-the-papal-trip-to-korea-an-anguished-catholic-s-perspective
http://www.humblepiestore.com/
http://www.newsday.com/classifieds/cars/kia-soul-gets-a-blessing-from-pope-francis-during-korean-visit-1.9057953
http://abcnews.go.com/blogs/headlines/2014/01/pope-francis-is-esquires-best-dressed-man-of-2013/