Welcome to The Remnant Newspaper
For fifty years we have been fighting in defence of the traditions of the Catholic Church and the proclamation of the Kingship of Christ. In print or online, The Remnant calls a spade a spade no matter who is using it to bury God.

Subscribe to the Remnant Newspaper print edition today!
Headline News Around the World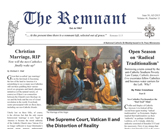 Preview the latest Remnant Newspaper Print Edition
Wednesday, February 15, 2017
New from RTV...

MSNBC enlists the aid of radically liberal Jesuit, Father James Martin, to try to target and destroy the "radical Traditionalism" which is allegedly rising up from St. Peter's Square to 1600 Pennsylvania Ave and beyond. In his eagerness to lend a hand, Fr. Martin proceeds to equate what he calls "rad trads" with – wait for it – the entire Church Militant on earth. (Finally, he got something right.) Michael Matt comments on this bombshell, and then shares his opinion on an SSPX- Vatican regularization in the midst of the chaos and destruction of arguably the most destructive pontificate in history.