Headline News Around the World
Many faithful lay Catholics, I suspect, look at the conclusions that Catholic scripture scholars and theologians have come to in their studies over the last 50 plus years and have come to a conclusion of their own: theology is too important to be left to the theologians. That is not to say there are not good scholars and theologians who are perfectly fine. While that is no doubt true, it is also true in past decades that theologians have been sort of like the toddlers the adults shoo into the backroom to play while the adults entertain their adult guests. At some point in the evening, an adult goes to check on the toddlers and discovers to his or her horror that the little ones have torn up the sofa, smashed family heirlooms and colored the walls and paintings with crayons and indelible-ink markers. The shouted reaction of course is:"Oh my God, what have you done to my house!"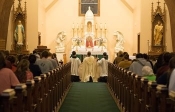 According to a report from Christendom College's Director of Admissions, Sam Phillips, in this week's Chronicler, the College is now offering the Traditional Latin Mass every Tuesday, Wednesday, Thursday and Friday. And, beginning yesterday—Laetare Sunday—Christendom College began making the Traditional Latin Mass the only Mass available on campus one Sunday of every month.

This in addition to the TLM being offered every Sunday at the parish Church of St. John the Baptist in Front Royal (just a 7-minute drive from campus) makes Christendom one of the most TLM-friendly colleges in the world.

Congratulations to my old Alma Mater on this historic decision. I'm unaware of any other mainstream Catholic college that does not offer the New Mass every Sunday of the year. Christendom is now the first, which means it will generously expose its entire student body to the TLM at least once a month. On that Sunday there will be no Novus Ordo option, which virtually guarantees that Christendom's student body will learn more about the Church's traditional liturgical patrimony than on any other college campus in America.