Headline News Around the World
For the past 48 hours The Remnant website has been down and completely out of commission--including all of our email services. The problem had to do with the UK-based company we had been using for our domain name hosting, as well as some new 2014 laws regarding registration and confirmation of websites in the UK.
We are happy to announce that as of this morning we have moved every component of The Remnant's online presence over to an American, pro-Christian, pro-family, pro-life hosting company. Because we are very familiar with the good people that run this company and the great work they do, we can guarantee our visitors that this problem will not happen again.
Many thanks for all the prayers and well wishes we received during this ordeal. Please resend any email you have sent to The Remnant since Wednesday morning, May 14, and we will make every effort to reply over the weekend.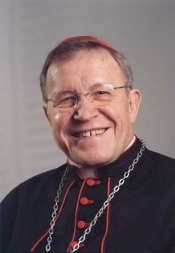 The hits keep coming fast and furious this week. On May 7, Commonweal Magazine published an interview with Cardinal Walter Kasper entitled, "Merciful God, Merciful Church." The introduction to the article starts as follows:
During his first Angelus address, Pope Francis recommended a work of theology that "has done me so much good" because it "says that mercy changes everything; it changes the world by making it less cold and more fair." That book is Mercy: The Essence of the Gospel and the Key to Christian Life by Cardinal Walter Kasper…
The article goes downhill from there. Nevertheless, since Cardinal Kasper is highly thought of by Pope Francis, what he thinks is unfortunately relevant. I will thus attempt to pick out some of the Cardinal's interview "gems" and give some commentary.
Right out of the gate, the Cardinal gives an interesting commentary on Exodus:
Kasper: God's relation to Moses in the Burning Bush is not "I am," but "I am with you. I am for you. I am going with you."
Hmm. Let me check that…
Exodus 3:14:God said to Moses: I AM WHO AM. He said: Thus shalt thou say to the children of Israel: HE WHO IS, hath sent me to you.
Interesting…. Anyway, Kasper continues…