Headline News Around the World
As the whole world now knows, Robin Williams is dead. The comic actor allegedly took his own life after years of suffering from substance abuse and depression. The Vatican newspaper,
L'Osservatore Romano, published a brief Aug. 12 article on the death of Robin Williams, calling the comedian/actor an "unforgettable clown with a heart of gold." (I assume that was intended as a compliment)
I've never been a fan of the late Robin Williams. If I wanted Jonathan Winters I'd watch Jonathan Winters. That is not his fault, of course-- I just never got his humor. In fact, I remember feeling sorry for him the few times I saw him interviewed on TV. To me he seemed paralyzingly insecure, as though he suffered from some debilitating need to be accepted at every moment because he lived in constant fear that, for him, acceptance was always temporary. The incessant conversational jokes, harmless little cries for help, always to be met with howls of laughter, made me feel sad for him. Maybe that's what depression looks like. I don't know. Poor man!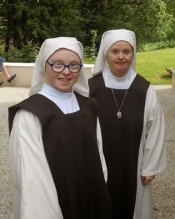 Tip of the hat to our old friend in London, Graham Morehouse, for this bit of good news…
Whilst the murderous gate keepers of the secular asylum hunt them down to cull them in their mothers' womb, a group of nuns in France have founded the Little Sisters Disciples of the Lamb, a contemplative order made up of women with Down syndrome. This community was founded in 1985, canonically recognized as a public association by the Archbishop of Tours in 1990.
"Guided by the wisdom of St Benedict, we teach our little disabled sisters the manual labour necessary for their development. We live poverty in putting ourselves at their disposal. With them, we share the work of everyday life. The office, adoration and the praying of the rosary are adapted to their rhythm and their capacities. In a spirit of silence, our prayer feeds every day on the Eucharist and on the meditation of the Gospel."