Headline News Around the World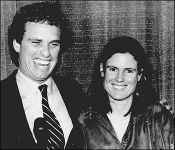 Author's Note: Three years after we'd published the following article the Vatican did the right thing by reversing the phony annulment granted to Joseph Kennedy by the Archdiocese of Boston. This welcome news received little press coverage at the time, but the reality was that it required a Protestant (Mrs. Sheila Kennedy), screaming from the housetops over the injustice and deceit of the annulment industry in the US, to eventually cause the Vatican to intervene. This intervention came a long time ago, however—during the reign of Pope Benedict XVI--and I very much doubt we will see anything like it happen again anytime soon. Operating under the "if you can't lick 'em join 'em" principle, the Vatican is now considering the alternative of simply swimming merrily along with the current by "legalizing" divorce, thus offering even more proof that the springtime of Vatican II is finally here. MJM
Excerpt taken from "American Catholic Politicians: Legates of the New Church" by Michael J. Matt (April 15, 2004 issue of The Remnant)
In her book, Shattered Faith: A Woman's Struggle to Stop the Catholic Church from Annulling Her Marriage, Sheila Rauch Kennedy, an Episcopalian, delivered an indictment against the post-conciliar Church back in 1998 that should have caused Catholics from here to the Vatican to cringe with embarrassment. Mrs. Kennedy, readers will recall, was refusing to roll over and accept the Archdiocese of Boston's absurd ruling that her 12-year marriage to Congressman Joseph Kennedy, the son of slain US Attorney General Robert Kennedy, was never sacramentally valid.
The story of Father Kapaun is Catholic from cradle to unmarked grave. It is a testament to the indomitable Catholic spirit which even here in America has always distinguished itself by its force of goodness, grace and uniqueness.
That spirit touches all men, even modern men, even modern presidents. That spirit is also dying here in America. That spirit and all the good for which it was responsible on our nation's battlefields, classrooms, halls of government, homes and neighborhoods is being crushed, cursed, banned, outlawed and persecuted.
What will happen to America when that spirit is no more? Where will she turn when the Father Kapaun's are all dead and buried? Who will be her heroes then? Who will comfort her dying soldiers? Who will bring the light of Christ into the stifling darkness of her Godless cities?
Watching President Obama—a man with whom we Catholics have nothing in common—, I found myself pitying the man. He's just another pawn of the ancient Enemy of our Creator. He has never known Christ; he never knew the Catholic Church which priests such as Father Kapaun served; he is the product of a broken family; he, like millions, is a victim of the Godless new world that has turned its back on Christ; he is so lost now that even he must suspect he'll never be found. "Father, forgive him for he knows not what he does" is all one can say for our hopeless, hapless President.
May God lead us all out of this valley of the shadow of death into which our beloved, if tormented, homeland has descended. God save America. Father Emil Kapaun, Pray for us. MJM