Headline News Around the World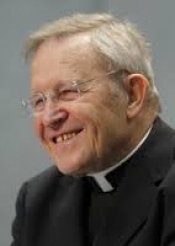 Check this out: "Neo-Catholic Bishop Bashing is De Facto Sedevacantism" http://youtu.be/v9-Nm9OsCoA
OK you guys! I've got it figured out!
Really!
In the video I've linked to, the latest Chris n' Mike Show, they suggest that there is no limit to what the neo-cons will defend as long as it comes with an endorsement of the pope, up to and including adding a fourth person to the Holy Trinity.
It came to me in an inspired flash! THAT'S what we need! A fourth person of the Holy Trinity. A Holy Quadrinity! No no, just stick with me here. It's good.
We know that the doctrine of the Church is authored by Almighty God, not the pope. We all agree on that. Even the neos. Which means that only Almighty God could possibly change anything in Catholic doctrine. But lately, we've been hearing a lot about this "sensus fidelium" character who says we have to change lots of things.